Character Info
No. 120
 Tantou

 Statistics (MAX)
| | |
| --- | --- |
| 生存  Survival | 27(31) |
| 統率  Leadership | 24(35) |
| 衝力  Impulse | 17(28) |
| 必殺  Killing Blow | 42 |
| 隠蔽  Camouflage | 32 |
| | |
| --- | --- |
| 打撃  Impact | 17(29) |
| 機動  Mobility | 22(50) |
| 範囲  Range | Short |
| 偵察  Scouting | 33(44) |
| 兵力  Troops Slots | 1 |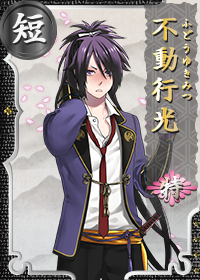 Fudou Yukimitsu Toku
不動行光  特
No. 120
 Tantou


 Statistics (MAX)
| | |
| --- | --- |
| 生存  Survival | 32(36) |
| 統率  Leadership | 29(40) |
| 衝力  Impulse | 22(33) |
| 必殺  Killing Blow | 42 |
| 隠蔽  Camouflage | 37 |
| | |
| --- | --- |
| 打撃  Impact | 22(34) |
| 機動  Mobility | 27(55) |
| 範囲  Range | Short |
| 偵察  Scouting | 38(49) |
| 兵力  Troops Slots | 1 |
Character Quotes
Introduction
Book Description
俺は不動行光。不動明王と矜羯羅、制多羅が浮き彫りされてて、織田信長公がたいそう愛した逸品なんだ。 どのくらいかというと、酔うと膝を叩いて歌って自慢するくらいだな。これって、相当のことだろう?
I'm Fudou Yukimitsu. A masterpiece sword which has carving of Fudou Myouou, Kongara Douji and Seitaka Douji symbols that Lord Oda Nobunaga loved. He loved me so much that he would sing, pat his legs, and brag about me whenever he got drunk. Isn't it something special?
Obtained
……ひっく。俺は不動行光。織田信長公が最も愛した刀なんだぞぉ! どうだ、参ったかぁ~!
...Hic. I'm Fudou Yukimitsu, Lord Oda Nobunaga's most beloved sword! How's that, given up yet~?
Opening
Login (complete)
"Touken Ranbu, starting now!" ... yeah?
Game Start
Heey, get movin' already!
Citadel
Citadel
なんだよ、呑んでちゃ悪いのか?こう見えて云百年生きてんだ
What, I'm not allowed to drink? Despite my appearance, I've been livin' for more than a hundred years.
Fudou Yukimitsu, if you were a tsukumogami, you would be Gorouzaemon.
Note:
Oda Nobunaga was said to sing this often while drunkenly slapping his knee.
俺は、愛された分を主に返すことができなかったダメ刀だよ
I'm just a useless sword who couldn't return the love that was given to me by Master…
Citadel (injured)
Hic! ... are you trying to say there's no point in repairing a useless sword?
Citadel (Kiwame sendoff)
あいつはいいよなあ…… 愛してくれる主がまだいてさあ!
Good for him… he still has a master who loves him!
Formation (member)
What, I'm not going to be captain?
Formation (captain)
Hic... Is it really okay? To have a useless sword as captain.
Expedition
Hehe, not going to let a useless sword fight?
Expedition Completed (Leader of Expedition Party)
Here you go, a souvenir~!
Expedition Completed (Leader of Primary Party)
...Hic! What? It's really noisy...
Smithing
Ah...? A newbie, huh? Come sit here for a little while.
Troops
This works just fine! Just fine.
Repairs (medium/severe injury)
Just me... even if you only repair me, then...
Refinery
Even if I get stronger, well...
Mission Completed
Looks like you finished something?
Battle Record
Hey. Looks like you got somethin'.
Merchant
Are we buying sake~? Or maybe some tea utensils...
Front Lines & Battles
Front Lines
Battle, huh...? Battle...
Resource Discovery
Gah! Who... left this thing underfoot?!
Scouting
偵察してこいよ。囲まれて火を放たれるなんて御免だからな
Scout and get back here. I refuse to get surrounded and let 'em set fire to our camp.
Note:
Reference to the Honnō-ji incident inn 1852, when Akechi Mitsuhide betrayed Nobunaga and surrounded his temple with a coup. Nobunaga ordered his page, Mori Ranmaru, to set fire to the temple while he committed suicide.
Sortie Kick-off
Everyone, full-on attack! ...Hic!
PvP
ひっく…酔っぱらい相手に負けちゃっても知らないぞぉ
Hic!... It's not my problem if you lose to a drunk opponent!
Critical Hit
Don't look down on me for being a useless sword!
Medium/Severe Injury
Kh... How much of a pushover does this guy think I am!?
Awakening
Gettin' finished off here would hurt Nobunaga's reputation, too!
Duel
Ah...what a bad feeling...just like that time.
Boss Node
There's an unpleasant presence in the air... It's not like it's Mitsuhide.
Note:
Mitsuhide refers to Mitsuhide Akechi, the instigator of the Honnouji incident in 1582 that led to Oda Nobunaga's death.
Victory (MVP)
Back then, if I could've done it like this...
Rank-Up Toku
Becoming this strong now... Uu...
Destroyed
Living but one life... is there anything that will not decay?
Note:
This is a quote by Oda Nobunaga
Internal Affairs
Please go
here
for special Internal Affairs interactions
Horsekeeping
... hic! So I finally got downgraded to a stablehand as well, huh?
Horsekeeping (done)
It's enough~ You're better off sleeping in the stable.
Note:
He's saying this like he thinks the saniwa is finally fed up and told him to sleep in the stable.
Fieldwork
土まみれ泥まみれになっても、誰も見向きもしちゃくれないんだろぉ?
Even if I get dirty or muddy, not like anyone's gonna pay me any attention, right?
Fieldwork (done)
Ah~ ... The sky looks so high...
Sparring
What are you making a useless sword do after all this time?
Sparring (done)
Ah~ So it's something like this... Hic.
Special
New Year's Greeting
あんたも大変だよなぁ。新年早々酔っぱらいのダメ刀の相手ってわけだ
Bet you're having a hard time yourself, having a useless drunkard sword as company so early on New Year's.
Touken Ranbu's Second Year Anniversary (2017)
Blargh~ hic! Isn't someone gonna do a banquet perfomance~
Saniwa First Year Anniversary
俺みたいなダメ刀と違って、あんたは一年間戦い続けた熟練審神者ってわけだ
Unlike a useless sword like me, you're a capable saniwa who's continued to fight for a whole year.
Saniwa Second Year Anniversary
あんたは二年間がんばったんだな。それにひきかえ俺は酒お吞むだけ....っと
You worked hard for two years. In comparison, I'm only drinking sake
Character Details
Ad blocker interference detected!
Wikia is a free-to-use site that makes money from advertising. We have a modified experience for viewers using ad blockers

Wikia is not accessible if you've made further modifications. Remove the custom ad blocker rule(s) and the page will load as expected.