Character Info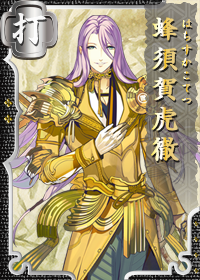 No. 101

 Uchigatana

 Statistics (MAX)
| | |
| --- | --- |
| 生存  Survival | 39 |
| 統率  Leadership | 38(47) |
| 衝力  Impulse | 27(48) |
| 必殺  Killing Blow | 31 |
| 隠蔽  Camouflage | 35 |
| | |
| --- | --- |
| 打撃  Impact | 38(54) |
| 機動  Mobility | 36(46) |
| 範囲  Range | Short |
| 偵察  Scouting | 34 |
| 兵力  Troops Slots | 2 |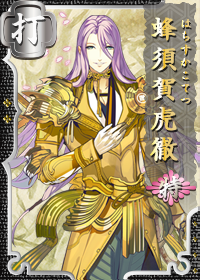 Hachisuka Kotetsu Toku
蜂須賀虎徹  特
No. 101

 Uchigatana


 Statistics (MAX)
| | |
| --- | --- |
| 生存  Survival | 45(51) |
| 統率  Leadership | 44(53) |
| 衝力  Impulse | 33(54) |
| 必殺  Killing Blow | 31 |
| 隠蔽  Camouflage | 41 |
| | |
| --- | --- |
| 打撃  Impact | 44(60) |
| 機動  Mobility | 42(52) |
| 範囲  Range | Short |
| 偵察  Scouting | 40(44) |
| 兵力  Troops Slots | 2 |
Character Quotes
Introduction
Book Description
蜂須賀虎徹だ。蜂須賀家に伝来したことからこう呼ばれているんだ。 銘入りの虎徹はほぼ全ては贋作と言われているが、俺は本物。一緒にしてもらっては困るんだよ
I'm Hachisuka Kotetsu. I come from the Hachisuka clan, so that's what I'm called. Most of the Kotetsu inscribed with a name have been deemed counterfeit, but I'm real. It'd be a problem if you assumed I was fake.
Obtained
I'm Hachisuka Kotetsu. I'd be happy if you didn't assume I was a counterfeit.
Opening
Login (Loading)
Have you made the preparations for appraisal?
Login (Complete)
Touken Ranbu is beginning.
Game Start
I'll show what the true sharpness of a blade can be!
Citadel
Citadel
浦島虎徹は弟でね……誰とでも仲良くなれる、可愛い奴だよ
Urashima Kotetsu is my younger brother, you see...... He's adorable and gets along with anyone.
俺たち虎徹の兄弟と名乗り出る不届き者が多くてね……。困ってしまうよ
There are many insolent people who use the name of us brothers..... It's troublesome.
長曽祢……?あんな奴は兄でも何でもない。虎徹の名を騙る偽物だ
Nagasone? That guy is not my brother or anything. He's a fake who uses the name of the Kotetsu clan.
Citadel (Idle)
What's wrong, master? Is there nothing you have to do?
Citadel (Injured)
I'm not a counterfeit... I would like you to take better care of me.
Line removed as of Feb. 18, 2015
Yeah... Sorry, it's going to take more time.
Citadel (Kiwame Sendoff)
Resharpening, is it. His returning will be anticipated, yes?
Formation (Member)
I want you to leave it to me.
Formation (Captain)
You can't leave this to a counterfeit, can you?
Fatigue Recovery
Ahh, this is nice. My younger brother will be happy, too.
Equipment
I've got to get used to this, haven't I?
Understood. I'll show you how it's used!
Expedition Completed (Leader of Expedition Party)
I'm home. It went smoothly.
Expedition Completed (Leader of Primary Party)
The expedition troops have returned.
Smithing
A new sword seems to be finished.
Repairs (Minor Injury)
Maintenance is important.
Repairs (Medium/Severe Injury)
Aaa...It was a good severe wound.
Battle Record
I see...Is this your war record, Master?
Merchant
Ah, shall I accompany you?
Front Lines & Battles
Front Lines
Well, to our battlefield.
Resource Discovery
What, something useful I hope.
Scouting
Don't let your guard down. You never know where the enemy are.
Sortie Kick-off
Hachisuka Kotetsu, moving in!
PvP
名だたる名刀相手だと、こちらも格が問われてしまうかな。
When with a famous sword as your opponent, I wonder if my status too should be questioned.
Critical Hit
A samurai's right to kill!
Medium/Severe Injury
This much... to be forced like this...!
Awakening
...If you think it's the same as a counterfeit, then you're in trouble!
Duel
Not yet... It's not over...!
Boss Node
One cuts down one's enemies. That's all there is to it!
Victory (MVP)
Of course, it's different to a counterfeit.
Rank-Up Toku
This is a big difference to counterfeit right?
Destroyed
まいったな……これで…世にますます贋作が…横行して…しまうの、か……
I'm defeated... here... I wonder if more and more counterfeits will become rampant... in the world...
Internal Affairs
Please go
here
for special Internal Affairs interactions
Horsekeeping
... These such things, how about leaving them to the counterfeits?
Horsekeeping (Done)
I had a terrible experience...
Fieldwork
You get your hands on a genuine Kotetsu and this is what you make it do?
Fieldwork (Done)
To be in the right place at the right time, doesn't that exist?
Sparring (Done)
Thank you. Moreover, I feel as if I have become sharper.
Special
Welcome Back Greeting (After Long Absence)
お帰り。随分かかったね......まあ、戻ってきてくれたのだから、良いのだけれど
Welcome back. It took you quite a while to return... But well, in the end you came back, so it's alright.
New Year's Greeting
新年あけましておめでとう。お参りは済ませたかな?まだなら、一緒に行こうか?
Happy New Year. Have you already visited the temple? If not, may we go together?
Setsubun (Entering Map)
Right, then, to the subjugation of the Oni!
Setsubun (Cast Beans)
Out with the Oni. In with the good fortune.
Setsubun (After Casting Beans)
The Oni's mask is more fitting for the counterfeit to wear.
Touken Ranbu's First Year Anniversary (2016)
我々もこれで一周年。名刀の中でもひときわ輝く虎徹の素晴らしさをこれからも伝えていくよ
We have now reached our First Year Anniversary. I will continue to show how splendid the exceptionally brilliant Kotetsu's are even amongst all the renown swords.
Touken Ranbu's Second Year Anniversary (2017)
二周年を迎えたね。戦いはまだまだ続くけれど、あなたの選ぶ刀が虎徹であるよう、俺は頑張っていくよ
We have reached our second anniversary. The battles continue, but I will do my best, so the sword you'll choose will be a Kotetsu.
Touken Ranbu's Third Year Anniversary (2018)
三周年を迎えたわけだね。新たな刀派も現れたけれど、虎徹の真作としては負けていられないね
?
Saniwa First Year Anniversary
就任一周年おめでとう。名刀に囲まれて、すっかり審美眼も鍛えられただろう?
Congratulations for your inauguration's first anniversary. Surrounded by famous swords like this, your aesthetic sense must have greatly heightened too, right?
Saniwa Second Year Anniversary
就任二周年だね。今のあなたなら、本物と贋作の違いもはっきりわかるだろう?
It's your inauguration's second anniversary. The current you understands the difference between real and fake perfectly, right?
Saniwa Third Year Anniversary
就任三周年を迎えたんだね。これだけ名刀に囲まれていれば、真の名刀がなにかもわかっただろう?
?
Character Details