Character Info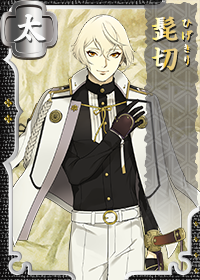 No. 107

 Tachi

 Statistics (MAX)
| | |
| --- | --- |
| 生存  Survival | 48(51) |
| 統率  Leadership | 45(60) |
| 衝力  Impulse | 38(50) |
| 必殺  Killing Blow | 32 |
| 隠蔽  Camouflage | 23 |
| | |
| --- | --- |
| 打撃  Impact | 48(61) |
| 機動  Mobility | 30(32) |
| 範囲  Range | Short |
| 偵察  Scouting | 28(33) |
| 兵力  Troops Slots | 2 |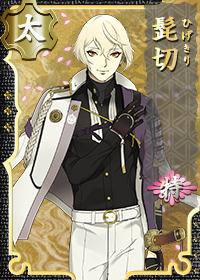 Higekiri Toku
髭切  特
No. 108

 Tachi


 Statistics (MAX)
| | |
| --- | --- |
| 生存  Survival | 49(52) |
| 統率  Leadership | 49(64) |
| 衝力  Impulse | 39(51) |
| 必殺  Killing Blow | 34 |
| 隠蔽  Camouflage | 24 |
| | |
| --- | --- |
| 打撃  Impact | 50(63) |
| 機動  Mobility | 31(33) |
| 範囲  Range | Short |
| 偵察  Scouting | 29(34) |
| 兵力  Troops Slots | 2 |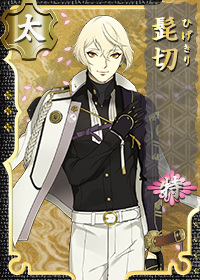 Higekiri Toku Ni
髭切  特二
No. 109

 Tachi


 Statistics (MAX)
| | |
| --- | --- |
| 生存  Survival | 51(54) |
| 統率  Leadership | 52(67) |
| 衝力  Impulse | 41(53) |
| 必殺  Killing Blow | 36 |
| 隠蔽  Camouflage | 25 |
| | |
| --- | --- |
| 打撃  Impact | 52(65) |
| 機動  Mobility | 32(37) |
| 範囲  Range | Short |
| 隠蔽  Scouting | 33(38) |
| 兵力  Troops Slots | 2 |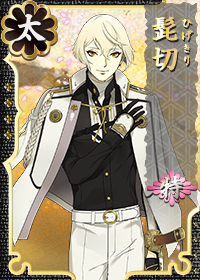 Higekiri Toku San
髭切  特三
No. 110

 Tachi


 Statistics (MAX)
| | |
| --- | --- |
| 生存  Survival | 53(56) |
| 統率  Leadership | 55(70) |
| 衝力  Impulse | 43(55) |
| 必殺  Killing Blow | 38 |
| 隠蔽  Camouflage | 26 |
| | |
| --- | --- |
| 打撃  Impact | 54(70) |
| 機動  Mobility | 33(38) |
| 範囲  Range | Short |
| 隠蔽  Scouting | 38(43) |
| 兵力  Troops Slots | 3 |
Character Quotes
Introduction
Book Description
源氏の重宝、髭切さ。試し斬りで罪人の首を斬ったら、髭までスパッと切れたからこの名前になったんだ。 とは言え、僕にとって名前は割とどうでもいいんだよね
I'm a treasure of the Minamoto clan, Higekiri. While being tested on a criminal's neck, I cut off even his beard in a single blow, so I ended up with this name. Be that as it may, names are relatively meaningless to me.
Obtained
I'm a treasure of the Minamoto clan, Higekiri. Are you fine with being my master in the present age?
Opening
Login (Loading)
Oh? Is it already time to begin?
Login (Complete)
Touken Ranbu is starting.
Citadel
Citadel
弟の……う~んと、なんだったかな。ええと……まあ名前はど忘れしたけど、ともかく弟もよろしく頼むよ
My younger brother's... Hmmm, what was it again. Uh... Well, I've completely forgotten his name, but anyway, please take care of him.
千年も刀やってるとねぇ…大抵のことはどうでもよくなってくるんだよね
After a thousand years of being a sword... Most things don't really matter very much anymore.
他人に嫉妬とかよくないよ。鬼になっちゃうからね…もっと大らかに、ゆったり過ごそう
It's not good to be jealous of others. You'll become a demon... Let's be more big-hearted and take things easy.
Note:
Possibly a reference to the tale of Uji no Hashihime. According to legend, Hashihime was a noblewoman who became consumed by jealousy and eventually turned into a demon who terrorized Kyoto. The famous warrior Watanabe no Tsuna used Higekiri to sever her arm.
Citadel (Idle)
刀の名前なんて、持ち主が思い入れ持てるかどうかなんだよね
I wonder if a sword's name is something that contains the emotions of its owner?
Citadel (Injured)
いやぁ、この前の戦ではやらかしてしまったねぇ。ッはっはっは
Well, I sure messed up in that battle just now. Hahaha.
Citadel (Kiwame Sendoff)
Oh my, will his name change after becoming stronger?
Formation (Member)
いやいや、隊長じゃないからって味方斬ったりしないって
No, no, I'm not going to cut down my allies just because I'm not the captain.
Note:
This may be a reference to one of Higekiri's other names, Tomokiri (friend-cutter).
Formation (Captain)
I'm the one in charge, eh... Sure brings back memories.
Equipment
It's okay, it's okay, of course I won't be careless with the equipment.
If I neglect my equipment, I won't be able to fight.
Expedition
An expedition... Well, flashy battles aren't the only work to be done.
Expedition Completed (Leader of Expedition Party)
I'm back. It turned out like this.
Expedition Completed (Leader of Primary Party)
Just as I was thinking that it was getting lively at the front door, it looks like they've returned.
Smithing
Oh, I didn't notice we had a new friend.
Troops
I ended up making something like this.
Repairs (Medium/Severe Injury)
Just for a while, I'll be taking a somewhat longer break.
Mission Completed
Oh... Isn't something glowing?
Merchant
What are you going to buy? Or are you just here to window-shop?
Front Lines & Battles
Front Lines
Well, let us depart for battle.
Resource Discovery
My, my? Something's fallen on the ground.
Scouting
Report to me the scouting results. Let's think of a plan.
Sortie Kick-off
Well, well, I am the treasure of the Minamoto clan, Higekiri!
PvP
Whether the winner or loser, we both gain. It's a good thing, isn't it.
Attacking
Note:
This may be a reference to one of the legends surrounding Higekiri, where he cut off a demon's arm.
Critical Hit
Whether you're a demon or a sword, I'll cut you, you know?
Awakening
ここまでやられちゃ…どうでもいいとか言ってられないな!
Having driven me to this point... I can't just say it doesn't matter!
Duel
Ohh... Scary, is this how Genji Tsuna felt then?
Note:
Genji Tsuna, also known as Watanabe no Tsuna, was a famous retainer of the Minamoto clan and a former owner of Higekiri. According to legend, he once used Higekiri to sever the arm of a notorious demon named Ibaraki-doji.
Boss Node
Well then... It's time to exterminate the demons.
Note:
This may be a reference to one of Higekiri's other names, 'Onikiri,' lit. 'demon-cutter.'
Victory (MVP)
Eh? Is it okay if I'm the best?
Rank-Up Toku
Enemies or demons, let's keep slicing them up!
Note:
Once again, another reference to his other name, 'Onikiri,' lit. 'demon-cutter.'
Rank-Up Toku Ni
...Hm, did I ever really roar at night?
Note:
Higekiri, then named 'Onikiri,' was passed on to Minamoto no Tameyoshi, who claimed that Higekiri's blade would roar like a lion at night. He then renamed the blade 'Shishi-no-ko,' lit. 'lion cub.'
Rank-Up Toku San
Mm. Like this, I feel like I can't lose to any other sword.
Note:
This may be a reference to how Higekiri, then named 'Tomokiri' for cutting off a portion of his own replica, was renamed back to Higekiri by Minamoto no Yoshitomo after he saw a dream in which a deity told him that renaming swords too many times weakened their powers.
Destroyed
もう…源氏の世じゃ、ないからね…っ…僕がこうなるのも…当然…っかな…
It's no longer... the Minamoto clan's era huh... For me to end up like this... is only natural...
Internal Affairs
Please go
here
for special Internal Affairs interactions
Horsekeeping
It's okay, I'm not going to cut off their manes or anything.
Horsekeeping (Done)
Yes, yes. Good boy, good boy.
Fieldwork
あははは、千年も刀やってるけど…畑仕事はなかったな。
Ahahaha, I've been a sword for a thousand years but...This is the first time I'm doing fieldwork.
Fieldwork (Done)
……ふむ。これを極めると、次の名前が雑草切りとかになったり?
Hm. If I become an expert at this, maybe my next name can be Weed-cutter?
Note:
The joke is aimed at the fact that some of Higekiri's names, including his current one, were given to him after a certain object has been cut by his blade.
Sparring
Well then, go ahead and practice your skills on this old hand.
Sparring (Done)
When you've lived a long time, you look forward to seeing your juniors' progress.
Special
Welcome Back Greeting (After Long Absence)
おお。おかえり。買い物にしては長くかかったね。え、そうじゃない?
Ooh, welcome back. Your shopping trip sure took a long time. Huh? That's not what you were doing?
New Year's Greeting
Okay okay, you want the New Year's money right? Wait for a while.
Setsubun (Entering Map)
Exterminating oni from the capital is a samurai family's duty, right?
Setsubun (Cast Beans)
Welcome, oni! ... Huh, that's wrong?
Note:
The normal 'catchphrase' for Setsubun is "Out with the oni, in with the fortune!" (鬼は外!福は内!), but Higekiri is welcoming or inviting the oni instead.
Setsubun (After Casting Beans)
Touken Ranbu's First Year Anniversary (2016)
Eh? It's been a year? Sure doesn't feel like it...
Touken Ranbu's Second Year Anniversary (2017)
おめでたいなあ。源氏万歳!これ、何のお祝いだっけ 。あ、そうそう二周年ね
How happy. Long live the Genji! What kind of celebration is it again? Ah, it's the second anniversary, right.
Touken Ranbu's Third Year Anniversary (2018)
そうかあ……今日で三周年?道理でみんな活気づいてるんだね
I see... ...Today's the third anniversary? Everyone's so lively.
Saniwa First Year Anniversary
就任一周年かあ。うんうん、これからも惣領としてがんばってね
It's the anniversary of your inauguration, huh. As leader, carry on doing your best okay.
Saniwa Second Year Anniversary
就任二周年か。うんうん、源氏の歴代と比べるとまだまだだけど、頑張ってるんじゃない?
It's the second anniversary of your inauguration, huh. Yup yup, it's still not up to par with the generations of Genji yet, but aren't you doing your best?
Saniwa Third Year Anniversary
Character Details