Character Info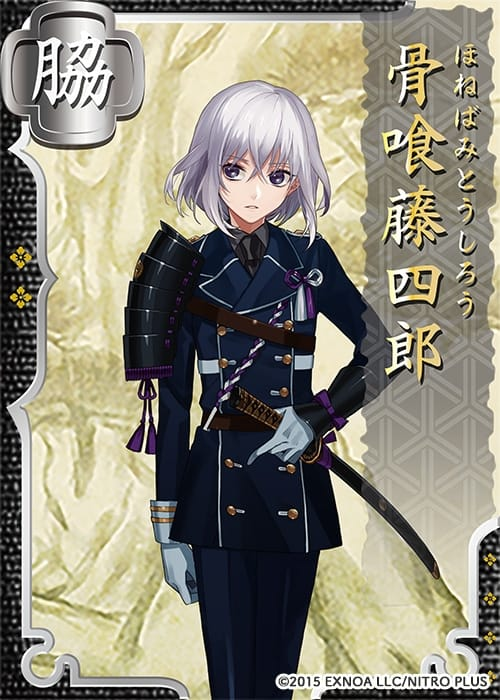 No. 29
 Wakizashi

 Statistics (MAX)
| | |
| --- | --- |
| 生存  Survival | 32(36) |
| 統率  Leadership | 29(43) |
| 衝力  Impulse | 22(31) |
| 必殺  Killing Blow | 49 |
| 隠蔽  Camouflage | 38 |
| | |
| --- | --- |
| 打撃  Impact | 28(42) |
| 機動  Mobility | 40(49) |
| 範囲  Range | Short |
| 偵察  Scouting | 38(44) |
| 兵力  Troops Slots | 2 |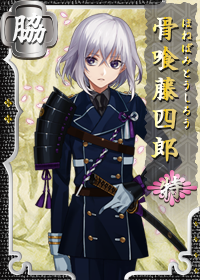 Honebami Toushirou Toku
骨喰藤四郎  特
No. 29
 Wakizashi


 Statistics (MAX)
| | |
| --- | --- |
| 生存  Survival | 37(41) |
| 統率  Leadership | 34(48) |
| 衝力  Impulse | 27(36) |
| 必殺  Killing Blow | 49 |
| 隠蔽  Camouflage | 43 |
| | |
| --- | --- |
| 打撃  Impact | 33(47) |
| 機動  Mobility | 45(54) |
| 範囲  Range | Short |
| 偵察  Scouting | 43(49) |
| 兵力  Troops Slots | 2 |
Character Quotes
Introduction
Book Description
俺は、骨喰藤四郎。元は薙刀。今は長脇差。記憶は無い。 記憶にあるのは、炎だけ。炎が俺の何もかもを焼いたようだ。
My name is Honebami Toushirou. I was originally a Naginata; however, now, I am a Naga-Wakizashi. I have no memories. The only thing I can remember are flames. It seems that those flames burned away everything about me.
Obtained
I'm Honebami Toushirou. You'll have to excuse me. My memories are far and few between.
Opening
Login (loading)
My memories… are gone. I've always thought it was fine that way.
Login (complete)
Starting up Touken Ranbu.
Game Start
Even without memories… even without yesterday… I'll manage someway or another.
Citadel
Citadel (injured)
If you're concerned about my injuries, then repair me.
Line removed as of Feb. 18, 2015
…I'm currently being repaired.
Formation (captain)
Right. I'll take command.
Equipment
Becoming stronger with this... and then what?
Expedition Completed (Leader of Expedition Party)
Expedition Completed (Leader of Primary Party)
The expedition team has returned.
Repairs (medium/severe injury)
It feels like I've been polished... for a long time...
Refinery
It'd be better if I can gain not only strength but also my memories.
Merchant
I have no affinity with stores.
Front Lines & Battles
Critical Hit
This is the slaying technique of a sword!
Awakening
I've recalled a bit of the past… You will die here.
Boss Node
From here on, cut into the opponent's headquarters.
Rank-Up Toku
I've become stronger. My memories… will never return. There are only flames.
Destroyed
死ぬか……まあいい……。記憶の残りかすも……これで終わる……
I'm dying, huh… Ah well… Even whatever left of my memories… end with this…
Internal Affairs
Please go
here
for special Internal Affairs interactions
Horsekeeping
Horses have beautiful eyes, don't they?
Fieldwork
I know of a man who smells like the fields.
Fieldwork (done)
…It was Hideyoshi. How could I have forgotten even that.
Special
Omikuji
Are you going to draw luck?
Touken Ranbu's First Year Anniversary (2016)
With this... my memories are added by one year's worth.
Touken Ranbu's Second Year Anniversary (2017)
二年分の記憶。 消えた過去よりは短いかもしれないが……
Two years' worth of memories. There might be fewer than my lost past, but...
Saniwa First Year Anniversary
... Inauguration's first anniversary huh. I see.
Saniwa Second Year Anniversary
... Inauguration's second anniversary huh. As expected of you.
Character Details
Ad blocker interference detected!
Wikia is a free-to-use site that makes money from advertising. We have a modified experience for viewers using ad blockers

Wikia is not accessible if you've made further modifications. Remove the custom ad blocker rule(s) and the page will load as expected.