Character Info
No. 99
 Wakizashi

 Statistics (MAX)
| | |
| --- | --- |
| 生存  Survival | 29(32) |
| 統率  Leadership | 26(38) |
| 衝力  Impulse | 20(31) |
| 必殺  Killing Blow | 45 |
| 隠蔽  Camouflage | 41 |
| | |
| --- | --- |
| 打撃  Impact | 28(42) |
| 機動  Mobility | 36(45) |
| 範囲  Range | Short |
| 偵察  Scouting | 41(48) |
| 兵力  Troops Slots | 2 |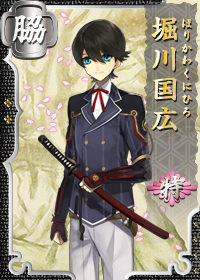 Horikawa Kunihiro Toku
堀川国広  特
No. 99
 Wakizashi


 Statistics (MAX)
| | |
| --- | --- |
| 生存  Survival | 34(37) |
| 統率  Leadership | 31(43) |
| 衝力  Impulse | 25(36) |
| 必殺  Killing Blow | 45 |
| 隠蔽  Camouflage | 46 |
| | |
| --- | --- |
| 打撃  Impact | 33(47) |
| 機動  Mobility | 41(50) |
| 範囲  Range | Short |
| 偵察  Scouting | 46(53) |
| 兵力  Troops Slots | 2 |
Character Quotes
Introduction
Book Description
僕?堀川国広と言って、和泉守兼定と一緒に、土方歳三が使っていた脇差さ。 僕が本物の国広かどうかは意見が別れるところだけど、少なくとも兼さん……兼定の相棒だったことだけは、本当だよ
Me? I'm Horikawa Kunihiro. Together with Izuminokami Kanesada, I served Hijikata Toshizou as a wakizashi. Whether or not I'm a real Kunihiro remains to be proven, but at the very least, I was without a doubt Kane-san's... I mean, Kanesada's partner.
Obtained
すみませーん。こっちに兼さん……和泉守兼定は来てませんか?あっ、僕は堀川国広です。よろしく
Excuse me. Has Kane-san...... Izuminokami Kanesada hasn't come here, has he? Ah, I'm Horikawa Kunihiro. Let's get along.
Opening
Login (complete)
Touken Ranbu is starting!
Game Start
Let's try to energetically do our best today as well!
Citadel
Citadel
Excuse me, Kane-san hasn't come this way, has he?
Since I'm Kane-san's partner, I'm his assistant.
何かやっておくことはありませんか?掃除とか、洗濯とか。
Isn't there anything you would like to get done? Like cleaning or the laundry.
Citadel (idle)
Hmm, this spare time is such a waste.
Citadel (injured)
いやあ、やっぱり助手の僕じゃ兼さんみたいにはいきませんね。
Ah, I knew an assistant like me couldn't be someone like Kane-san.
Line removed as of Feb. 18, 2015
Kane-san, haste makes waste, right...
Citadel (Kiwame sendoff)
さ、お見送りしましょう?すぐ帰ってきますけど、それでも大事です
Well, let's see him off? Even though he'll be back soon, that's still important.
Formation (member)
If you need assistance leave it to me!
Formation (captain)
To leave Kane-san alone... Is it alright for me to be the leader?
Equipment
Since you're going through all the trouble, I wonder if stylish looking equipment would be best.
実用性と美の両立って言うのは簡単だけど、実践するのはね。
Being both practical and elegant is easier said than done.
Expedition
Okay, I'll be the perfect logistical support.
Expedition Completed (Leader of Expedition Party)
Hopefully this will help out with the front lines?
Expedition Completed (Leader of Primary Party)
The expedition team has returned!
Troops
By following the instructions..... Is it like this?
Repairs (minor injury)
I'm going to go do some laundry.
Repairs (medium/severe injury)
Mmm, I'm going to go lie down and take it easy for a while...
Mission Completed
Ah, it looks like the mission is finished.
Battle Record
Hmm, so Master's battle records are like this, huh?
Merchant
You mustn't buy too much.
Front Lines & Battles
Front Lines
Let's go, towards our battlefield where we have neither guns nor artillery.
Scouting
I'll bring back information. From there we can decide our next move.
Sortie Kick-off
Well then, I'll have to try my best too.
Ikedaya Kick-off
We're here to conduct official business!
Note:
Reference to the famous line Shinsengumi Captain Kondo Isami allegedly shouted at the start of the
Ikedaya Raid
. Modern equivalent would be "Police! Open up!"
PvP
Alright, let's try our best at practice!
Attacking
Sorry, but I can play dirty too!
Critical Hit
Assassinating under the cover of darkness is my specialty!
Note:
Probably refers to some assassinations that are said to have been done by Hijikata Toshizou, such as that of Serizawa Kamo and Sanou Seizaburou.
Minor Injury
I need to keep my composure...!
Don't get angry... Don't get angry...
Medium/Severe Injury
Ahh... How dare you do that.
Awakening
兼さんがああだから、僕は怒らないようにしたいんだけど…ッ!
Since Kane-san is like that, I want to do it without getting angry, but...!
Duel
追い詰められても、今はまだ、死ぬしかないわけじゃない!
Just because I'm backed into a corner doesn't mean I have to die like this just yet!
Boss Node
It's the enemy's base... Everyone! Are preparations for the raid ready?
Rank-Up Toku
Like this, even though I'm on equal footing with Kane-san, aren't I still inferior?
Destroyed
... This is bad... If I'm not here.... Kane-san will.......
Internal Affairs
Please go
here
for special Internal Affairs interactions
Horsekeeping
So this sort of matter is what I'm in charge of?
Horsekeeping (done)
こっちが変なことしない限り、馬はおとなしくしてくれるんだよね。
Unless you do something strange, the horses will behave.
Fieldwork
Today's field duty, huh. I'll do my best!
Sparring
I would be grateful if you sparred with me.
Sparring (done)
兼さんは変な癖ついちゃってるから、こういう機会はありがたいね
I've been picking up Kane-san's strange habits, so I'm thankful for this opportunity.
Special
New Year's Greeting
Please drink sake in moderation......I'm off to scold Kane-san.
Omikuji
It's great luck! Nice feeling, isn't it!
Touken Ranbu's First Year Anniversary (2016)
一周年か。兼さん共々、これからもよろしくおねがいしますね
A full year huh. Along with Kane-san, please treat us kindly from now on too.
Touken Ranbu's Second Year Anniversary (2017)
二周年なんで、みんなお祝いしてますよ。僕も料理運ばなきゃ
Since it's the second anniversary, everyone's celebrating. I should get serving the food.
Saniwa First Year Anniversary
Master, congratulations for your one year inauguration anniversary!
Saniwa Second Year Anniversary
主さんはさすが就任二周年って感じですよね。纏った空気というか
Master really gives off the feeling of second anniversary. Like, the surrounding atmosphere.
Character Details
Ad blocker interference detected!
Wikia is a free-to-use site that makes money from advertising. We have a modified experience for viewers using ad blockers

Wikia is not accessible if you've made further modifications. Remove the custom ad blocker rule(s) and the page will load as expected.