Character Info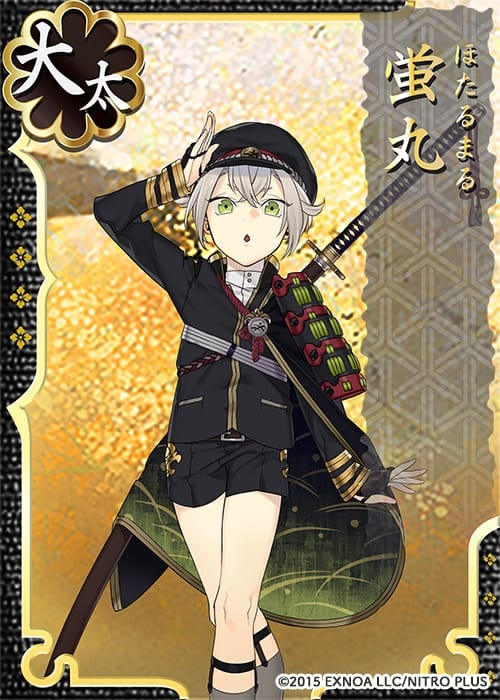 No. 59

 Ootachi

 Statistics (MAX)
| | |
| --- | --- |
| 生存  Survival | 60(73) |
| 統率  Leadership | 57(71) |
| 衝力  Impulse | 48(57) |
| 必殺  Killing Blow | 29 |
| 隠蔽  Camouflage | 25 |
| | |
| --- | --- |
| 打撃  Impact | 57(78) |
| 機動  Mobility | 15(15) |
| 範囲  Range | Wide |
| 偵察  Scouting | 14(15) |
| 兵力  Troops Slots | 3 |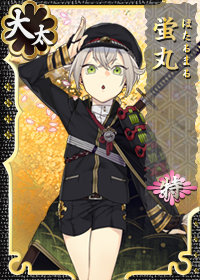 Hotarumaru Toku
蛍丸  特
No. 59

 Ootachi


 Statistics (MAX)
| | |
| --- | --- |
| 生存  Survival | 63(73) |
| 統率  Leadership | 60(74) |
| 衝力  Impulse | 51(60) |
| 必殺  Killing Blow | 29 |
| 隠蔽  Camouflage | 28 |
| | |
| --- | --- |
| 打撃  Impact | 60(81) |
| 機動  Mobility | 18(18) |
| 範囲  Range | Wide |
| 偵察  Scouting | 17(18) |
| 兵力  Troops Slots | 3 |
Character Quotes
Book Description
昔阿蘇神社にあった宝剣は、なぜか今、ここにあったりして。蛍丸、推参! 壊れたところに蛍が集まって修復したっていう伝説があるから蛍丸ってね
The treasured sword once in the ancient shrine of Mt. Aso, is now somehow here. Hotarumaru's arrived! According to legend, I was once completely repaired by fireflies, and that's where I got my name from.
Obtained
阿蘇神社にあった蛍丸でーす。じゃーん。真打登場ってね
I'm Hotarumaru, from the shrine on Mt. Aso. Tada! This is what you'd call a "headline-worthy introduction," right?
Login (Complete)
Touken Ranbu, is starting!
Citadel
If you pet me that much, I'll shrink!
Citadel (Idle)
No one's around, huh...? Well, that's okay. Good niiiight!
Citadel (Injured)
Ouch! Don't touch me. I'm hurt.
Line removed as of Feb. 18, 2015
Citadel (Kiwame Sendoff)
Well… I'll be by your side.
Formation (Member)
Oka~y, I'll be a group member~!
Formation (Captain)
Alright. Starting today, I'm the captain~!
Equipment
It's pretty, like a firefly.
Expedition (Complete - Leader of Expedition Party)
Expedition (Complete - Leader of Primary Party)
They said the expedition party is back.
Smithing
Hehe, a comrade's arrived!
Repairs (Medium/Severe Injury)
Fuh... the fireflies are gathering.
Refinery
Ohh! I'm getting fired up!
Mission (Complete)
Looks like a mission's complete.
Merchant
What, what, are you... going to buy a present for me?
Front Lines
It's time to head to the battlefield, right? I'm off!
Scouting
Hehehe... now, I wonder what the enemy'll be like?
Sortie Kick-off
Alright, let's fight in -- style!
Medium/Severe Injury
Hehehe, you're good... but!
Awakening
When I get serious, I'm pretty awesome, you know!
Duel
One-on-one, huh... hehe, sounds interesting.
Rank-Up Toku
I've gotten just a little stronger.
Destroyed
蛍がいっぱいとんでて……きらきらしてるよ……きれいだね……
There're so many fireflies flying around... they're all so bright... how beautiful...
Please go
here
for special Internal Affairs interactions
Horsekeeping
Horse~ horsey, horsey, horsey. Yay-- oh, hey! Don't bite!
Fieldwork
The soil here is pretty good.
Fieldwork (Complete)
You can tell how much effort I put into the fieldwork, right~?
Sparring
Well, wanna try sparring?
Sparring (Complete)
Nnn. I'm a little unsatisfied...
Citadel (Poke multiple times)
Sto-p i-t! You're petting me too much!
Citadel (Injured - Poke multiple times)
Slow down when I'm injured!
Smithing (Complete)
Smithing has been finished!
Repair (Complete)
The repairs have been completed!
Specific event banner introduction
Horse Equipped
Horses really listen to others, don't they?
Welcome Back Greeting (After Long Absence)
むにゃむにゃ......あれ、足音......?あ、帰ってきたんだ!
*mumbling*... Hmm, footsteps...? Oh, you came back!
New Year's Greeting
Happy New Year! ......This? It's New Year's money.
Omikuji
Hm? Are you going to draw a fortune?
Setsubun (Entering Map)
I wonder if there is oni?
Setsubun (Cast Beans)
Out with the Oni, in with the fortune.
Setsubun (After Casting Beans)
I threw the bean too far away.
Regiment Battle Team Change
Touken Ranbu's First Year Anniversary (2016)
They said it's our anniversary. Whee~
Touken Ranbu's Second Year Anniversary (2017)
じゃーん、今日で二周年だ!俺、背が伸びてるかな?伸びてるよね!
Ta-da, today's our second year anniversary! I wonder if I've grown taller this year? I've grown right!?
Touken Ranbu's Third Year Anniversary (2018)
Today become our third year anniversary. From now on, I'll work hard too!
Touken Ranbu's Fourth Year Anniversary (2019)
Fourth anniversary. The day to celebrate it this year has come. Thank you.
Saniwa First Year Anniversary
Oh~ it's the first anniversary of inauguration! Amazing–
Saniwa Second Year Anniversary
就任二周年かー。だからかな、そばにいると落ち着くの
Your inauguration's second anniversary, huh? Maybe that's why it's relaxing to be at your side.
Saniwa Third Year Anniversary
It's your inauguration's third anniversary. As expected of you!
Saniwa Fourth Year Anniversary
I heard it's your fourth anniversary of inauguration. Excellent, excellent!
Expedition (Complete - Leader of Expedition Party)
Expedition (Complete - Leader of Primary Party)
Repairs (Medium/Severe Injury)
Please go
here
for special Internal Affairs interactions
Citadel (Poke multiple times)
Citadel (Injured - Poke multiple times)
Specific event banner introduction
Welcome Back Greeting (After Long Absence)
Regiment Battle Team Change
Saniwa First Year Anniversary
Saniwa Second Year Anniversary
Saniwa Third Year Anniversary
Saniwa Fourth Year Anniversary
Character Details