Character Info
No. 51
 Tantou

 Statistics (MAX)
| | |
| --- | --- |
| 生存  Survival | 23(27) |
| 統率  Leadership | 23(35) |
| 衝力  Impulse | 25(30) |
| 必殺  Killing Blow | 40 |
| 隠蔽  Camouflage | 45 |
| | |
| --- | --- |
| 打撃  Impact | 17(29) |
| 機動  Mobility | 35(43) |
| 範囲  Range | Short |
| 偵察  Scouting | 33(40) |
| 兵力  Troops Slots | 1 |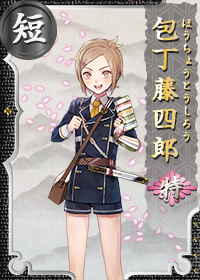 Houchou Toushirou Toku
包丁藤四郎  特
No. 51
 Tantou


 Statistics (MAX)
| | |
| --- | --- |
| 生存  Survival | 28(32) |
| 統率  Leadership | 28(40) |
| 衝力  Impulse | 30(35) |
| 必殺  Killing Blow | 40 |
| 隠蔽  Camouflage | 45 |
| | |
| --- | --- |
| 打撃  Impact | 22(34) |
| 機動  Mobility | 40(48) |
| 範囲  Range | Short |
| 偵察  Scouting | 45(52) |
| 兵力  Troops Slots | 1 |
Character Quotes
Introduction
Book Description
俺は包丁藤四郎! 藤四郎の兄弟で、 包丁みたいな形をしてるんだ! 俺の主は、 徳川家康公だったんだぞ! どうだ、 すごいだろー!
I'm Houchou Toushirou! Amoung the Toushirou brothers, I'm shaped like a kitchen knife! My master was Tokugawa Ieyasu! How's that, awesome, right~!
Obtained
包丁藤四郎だぞ! 好きなものはお菓子と人妻! よろしくー!
I'm Houchou Toushirou! I like candy and married women! Nice to meet you~!
Opening
Game Start
Hey hey, gimme some candy?
Citadel
Citadel
俺、人妻好き! 大好き! あ~、人妻の天国に行きたい……
I love married women, lo~ve them! Ah~, I wanna go to married women heaven...
My previous master liked married women too, so it's natural!
人妻は頭撫でてくれるし、お菓子くれるし、最高だよね
Married women pat my head and give me sweets, they're the best!
Citadel (idle)
Sooo bored... let's plaaay...
Citadel (injured)
What are you thinking, making me like this?
Citadel (Kiwame sendoff)
Don't worry, he'll be back right away-
Formation (captain)
Alrighty, I'm the captain!
Equipment
Instead of equipment, candy would be better.
How's this, I look cool yeah?
Expedition
If only I could meet some nice married women in our travels...!
Expedition Completed (Leader of Expedition Party)
I'm baaaack...couldn't meet any married women.
Expedition Completed (Leader of Primary Party)
おー、遠征部隊が帰ってきた! 俺へのお土産とかないのかな?
Oh-, the expedition team's back! Wonder if there are any souvenirs for me?
Repairs (medium/severe injury)
Refinery
Whoaaaa, I'm bursting with power!
Mission Completed
Looks like something's finished.
Battle Record
Are there any love letters from married women mixed in?
Merchant
お菓子ー!お菓子、買ってもいい?……ええー?だめなのー?
Candy~! Can we buy some candy? ...ehhh~, no~?
Front Lines & Battles
Front Lines
Battle, eh~? If I do well, I want a reward.
Scouting
Let's go in a way without being seen. Sneakily.
Sortie Kick-off
Alright! Let's do well in style!
Medium/Severe Injury
くっそー……人妻に撫でてもらわないとやってられないぞ
Dammit- ...I can't go on unless I'm patted by married women...
Awakening
I'm angry now...I'm, I'm gonna get serious!
Duel
If I turn this around here, then my popularity with married women will be certain!
Boss Node
Th-this place, eh? I'm not scared at all!
Rank-Up Toku
With this, I'll get steadily more popular with married women, yeah-?
Destroyed
火事で焼けるよりは……ずっと、かっこいい死に方だけどね……
...compared to being burned in a fire...surely, this is a cooler way to die, right...?
Internal Affairs
Please go
here
for special Internal Affairs interactions
Horsekeeping
(whine), why am I made to do horsekeeping?
Horsekeeping (done)
馬に好かれても仕方ないんだ……。人妻に好かれなきゃ!
I can't help it that I'm popular with horses... I need to get popular with married women!
Fieldwork
包丁藤四郎だからって、食べ物関連任せるって安直だよ!
Just because I'm Houchou Toushirou, leaving food related matters to me is too simplistic!
Note:
"Houchou" means "kitchen knife".
Fieldwork (done)
Besides, you only use a kitchen knife after the harvest is complete.
Sparring
Hehe. I'm gonna beat you up, yeah?
Special
New Year's Greeting
New Year's money! New Year's money!
Omikuji
Alright! Great Luck! Thanks to me!
Touken Ranbu's Second Year Anniversary (2017)
おー。二周年?これからも俺は人妻にモテるようがんばるー
Ohhh. The second year? I'll work hard to be popular with married women from now on, too!
Saniwa First Year Anniversary
Oh, it's your first year anniversary? Good job.
Saniwa Second Year Anniversary
二年聞ごくろう! これからもがんばれよー! はいお菓子!
Good job for those two years! Do your best from now on, too! Here, sweets!
Character Details
Ad blocker interference detected!
Wikia is a free-to-use site that makes money from advertising. We have a modified experience for viewers using ad blockers

Wikia is not accessible if you've made further modifications. Remove the custom ad blocker rule(s) and the page will load as expected.