This page is intended for new players who need a quick introduction to the main features of the game.
For more detailed information on specific game mechanics, please refer to their individual pages on the Main Page or as linked in their individual sections below.
If you have not yet successfully registered for a DMM account and bypassed the region lock on the game, please go to the How to Register and Proxy Connection and Troubleshooting pages and follow the instructions there.
Tutorial
Edit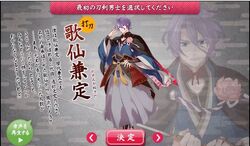 When you load Touken Ranbu for the first time, you will be prompted to select an open server. You cannot change your server after making your choice. Afterwards, the game will ask you to enter your Saniwa's nickname. Then, select your starter sword. Click the arrows to either side of the button at the bottom to see your five options.
Don't worry too much about deciding which sword to choose, as all the starter swords are Uchigatana with similar stats, and you will have the opportunity to obtain the other swords via Smithing or as a drop from Front Lines. The starter sword you choose will not affect gameplay.
The five starter swords are:
When you're done choosing your starter, Konnosuke, the game's fox mascot, will lead you through a basic gameplay tutorial. There are four sections of the tutorial:
Front Lines: Konnosuke will bring you to the Front Lines menu. The only available option to select is Front Lines (出陣), while the other two options, Expedition (遠征) and PvP (演錬), will be unavailable. Konnosuke will show you how to progress through a Front Line map, scouting and battle formations, and your sword's Awakening mode. At the end, you will lose the battle as a scripted event and sustain heavy damage to your sword.
Repairs: Now that your sword is severely damaged, he needs to be repaired. Konnosuke will guide you through repairing your sword and introduce Help Tokens, which can be used so that you won't have to wait for your sword to finish being repaired.
Smithing: Here, Konnosuke will show you how to create new swords using the Smithing menu. There are four resources you gather as you play: charcoal, steel, coolant, and whetstone. These resources are used to smith swords, and the amount you input can be adjusted using the arrows. For the tutorial, you are locked into a 50/50/50/50 recipe and will receive a Tantou-type sword. He will also allow you to use a Help Token here to skip the 20:00 minute timer.
Armory: In the final section, Konnosuke will show you how to make troops, which can be equipped to your swords to enhance their stats and protect them during battle. The Armory uses a menu similar to that of the Smithing section, and you will also be locked into a 50/50/50/50 recipe.
There are also additional short tutorials for the Refinery, Internal Affairs, and the Backgrounds tabs when you click on them.
The Main Screen
Edit
Main Functions:
Citadel - The center of your operations. You can interact with your sword here.
Front Lines - Here, you can send your swords to battle on at the Front Lines, gather resources on Expeditions, or Practice by challenging other players' teams.
Formation - This is where you can reorganize parties for Front Lines and Expeditions and equip your swords with troops.
Notice Board - Access game announcements and notices, Touken Ranbu Pocket Data Sync banner, and Serial Code Input Form banner here. Pocket-only function.
Smithing - This is where you can forge swords and scrap unwanted swords for raw materials.
Armory - This is where you can create troops to equip your swords and scrap unwanted troops for raw materials.
Repairs - You can repair your swords here when they aren't at full health.
Refinery - Here, you can sacrifice unwanted swords to enhance another sword's stats. 
Internal Affairs - Your swords will complete chores or practice sparring to train their stats.
Missions - A list of missions and daily missions are found here. You can also claim rewards for completed missions.
Battle Records - This is where you can view your battle records, basic account information, and set your greeting message.
Sword Library - Displays your sword collection, your sword CGs, and information about them.

The Recollections menu is also here. A recollection (回想) is a special characters interaction event that happens when you bring certain swords together in a party to a certain area in Front Lines.

Shop - This is where you can purchase cash items, such as emas, help tokens, protection charms, dango, and extra inventory slots using DMM points. DMM points are purchased with real money. You can also view your current inventory of cash items.
Backgrounds - This where you can change your background, or buy a background for your citadel using Koban (in-game money gathered from Expeditions, obtained as rewards from Expeditions, or obtained by leveling up your player).
Inbox - If your sword inventory is full and you receive swords as drops from battles, they will automatically be sent to your inbox. Any special items sent by game staff will also be sent to your inbox. Note while there is no limit to the inbox, all items sent to your inbox have a one month period before being permanently deleted.
Additional note: you can only view the first 100 items of your inbox (items gained most recently). To view older items, you have to claim the oldest ones displayed (on the 25th page) and the next time you open your inbox, older items will be displayed on the 25th page. Due to this constraint, it is advised to keep your inbox contents below 100 items to better manage your items in relation to their expiry date.
Sound Settings - Adjust the game's sound settings here. There are separate controls for music, sound effects, character voices, and citadel music. There is also an option to toggle on or off the sword's idle voice, as well as to disable or enable all sound.
Resources
| | | | |
| --- | --- | --- | --- |
| Charcoal | Steel | Coolant | Whetstone |
To the Front Lines
Edit
When you click on the Front Lines button, there are three options:
Front Lines: Send your swords out to famous battlefields across history and defeat enemies who are trying to change the past. You can obtain new swords and resources by completing maps. The primary game mode. For a detailed explanation of all battle features, please see Combat Mechanism.
Expeditions: Send your swords out on expeditions to gather resources. They will not take damage or engage in fights, but will be unavailable to travel to the front lines or used for practice battles for the duration of the expedition.
Practice (PvP): The game's PvP mode. Damage is fully recovered after each battle and you will never lose swords or equipment.
When going to the front lines, you will select your battlefield of choice and the team you'd like to travel with.
Scouting and Battle FormationsEdit
When you begin a sortie, your leader will scout for the enemies's troops. His success is dependent on how high the team's Scouting is overall. If the leader succeeds in his scouting phase, the game will indicate the enemy's battle formation, and which formations will be advantageous (有利) or disadvantageous (不利).
Advantageous (有利): The formation with this frame will increase Leadership, in addition to the bonuses and losses granted by the pattern chosen.
Disadvantageous( 不利): The formation with this frame will decrease Leadership, in addition to the bonuses and losses granted by the pattern chosen.
If the scouting is unsuccessful, the game will notify you in purple text, and you will be allowed to choose one of the six formations, but with no knowledge of what is advantageous or disadvantageous.
Fish Scale (魚鱗陣)
Horizontal (横隊陣)
Echelon (雁行陣)
Increases impact and impulse, decreases leadership powers.

Weak against reversed

.

Strong against crane wings

.
Increases leadership power and killing blow, decreases impulse.

Weak against crane wings

.

Strong against square

.
Increases mobility and impulse, decreases leadership powers and killing blow.

Weak against square

.

Strong against reversed

.
Crane Wings (鶴翼陣)
Square (方陣)
Reversed (逆行陣)
Increases impact, decreases leadership power and mobility.

Weak against fish scale

.

Strong against horizontal

.
Increases leadership power, decreases mobility and impact.

Weak against horizontal

.

Strong against echelon

.
Increases mobility, decreases leadership powers.

Weak against echelon

.

Strong against fish scale

.
Battle Phase (白刃戦)Edit
From here, each sword has two turns to attack. The order in which swords and enemies will attack is determined by their Mobility (機動) stat. The sword with the highest mobility will attack first, and the battle will proceed from there. Occasionally, your sword may land a critical hit (会心の一撃), which does bonus damage and pushes the enemy formation backwards.
After two turns, if there are still viable party members, the victor is determined by the amount of damage dealt to each party member and their troops. The battle also automatically ends if either side loses all party members, or if the team is pushed all the way back to the far sides of the screen.
Shinken Hissatsu (真剣必殺)Edit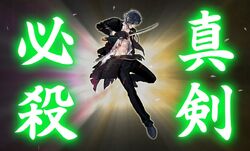 When your sword becomes moderately or severely damaged, it has a chance to enter an Awakened state (真剣必殺), which is signalled by a cut-in screen with a unique CG sprite. The probability of entering an Awakened state is governed by the sword's Certain Kill (必殺) stat. Afterwards, your sword moves forward and can now attack twice in one turn, and will always deal critical hits. After the battle, the awakening CG sprite will be saved to your Sword Library.
Awakened state will only last for the duration of the battle, and does not carry over to subsequent battles (unless triggered again).
The AftermathEdit
After the battle, the results screen will show a summary of each team's status, as well as total swords' remaining HP, total troops' remaining HP, and the number of swords left that are still able to battle. Your ranking is determined by how much damage you've dealt and received. 
The player and the swords receive experience points, with bonuses being awarded for achieving MVP status, for being the leader, and for achieving specific rankings.
Sometimes, you may also receive a sword as a drop from the map. A list of drops for each map can be found on the Drop List, with more details on each individual World's page. If a sword ranks up to Toku status, there will also be a short scene. The "sword drop" and "sword rank-up" screens look extremely similar, but if it is a Toku upgrade, the message will be slightly different (as shown below), and there will be a pink stamp in the bottom left corner when the sword appears.
Afterwards, you have the option of continuing forward (行軍を決行) or returning to your citadel (本丸へ帰城). You are automatically returned to your citadel if your leader is severely injured, or if you have reached a dead-end node (boss or otherwise).
Repairing Swords
Edit
For more information about repair times and costs, please see Repairs.
After battles, your swords may need to be repaired. At the Repairs menu, you can sort through your swords by type, damage sustained, level, or time received.
Each sword needs time and resources to be repaired. The time and resources required differs with sword type and scales upwards with damage sustained and level, and are shown before you begin repairing them.
You can also skip waiting for repair times by using a Help Token, either before or after you start repairing your swords.
Please note that damage is not the same as Fatigue.
Expeditions
Edit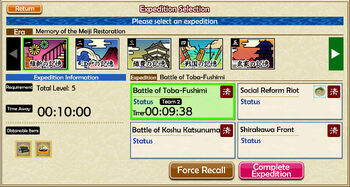 For a list of expeditions, their requirements, and their rewards, please see Expeditions.
Expeditions are a safe way for you and your team to gather resources and gain a small amount of experience points. Unlike at the Front Lines, they do not engage in fights or sustain damage.
Only your auxiliary (non-primary) parties may travel on expeditions. To successfully complete an expedition, the team must meet a specific level requirement, which uses the sum of the party's levels. Some expeditions may also require certain sword types to be present in the party in order to succeed. The only way to fail an expedition is to not meet the expedition's requirements, or by performing a forced recall.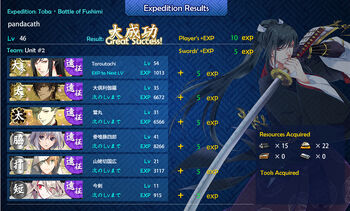 Occasionally, when a team returns from an Expedition, they may achieve a Great Success. You will acquire 1.5 times the normal amount of resources, and the player will gain double experience points. 
On some longer expeditions, you will also receive Koban boxes (小判箱), Help Tokens, or Request Tokens, which will be displayed under "Tools Acquired."
Practice (PvP)
Edit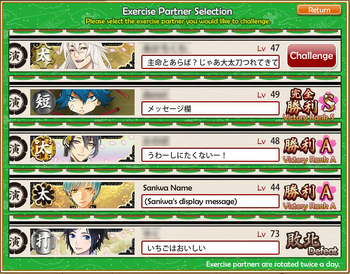 For more information on Practice mode, please see PvP.
You may Practice with your swords by battling other players and their main teams. Each player may be challenged once while they are on rotation.
Battles between players proceed just like normal battles, except your swords will not be destroyed if they sustain lethal damage; they will drop to 1 HP and be unable to fight for the remainder of the battle. At the end of the battle, all swords, including any troops they may have lost during the fight, are restored to full health.
Smithing
Edit
For a list of sword recipes and their required smithing times, please see Smithing.
You may smith new swords at the Forge using resources. Different combinations of resources may have higher chances of yielding different types of swords, though results are randomized, and using a certain recipe will never guarantee that you will receive a specific sword! Each time you smith a sword, you consume one Request Token, which may be found on Expeditions, as daily Mission rewards, or on the resources nodes of some battlefields.
You may use Ofudas to increase the probability of receiving a rarer sword than usual. There are four types of ofudas, in increasing strength and chance of receiving a rare sword:
Plum (梅) → Bamboo (竹) → Pine (松) → Fuji (富士). 
Again, while using an Ofuda increases the chances of a rare sword, it does not guarantee a specific sword or even a rarer sword than usual.
As with repairing swords, you can skip waiting for repair times by using a Help Token, either before or after you start forging swords. Note that using a Help Token before smithing does not increase the chances of a rare sword.
Dismantling SwordsEdit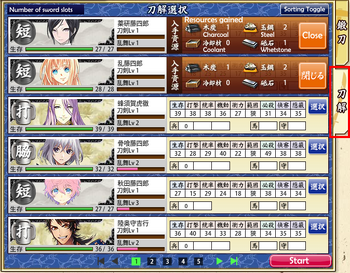 The second tab of the Forge brings up a menu that allows you to select unwanted swords for destruction. Destroying swords will provide you with a very small amount of resources, which varies based on what type of sword you are dismantling.
Consuming swords at the Refinery is generally a more cost-effective way to get rid of extra swords, unless you have no swords that need their stats boosted.
Take note that swords that are level 2 and above will issue a warning popup when used for dismantling. Swords that have been locked from the Formation menu will not appear as options to dismantle.
The Armory
Edit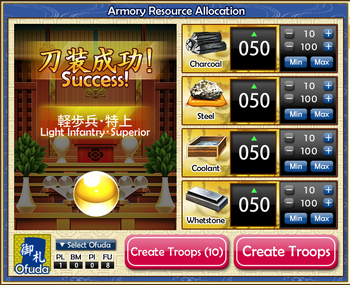 For a list of soldier recipes, their bonus stats, and information on what soldiers each sword type can equip, please see Armory.
The Armory is where you can create soldiers for your swords to equip. As with the forge and smithing, different combinations of resources may have higher chances of yielding different types of soldiers, but the results are still randomized. However, there is generally a lower level of variance when forging soldiers. The soldiers are made immediately, but have a chance of failure.
There are three quality tiers for soldiers: Common (並), Good (特), and Superior (特上). Higher tier soldiers are rare, but have more HP and grant extra bonus stats.
You can also choose to use an Ofuda while creating soldiers, though this is generally not recommended, because eventually your desired soldier will be created without using up too many resources.
Dismantling SoldiersEdit
Like the Forge, there is also a menu where you can destroy extra soldiers to gain a small number of resources. The resources you obtain from each soldier destroyed also depends on their type.
Party Organization
Edit
Next, you'll need to organize your parties for battles and expeditions! The Formation menu is where you can go through all of the swords in your possession and assign them to different parties. You can have up to four separate units, and each unit can hold a maximum of six swords. The leader of your first party is the sword you'll see in the Citadel.
Note that swords in the leader position don't have the black [Remove] button. In your auxiliary parties, the leaders can be removed only if the rest of the party is vacant, while in your primary party, your leader can only be switched with another sword, and never removed from the leader spot.
Sometimes, you may also have issues switching in swords. This is usually because:
The sword you are trying to switch in is the leader of another party, or,
You are trying to add a duplicate sword to the current party.
You can also equip your swords with troops made at the Armory, and horses gained by completing missions. A chart at the bottom will show how stats will increase or decrease when equipping troops or horses.
Protection charms (Omamori, お守り) can be purchased from the Merchant using DMM points and are also equipped here.
Sorting Swords using ToggleEdit
To view a certain type of sword or kinds of items you have equipped, the Formation Menu has additional toggles that allows you to sort your swords.
On PC, you may sort using two blue drop-down menus located at the top right-hand corner of the Formation Menu. The drop-down on the left allows you to sort according to type of sword, troops, horses and omamori equipped, and the other by level, sword number and date the sword was obtained. Click on the option to select how you want to sort your swords.
On Pocket, use the blue button located at the bottom left-hand corner of the Formation Menu. A pop-up will appear with the same options as on PC. Once you have selected your option, click the red button at the bottom of the pop-up to confirm.
Locking SwordsEdit
The Formation menu is also where you can lock or unlock your swords. Locking swords prevent you from accidentally dismantling a sword or using it for refinery. This is also useful for keeping tabs on which swords you already have and still do not have.
Locked swords will not appear in your Sword Selection list for Dismantling and Refinery.
To lock a sword click [Select Sword] to open up your swords list, choose a sword you want to lock, then click the lock button on the lower left side of the sword.
Unlocking swords will issue a warning popup asking you to confirm the action.
The Refinery
Edit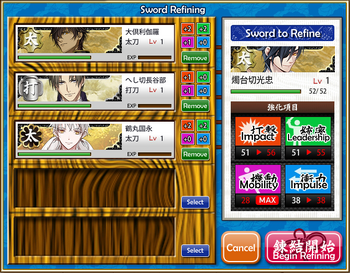 For a list of what swords provide what stats, please see Refinery.
For information on each sword's maximum stat values, please see the Sword Stat List or a sword's dedicated Character page.
One way of increasing a sword's stats is to take them to the Refinery. At the refinery, you can select up to five other swords to feed to the sword you want to make stronger. Each type of sword (ex. Tantou, Tachi) will tend to provide a certain combination of stats, though the exact number will vary based on what sword it is.
Each sword has a maximum cap on their stats. You can reach this cap via Refining or Internal Affairs, though Survival and Scouting can only be increased by Internal Affairs.
It is important to note that the boosts provided at the Refinery will be reset if the sword reaches rank-up (特) status. Therefore, in most cases it is more cost-efficient to wait until after a sword has ranked-up before boosting its stats at the Refinery.
Take note that swords that are level 2 and above will issue a warning popup when used for refining another sword.
Internal Affairs
Edit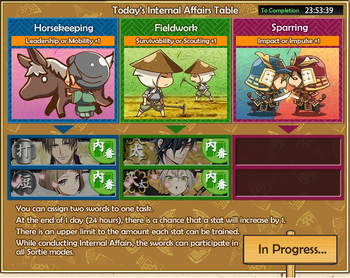 For more information, see Internal Affairs.
Another way of increasing a sword's stats is to have them conduct Internal Affairs, a.k.a. do chores around the Citadel. Internal Affairs is the only method of increasing a sword's Survival or Scouting stats (not including the rank-up increase at Lv. 20 or 25).
A pair of swords will be randomly chosen and have their Internal Affairs quotes spoken, as well as their casual clothes shown if they are placed in Horsekeeping or Fieldwork. Certain pairs may also have special interactions dialogue, which can be read on the Internal Affairs page.
Missions
Edit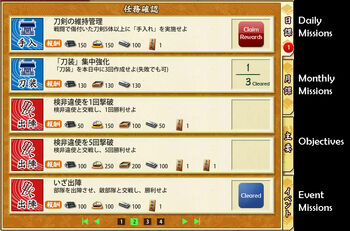 For a list of all missions and their rewards, please see Missions.
Missions reward the player for completing certain game objectives and daily tasks. Mission rewards include resources, Help Tokens, Request Tokens, horses, and even additional parties.
There are four categories of Missions:
Objectives: Objectives reward the player for completing certain game milestones and can only be cleared once per account.
Daily Missions: Daily missions reward the player for completing a number of tasks. These are repeatable once per day. The timer resets at 05:00 (GMT+9).
Monthly Missions: Monthly missions reward the player for completing a number of tasks. The rewards for these missions are reset on the 1st of every month at 05:00 (GMT+9).
Event Missions: Event missions reward the player for completing a number of tasks related to the ongoing event. The rewards for these missions must be claimed before the event ends. This tab appears during an event and does not appear when no event is under way. For a list of the event missions and their rewards, please check the particular event's page from Events.
You must confirm a mission's completion by clearing it from the Mission menu before receiving any rewards.
Ad blocker interference detected!
Wikia is a free-to-use site that makes money from advertising. We have a modified experience for viewers using ad blockers

Wikia is not accessible if you've made further modifications. Remove the custom ad blocker rule(s) and the page will load as expected.