Horsekeeping Interactions
Mouri Toushirou
Edit
Note: Mouri uses his default line when working with taller individuals.
All replies to Mouri's horsekeeping are default sparring lines and can be found in their individual character pages.
Shinsengumi
Edit
Izuminokami Kanesada and Horikawa Kunihiro
Horsekeeping Start
Horsekeeping Finished
Kashuu Kiyomitsu and Yamatonokami Yasusada
Tokugawa Swords
Edit
Monoyoshi Sadamune and Sohayanotsurugi
Horsekeeping Start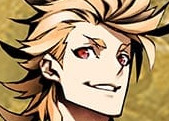 そうは言ってもなあ。俺達刀だろ……? 馬の世話ってのはなあ……
Even if you say that, well. We're swords, yeah? Taking care of horses is kinda...
Horsekeeping Finished
Ad blocker interference detected!
Wikia is a free-to-use site that makes money from advertising. We have a modified experience for viewers using ad blockers

Wikia is not accessible if you've made further modifications. Remove the custom ad blocker rule(s) and the page will load as expected.