Character Info
No. 134

 Ootachi

 Statistics (MAX)
| | |
| --- | --- |
| 生存  Survival | 57(67) |
| 統率  Leadership | 59(75) |
| 衝力  Impulse | 43(53) |
| 必殺  Killing Blow | 23 |
| 隠蔽  Camouflage | 30 |
| | |
| --- | --- |
| 打撃  Impact | 60(79) |
| 機動  Mobility | 11(11) |
| 範囲  Range | Wide |
| 偵察  Scouting | 12(13) |
| 兵力  Troops Slots | 2 |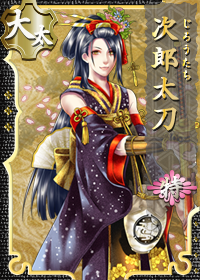 Jiroutachi Toku
次郎太刀  特
No. 134

 Ootachi


 Statistics (MAX)
| | |
| --- | --- |
| 生存  Survival | 62(72) |
| 統率  Leadership | 64(80) |
| 衝力  Impulse | 48(58) |
| 必殺  Killing Blow | 23 |
| 隠蔽  Camouflage | 35 |
| | |
| --- | --- |
| 打撃  Impact | 65(84) |
| 機動  Mobility | 16(16) |
| 範囲  Range | Wide |
| 偵察  Scouting | 17(18) |
| 兵力  Troops Slots | 2 |
Character Quotes
Introduction
Book Description
アタシは次郎太刀。見ての通りの大太刀さ。 兄貴の太郎太刀同様に奉納されてるけど、兄貴と違って、頑張ればまだ使えないこともない大きさなんだ。 と、言ってもやっぱりデカいんだけどね!
I'm Jiroutachi. As you can see, I'm an Ootachi. I was dedicated to the gods just like my big brother Taroutachi, but unlike him, my size isn't something that prevents me from being wielded with a little effort. I really am pretty big, though!
Obtained
こんにちは!綺麗な次郎で~す!……なんだ~、ノリ悪いなぁ。ま、今後ともよ~ろしくぅ!
Hello! I'm the pretty Jiroutachi~ii! ...Huuhhh, you're not very enthusiastic are you. Anyway, please take care of me!
Opening
Login (Complete)
Tourabu, starting now~! Kyahahaha!
Game Start
So! Go ahead and bring it on!
Citadel
Citadel
デカイって言っても、アタシは兄貴程じゃないからねぇ。
Even if you say I'm big, I'm not big enough to the extent of my brother.
I'm, you know, closer to reality, unlike my brother.
You drink some too, I'll pour it for you.
Citadel (Idle)
*hic*... I wonder if they went to get sake?
Citadel (Injured)
I sa-id it's okay. If I get drunk, it won't hurt anymo-re.
Line removed as of Feb. 18, 2015
Citadel (Kiwame Sendoff)
Take ca~re! Come back so~on!
Formation (Captain)
Ahahahaha! Leave it to me!
Fatigue Recovery
Hmm, sweets, huh... Oh, but I'm happy though, see?
Equipment
Oh? A toothpick? Ah ha ha ha ha.
Yes yes. I just have to use this, right?
Expedition
Yes ye--s. I'll go and run an erra--nd.
Expedition (Complete - Leader of Expedition Party)
I'm ba-ack. Here, souvenirs.
Expedition (Complete - Leader of Primary Party)
Oo~h, thank you for your hard work during the errand!
Smithing
Oh! A newcomer, huh. Here, drink!
Troops Create
This is simply the burst I got from my drink, o~kay!
Repairs (Minor Injury)
I'm just going to go and get sake.
Repairs (Medium/Severe Injury)
Refinery
Ohh--! I'm getting stronger, aren't I!
Mission (Complete)
Ooh, I think something's sparkling?
Merchant
Oh! You're going to buy sake, right? I'm coming I'm coming!
Front Lines & Battles
Front Lines
A battle? Alright, after I drink a glass first!
Scouting
敵は酔っ払い相手だと思って油断してるね。じゃあ、そこを突こう。
The enemy thinks they're up against a drunkard and have let their guard down, huh. Well then, I'll take this chance to strike.
Sortie Kick-off
Well! Jirou-san's going to rage!
PvP
Oh! This is the perfect way to pass time while drinking.
Attacking
Randomly swinging around and it hits!
Critical Hit
When I go wild, I'm like a storm!
Minor Injury
Did I bump into something?
Medium/Severe Injury
Aah...I've kinda sobered up...
Awakening
ったく、酔いが醒めちゃったじゃないか…このツケは高くつくよ!
Jeez, I've completely sobered up... This is going to be costly for you!
Duel
おいおい、まだまだ終わりにするにゃあ早すぎないかい
Oi oi, it's still too early to end this.
Boss Node
あぁー…だめだめ。なーんか冷めちゃうよねぇ、こんなに殺気溢れてると
Ahh...this won't do. It's a bit cold isn't it - the enemy's overflowing thirst of blood.
Rank-Up Toku
I became stronger! Alright, let's drink!
Destroyed
ここまでか…まあ、戦やってるんだしねぇ。仕方ない、仕方ない…
This is the end, huh... Well, that's war for you. It's unavoidable, can't be helped...
Internal Affairs
Please go
here
for special Internal Affairs interactions
Horsekeeping
だはは~。馬も酒、飲むかい?飲ませちゃ駄目だよねえ!きゃははは。
Dahaha~. Do you want to drink some sake, horse? No, you can't drink it can you! Kyahahaha.
Horsekeeping (Complete)
Somehow I'm disliked by the horses? Maybe my body's too big.
Fieldwork
Heave-ho, heave-ho. Can I drink yet~?
Fieldwork (Complete)
Phwah--, sake after you finish working is the best.
Sparring
I wonder, If I move my body a little, will the sake wear off?
Sparring (Complete)
Mmhm. It went well! So, let's drink!
Ranbu Level
Citadel (Poke multiple times)
Citadel (Injured - Poke multiple times)
Specific event banner introduction
Special
Welcome Back Greeting (After Long Absence)
おおっ、帰ってきたね? ずいぶん長い買い出しだったじゃないのさ~
Ooh, you're back? For a shopping trip it took you looong enough~
New Year's Greeting
Alright, on New Year, it has to be New Year special spiced sake for the drink!~
Setsubun (After Casting Beans)
Touken Ranbu's First Year Anniversary (2016)
Hooray-! It's been a year! Chee~rs!
Touken Ranbu's Second Year Anniversary (2017)
宴の席ってのはいいもんだね。いつもよリ酒がうまい!
Banquets are great, aren't they? The sake tastes better than usual!
Touken Ranbu's Third Year Anniversary (2018)
これで三周年を迎えたわけだけど、新顔も随分増えたよねぇ。今後も飲める奴が増えていくと楽しいなぁ~
?
Saniwa First Year Anniversary
Congratulations on your first inauguration anniversary! Here, have a drink!!
Saniwa Second Year Anniversary
Congrats on your second year inauguration anniversary! At least today you should drink up!
Saniwa Third Year Anniversary
就任三周年おめでとう! 大丈夫だって、飲んでたって目くじら立てるやつなんかいないさ!
?
Character Details