Character Info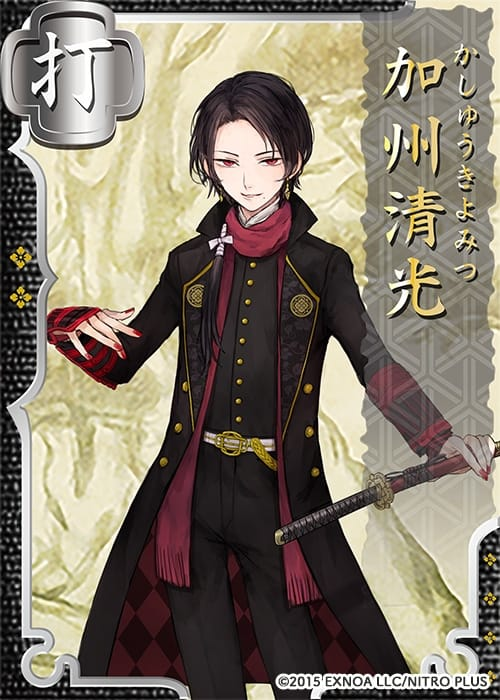 No. 85

 Uchigatana

 Statistics (MAX)
| | |
| --- | --- |
| 生存  Survival | 33(38) |
| 統率  Leadership | 36(45) |
| 衝力  Impulse | 26(45) |
| 必殺  Killing Blow | 41 |
| 隠蔽  Camouflage | 37 |
| | |
| --- | --- |
| 打撃  Impact | 34(50) |
| 機動  Mobility | 37(46) |
| 範囲  Range | Short |
| 偵察  Scouting | 36(41) |
| 兵力  Troops Slots | 2 |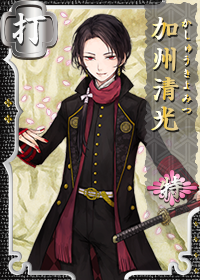 Kashuu Kiyomitsu Toku
加州清光  特
No. 85

 Uchigatana


 Statistics (MAX)
| | |
| --- | --- |
| 生存  Survival | 38(43) |
| 統率  Leadership | 41(50) |
| 衝力  Impulse | 31(50) |
| 必殺  Killing Blow | 41 |
| 隠蔽  Camouflage | 42 |
| | |
| --- | --- |
| 打撃  Impact | 39(55) |
| 機動  Mobility | 42(51) |
| 範囲  Range | Short |
| 偵察  Scouting | 41(46) |
| 兵力  Troops Slots | 2 |
Character Quotes
Introduction
Book Description
俺、加州清光。川の下の子、河原の子ってね。
扱いにくいが性能はピカイチ、いつでも使いこなせて可愛がってくれて、あと着飾ってくれる人大募集してるよ
I am Kashuu Kiyomitsu. The child beneath the river, the child of the river banks, I suppose.
I may be hard to handle but my ability is top notch. I am always looking for people who can use me well, shower me with affection, and dress me beautifully.
Note:
Kashuu Kiyomitsu's swordsmith lived in the slums of the hinin(非人) by the river bank, who were part of the untouchable burakumin, an outcast group at the bottom of the Edo social order due to their "unclean" professions such as butchers, tanners and entertainers. The hinin were not allowed to work on rice fields so they lived by the river bank that was unsuitable for agriculture, thus they were also called people of the river bank(河原者).
Obtained
あー。川の下の子です。加州清光。扱いづらいけど、性能はいい感じってね。
Uhh. I'm the child beneath the river. Kashuu Kiyomitsu. I may be difficult to handle, but my performance is good.
Opening
Login (Loading)
I'll keep myself pretty, so take good care of me.
Login (Complete)
Touken Ranbu is starting.
Game Start
Well, let's get this going.
Citadel
Citadel
俺、川の下の子だからさ。意外にそういうのも詳しいよ?
I'm the child beneath the river, after all. I can be unexpectedly well-informed about -those- kinds of things too, you know.
Note:
See book description note.
俺、扱いにくいんだよねー。だ・か・ら、うまく扱ってね
I'm preeeetty difficult to handle. Sooooo, you have to take good care of me, okay?
Citadel (Injured)
... If I'm this worn out... I won't be loved...
Line removed as of Feb. 18, 2015
I told you I'm in the middle of my treatment!
Citadel (Kiwame Sendoff)
Boys can't grow without going on a journey, eh.
Formation (Member)
Kashuu Kiyomitsu, incoming.
Equipment
I think I've become a bit cuter!
Expedition Completed (Leader of Expedition Party)
Phew~ I'm back, I'm back~
Expedition Completed (Leader of Primary Party)
Looks like the expedition party's back.
Repairs (Minor Injury)
Maintenance, maintenance♪
Repairs (Medium/Severe Injury)
If you're bothered to repair me, does that mean you still love me?
Note:
See trivia section.
Refinery
The combination is a success!
Battle Record
So? Your current performance is-
Front Lines & Battles
Front Lines
Alright, it's time for a sortie!
Scouting
Scouting isn't really my thing...
Note:
Consider that he has the highest scouting stats among uchigatana, along with Nakigitsune.
Sortie Kick-off
Alright, let's get this party started!
Ikedaya Kick-off
We're here to search the premises!
Note:
Reference to the famous line Shinsengumi Captain Kondo Isami allegedly shouted at the start of the
Ikedaya Raid
. Modern equivalent would be "Police! Open up!"
PvP
Well, let's get going then~
Attacking
Make it look like a feint... and then attack!
Critical Hit
This time... I'm... serious!
Awakening
Anyone who sees me naked... shall die...!
Rank-Up Toku
へへ。ちょっとは可愛くなったよな。……今日からも、よろしく
Heheh. I think I became a little bit cuter. From now on, please keep taking care of me.
Destroyed
Was I... loved until the end?
Note:
See trivia section.
Internal Affairs
Please go
here
for special Internal Affairs interactions
Fieldwork
I don't like jobs that make me dirty...
Fieldwork (Done)
I finished the errand~ I'm so tired~
Sparring
Good, good. I love training.
Special
Citadel (Nendoroid Background)
My nails, won't you paint them?
俺、小さいから結構繊細なんだよねー。だーかーら、うまく扱ってね?
Since I'm small, that makes me pretty delicate, huh. So, please treat me well, yeah?
ふぁーぁ…ふぅ…眠いよなぁ。小さいからサボってもばれない、よね?
Ya~wn. I'm so sleepy. Because I'm small, I won't get caught even if I slack off, right?
Welcome Back Greeting (After Long Absence)
あ、よかった......もう、俺のことなんてどうでもいいんじゃないかって......
Oh, I'm so glad... I thought maybe you didn't care about me anymore...
New Year's Greeting
Kashuu Kiyomitsu, now going on a New Year's break......I can't?
Setsubun (Entering Map)
Demon extermination... sounds like a fairytale
Setsubun (Cast Beans)
Out with the Oni! In with the fortune!
Make it look like a feint - out with the Oni!
Setsubun (After Casting Beans)
Ehehe. We worked hard a bit.
Touken Ranbu's First Year Anniversary (2016)
Congratulations, one year. From now on too, Kashuu Kiyomitsu will do his be~st.
Touken Ranbu's Second Year Anniversary (2017)
祝、二周年。ここまでこれたのって、やっぱり。。愛かな
Congratulations, two years. If you've come this far, I guess that means... It's love after all?
Touken Ranbu's Third Year Anniversary (2018)
えー,おほん。三周年になりました。これからも,愛される俺たちであるよう,頑張りまーす!
Uh, ahem. It's been three years. Even from here on, us who are loved a lot, we will work hard.
Saniwa First Year Anniversary
ねえ、一年審神者やってわかったろ? 誰が一番かって
Hey, after being a saniwa for one year you surely have known, right? About who's number one, I mean.
Saniwa Second Year Anniversary
就任二周年おめでとう。もう扱いにくいとか、関係ないよね?
Congrats on your second anniversary. It doesn't matter anymore that I'm hard to handle, right?
Saniwa Third Year Anniversary
三周年、おめでと。俺みたいのをちゃんと扱えるのはやっぱ、愛……だよね?
Congratulations on your third anniversary. Since you're really using someone like me, I guess... It's love, right?
Character Details