Sypnosis
Edit
文久三年。
倒幕派と佐幕派が世を二分し、刀の時代が終わりを告げた時代―――幕末。
刀剣男士として顕現したばかりの堀川国広は、 かつて同じ主の元で戦った和泉守兼定とともに、雨の山道をひた走る。
刀剣男士は刀に宿る思いを審神者が励起させ、顕現させて『付喪神』。
彼らの使命は、歴史を変えように目論み未来から送り込まれる『時間遡行軍』を打ち倒し、"正しい歴史"を守ること。
陸奥守吉行、薬研藤四郎、蜻蛉切、鶴丸国永という新たな仲間を得た二振りは、動乱な時代で、時間遡行軍との戦いに身を投じることになる。
振るう刃に映そは光か、影か。
刀剣男士、いざ出陣。
Bunkyuu 3 (1863).
The era that signalled the end of the sword era, when the anti-shogunate forces and pro-shogunate forces split the world in half --- the Bakumatsu era
Horikawa Kunihiro, who was just manifested as a Touken Danshi, dashes down a rainy mountain road, alongside Izuminokami Kanesada, who fought alongside him under the same former master.
Touken Danshi are manifested "tsukumogami", awakened by saniwa from the emotions contained within swords. Their duty is to defeat the "Retrograde Army", a force sent from the future with the goal of changing history, and to protect the "correct history".
Having gained new comrades Mutsunokami Yoshiyuki, Yagen Toushirou, Tonbokiri, and Tsurumaru Kuninaga, the two swords throw themselves into the upheaval of the time period and into battle with the Retrograde Army.
What is reflected in the swords they wield: light, or shadow?
Touken Danshi, now departing for battle.
Translated permission [1]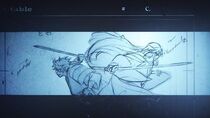 Director: Shirai Toshiyuki (白井俊行)
Music: Fukasawa Hideyuki (深澤秀行)
Animation Production: ufotable
Blade Animators: Obunai Mitsuru (小船井充), Kimura Masaru (木村 豪), Kunihiro Masayuki (國弘昌之)
History Expert: Yamamura Tatsuya (山村竜也)
Swordsmanship Instructor: Watanabe Kougyoku (渡邉鋼玉)
Character Designers: Uchimura Touko (内村瞳子), Tsuzuki Moe (都築 萌), Ishizuka Miyuki (石塚みゆき), Niisato Rio (新里りお), Shiojima Yuka (塩島由佳), Yamazaki Miki (山崎ミキ), Onizawa Kayo (鬼澤佳代), Serai Yukako (瀬来由加子)
Art Director: Eto Koji (衛藤功二)
Director of Compositing: Terao Yuichi (寺尾 優一)
3D Director: Nishiwaki Kazuki (西脇一樹)
Color Designer: Matsuoka Mika (松岡美佳)
Editing: Kamino Manabu (神野 学)
Theme Artists
Edit
Opening Theme Artist: Saitou Souma (斉藤壮馬)
Ending Theme Artist: Kalafina
Schedule
Edit
TOKYO MX: Starts on July 1 (Saturday), 24:30
Gunma TV (群馬テレビ): Starts on July 1 (Saturday), 24:30
Tochigi TV (とちぎテレビ): Starts on July 1 (Saturday), 24:30
BS11: Starts on July 1 (Saturday), 24:30
MBS: Starts on July 1 (Saturday), 27:08
Okayama Housou/OHK (岡山放送): Starts on July 16 (Sunday), 25:30
Kochi Sun Sun TV (高知さんさんテレ): Starts on July 19 (Wednesday), 25:55
TV Ehime/EBC (テレビ愛媛): Starts on July 20 (Thursday), 26:00
AT-X: Starts on July 4 (Tuesday), 22:30; Rebroadcasts every Thursdays (14:30), every Sundays (06:30), every Mondays (06:30)
The broadcasting times may change without notice.
Cast & Episode List
Edit
TBA
External Links
Edit
Ad blocker interference detected!
Wikia is a free-to-use site that makes money from advertising. We have a modified experience for viewers using ad blockers

Wikia is not accessible if you've made further modifications. Remove the custom ad blocker rule(s) and the page will load as expected.