Character Info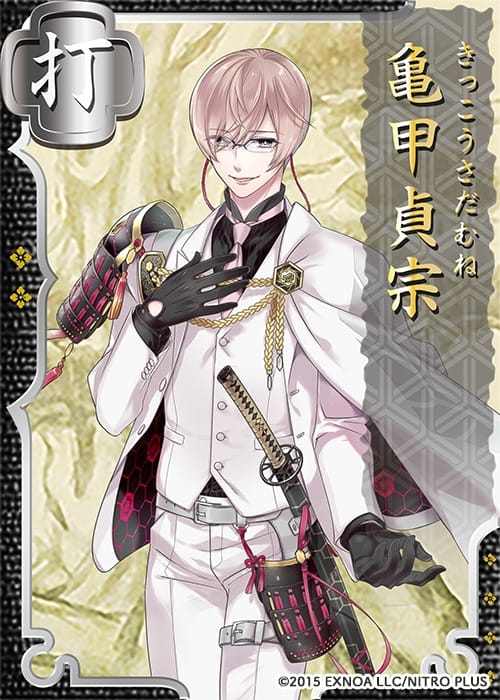 No. 71

 Uchigatana

 Statistics (MAX)
| | |
| --- | --- |
| 生存  Survival | 45(51) |
| 統率  Leadership | 38(50) |
| 衝力  Impulse | 40(48) |
| 必殺  Killing Blow | 37 |
| 隠蔽  Camouflage | 35 |
| | |
| --- | --- |
| 打撃  Impact | 37(49) |
| 機動  Mobility | 34(42) |
| 範囲  Range | Short |
| 偵察  Scouting | 31(37) |
| 兵力  Troops Slots | 2 |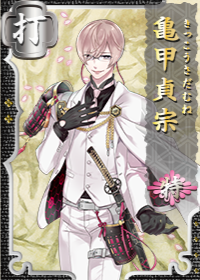 Kikkou Sadamune Toku
亀甲貞宗  特
No. 71

 Uchigatana


 Statistics (MAX)
| | |
| --- | --- |
| 生存  Survival | 50(56) |
| 統率  Leadership | 43(55) |
| 衝力  Impulse | 45(53) |
| 必殺  Killing Blow | 37 |
| 隠蔽  Camouflage | 40 |
| | |
| --- | --- |
| 打撃  Impact | 42(54) |
| 機動  Mobility | 39(47) |
| 範囲  Range | Short |
| 偵察  Scouting | 36(42) |
| 兵力  Troops Slots | 2 |
Character Quotes
Introduction
Book Description
ぼくは亀甲貞宗。徳川将軍家に伝わる刀だよ。 今の名前は、亀甲紋が彫られていることから付いたんだ
I'm Kikkou Sadamune, a sword passed down the Tokugawa shogun family. My current name comes from me being engraved with a tortoise shell crest.
Obtained
ぼくは亀甲貞宗。名前の由来? ……ふふっ。ご想像にお任せしようか
I'm Kikkou Sadamune. The reason behind my name? ...Hehe. Perhaps I'll leave that to your imagination.
Opening
Login (Complete)
Touken Ranbu, let's begin.
Citadel
Citadel
What's the matter? Is there something about me that bothers you?
Us Sadamune blades are usually unsigned.
Citadel (Idle)
Neglect play? Sends a shiver down my spine.
Citadel (Injured)
Haha, indeed, I'm no good if I'm not tied up.
Citadel (Kiwame Sendoff)
ご主人様のために、強くなろうって言うんだね。彼は…
He said... He wanted to become stronger for Master's sake.
Formation (Member)
Yes, if Master commands it.
Formation (Captain)
You trusting me makes me happy.
Fatigue Recovery
Carrot and stick... Is this that kind of thing!?
Note:
"Carrot and stick" is the idea of using rewards and punishments to induce desired behavior. The literal translation of the phrase used is "sweets and a whipping", which has the same meaning.
Equipment
Equipment... is a restraint in a sense, yes?
Note:
Possibly a play on 装's secondary meaning of binding.
Yes, I'll put it on right away.
Expedition
遠くに行かなければいけないのか……いや、がまんがまん
Must I go far away? ...Well, self-restraint, self-restraint.
Expedition Completed (Leader of Expedition Party)
(panting) ...I rushed back as quickly as possible!
Expedition Completed (Leader of Primary Party)
The expedition team has arrived.
Smithing
A newcomer? Let's get along.
Repairs (Minor Injury)
It's just a scratch, so it will heal right away.
Repairs (Medium/Severe Injury)
ああ、万全の状態でなければ、次に傷を受ける事も出来ないからね
Yeah, if I'm not in perfect condition, then I won't even be able to take the next blow.
Mission Completed
You mustn't neglect your finished missions, you know?
Battle Record
Master, I've brought back a letter.
Merchant
Ah, shopping, is it? I'll accompany you.
Front Lines & Battles
Front Lines
A battle, is it? Understood, I'll do my best.
Resource Discovery
When this is brought back, what kind of reaction will it bring in return?
Scouting
First of all, everything starts with understanding the opponent.
Sortie Kick-off
Since they are Master's enemies, I will show them no mercy.
PvP
Well then, let's clash with all our might.
Minor Injury
This doesn't even count as an injury yet.
Awakening
Pain without love has no value.
Duel
ぼくはね……ご主人様を悲しませたい訳じゃないんだ。
In my case...it's not that I want to make Master sad.
Boss Node
Well then, let's brace ourselves.
Victory (MVP)
Oops, was I a little too forward?
Rank-Up Toku
ふふふ……いろいろと高まってきたよ。具体的には……ああっ! どこへ行くんだい!?
(chuckling)...I have risen in various ways. To be specific... Hey! Where are you going!?
Destroyed
戦で散るのは当たり前…。だからこそ、主には愛してもらいたいんだ…
To fall in battle is natural... And for this reason, I wanted my Master to love me...
Note:
It's interesting to note that Kikkou uses the term 主 (aruji) to refer to the player here, whereas in all other lines he will call the player ご主人様 (goshujinsama). Given the master-servant relationship ご主人様 implies, as well as Kikkou's belief in "the supremacy of his master," he may be willingly demeaning his own status by calling the player ご主人様 in the hopes of appealing to them. When he is destroyed, however, he uses 主 instead to talk about the player more as "the person they are loyal to" rather than just simply "their master."
Internal Affairs
Please go
here
for special Internal Affairs interactions
Horsekeeping
ぼくにこういうことをさせるなんてね……ご主人様には才能がある
To make me do this sort of thing... Master sure is talented.
Fieldwork
Plow until I'm completely worn out, so I was told.
Fieldwork (Done)
(panting) It's finally over...
Sparring
Well then, pound away at me.
Sparring (Done)
I feel nice and sweaty. I'll be counting on you again.
Special
Welcome Back Greeting (After Long Absence)
Fufufu.....That was a really long neglect play!
New Year's Greeting
The shrine decorations....are ropes...! Hahaha...!
Note:
Shimenawa ropes are used to decorate shrines and gates during New Years.
Setsubun (After Casting Beans)
Touken Ranbu's Second Year Anniversary (2017)
ニ周年記念のかくし芸はないのかって?ふふふ、ぼくがいつも何を隠しているかわかっているくせに
No hidden talent show for the second anniversary celebration, you say? Hahaha, even though you know I'm always hiding something.
Touken Ranbu's Third Year Anniversary (2018)
三周年ともなると、真面目に挨拶しなければならないような雰囲気だね。でも、そう命じられるのであれば、これはこれで
?
Saniwa First Year Anniversary
さあ、一周年記念に、ぼくになんでも命令するといいよ!
All right, to celebrate the first anniversary of your inauguration, you can order me to do anything!
Saniwa Second Year Anniversary
ニ周年おめでとう。すっかりご主人様も人を従える風格が……!
Congratulations on your second anniversary. Master too has thoroughly become a person to make others obey...!
Saniwa Third Year Anniversary
祝、就任三周年。さあ、なにか記念の命令はあるかい?
Congratulations on 3rd year anniversary. Well, do you have any commemorative orders for me?
Character Details