Character Info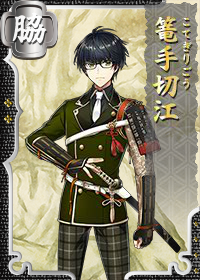 No. 144

 Wakizashi

 Statistics (MAX)
| | |
| --- | --- |
| 生存  Survival | 34(37) |
| 統率  Leadership | 26(38) |
| 衝力  Impulse | 36(46) |
| 必殺  Killing Blow | 50 |
| 隠蔽  Camouflage | 28 |
| | |
| --- | --- |
| 打撃  Impact | 24(35) |
| 機動  Mobility | 36(46) |
| 範囲  Range | Short |
| 偵察  Scouting | 35(46) |
| 兵力  Troops Slots | 2 |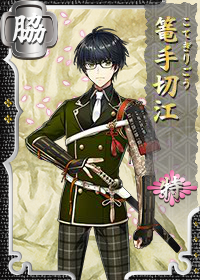 Kotegiri Gou Toku
篭手切江  特
No. 144

 Wakizashi


 Statistics (MAX)
| | |
| --- | --- |
| 生存  Survival | 40(43) |
| 統率  Leadership | 32(44) |
| 衝力  Impulse | 42(52) |
| 必殺  Killing Blow | 50 |
| 隠蔽  Camouflage | 34 |
| | |
| --- | --- |
| 打撃  Impact | 30(41) |
| 機動  Mobility | 42(52) |
| 範囲  Range | Short |
| 偵察  Scouting | 41(52) |
| 兵力  Troops Slots | 2 |
Character Quotes
Introduction
Book Description
私は篭手切江。正宗十哲の名高い、郷義弘の打った脇差です。 稲葉家と細川家、その両方に大変お世話になりました
I am Kotegiri Gou. A wakizashi forged by Gou no Yoshihiro, one of the ten celebrated disciples of the swordsmith Masamune. I am greatly indebted to both the Inaba and Hosokawa clans.
Obtained
私は篭手切江。郷義弘の打った脇差です。これからよろしくお願いします
I am Kotegiri Gou. A wakizashi crafted by Gou no Yoshihiro. Please take care of me from now on.
Opening
Login (Complete)
Oops, my costume's a little messed up.
Citadel
Citadel
実は、着付けが得意なんです。…ほら、こんな感じでどうでしょう
The truth is dressing others is my specialty. ...For example, how's this?
My hands are beautiful...? Is... that so?
私はまだ、見習いですから。歌って踊れる付喪神として輝けるよう、精進あるのみです!
I am still just an apprentice. To shine as a tsukumogami that can sing and dance relies only on my diligence.
Citadel (Injured)
This is troubling... my clothes... are a mess!
Citadel (Kiwame Sendoff)
Where one's role lies, huh? A journey to find out...
Formation (Member)
First you have to start from the bottom.
Formation (Captain)
I-I-I'm the leader!? Are you sure?
Fatigue Recovery
There's nothing better than sweets when you're tired.
Equipment
Yes, since it's Master's decision.
I've completed battle preparations!
Expedition
Expeditions into the countryside are important, right?
Expedition (Complete - Leader of Expedition Party)
It was a very productive expedition!
Expedition (Complete - Leader of Primary Party)
It looks like everybody has returned.
Smithing
I wonder what kind of person the newbie will be.
Troops Create
The equipment's clothes... Maybe, like this.
Repairs (Minor Injury)
I'll fix up my clothes a little.
Repairs (Medium/Severe Injury)
...I'll... return soon...!
Refinery
I'm becoming more brilliant!
Mission (Complete)
Do your best to complete your missions properly.
Battle Record
Let's look at your records and set a new goal.
Front Lines & Battles
Resource Discovery
Oh, there's something here.
Scouting
Report to me. How is the situation up ahead?
Sortie Kick-off
A battle has to be swift!
PvP
Joint training, huh? Sounds like I will learn a lot.
Attacking
Minimization for maximum speed!
Critical Hit
If I cut the sword arm...!
Awakening
If I'm like this I'll show you my full strength!
Duel
Everything's on me now... Not bad!
Boss Node
Come, it's the decisive battle.
Victory (MVP)
I want to build up lots of achievements just like this.
Rank-Up Toku
How is it? The result of my daily lessons!
Destroyed
残念だな……。ステージに、立つ前に、…折れるなんて……っ
Too bad... To break... before I get to stand on the stage...
Internal Affairs
Please go
here
for special Internal Affairs interactions
Horsekeeping
Today's tsukumogami do just about everything...
Horsekeeping (Complete)
Alright. The horses should be satisfied with this.
Fieldwork
Not just singing and dancing, but also growing vegetables? Hm...
Fieldwork (Complete)
Well then, I better go change.
Sparring
I'll have you accompany me for training today, too!
Sparring (Complete)
Thank you. This was quite enlightening.
Ranbu Level
Citadel (Poke multiple times)
Citadel (Injured - Poke multiple times)
ああ……やっぱり、こんな格好では、気になりますか……
Specific event banner introduction
Special
Welcome Back Greeting (After Long Absence)
おかえりなさいませ。ご不在の間も、れっすんを欠かさず続けていました
Welcome back. Even in your absence, I've continued my daily lessons without fail.
New Year's Greeting
あけましておめでとうございます。晴れ着の着付け、お一人で出来ますか?
Happy New Year. Do you need help putting on your fanciest kimono?
Setsubun (Entering Map)
Let's take the Oni's gauntlet, too.
Note:
Kotegiri literally means "gauntlet-cutter".
Setsubun (Boss Node)
It's the decisive battle against the Oni.
Setsubun (Cast Beans)
Out with the Oni, in with the luck!
Setsubun (After Casting Beans)
To have tsukumogami even throw beans is...
Touken Ranbu's Third Year Anniversary (2018)
付喪神顕現から三周年を迎えました。私のような新人も加わった我々を、これからもよろしくお願いいたします
?
Saniwa First Year Anniversary
主、就任一周年おめでとうございます。共にこれからもがんばりましょう!
Master, congratulations on your first year anniversary. I'll continue to do my best at your side!
Saniwa Second Year Anniversary
就任二周年おめでとうございます。目指すもののため、共にがんばりましょう!
Master, congratulations on your second year anniversary. For the sake of our goals, I'll continue to do my best at your side!
Saniwa Third Year Anniversary
就任三周年おめでとうございます。未だ見習いの私ですが、主をこれからも支えていきます
?
Character Details