Character Info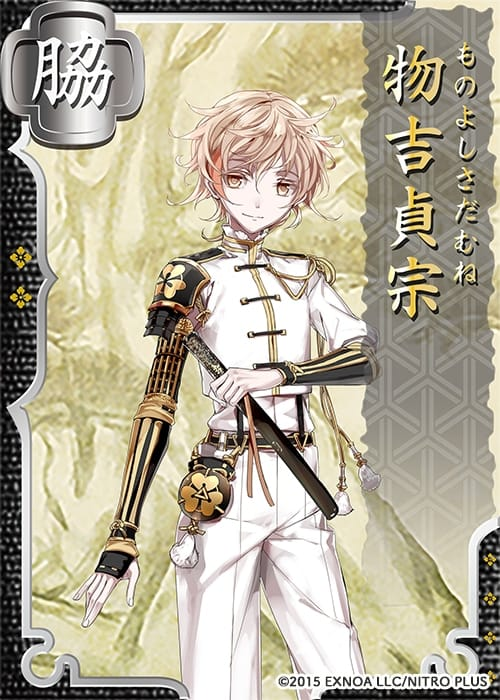 No. 67
 Wakizashi

 Statistics (MAX)
| | |
| --- | --- |
| 生存  Survival | 34(43) |
| 統率  Leadership | 28(53) |
| 衝力  Impulse | 38(48) |
| 必殺  Killing Blow | 50 |
| 隠蔽  Camouflage | 25 |
| | |
| --- | --- |
| 打撃  Impact | 27(38) |
| 機動  Mobility | 38(48) |
| 範囲  Range | Short |
| 偵察  Scouting | 38(46) |
| 兵力  Troops Slots | 2 |
Monoyoshi Sadamune Toku
物吉貞宗  特
No. 67
 Wakizashi


 Statistics (MAX)
| | |
| --- | --- |
| 生存  Survival | 39(48) |
| 統率  Leadership | 35(60) |
| 衝力  Impulse | 43(53) |
| 必殺  Killing Blow | 50 |
| 隠蔽  Camouflage | 30 |
| | |
| --- | --- |
| 打撃  Impact | 30(41) |
| 機動  Mobility | 43(53) |
| 範囲  Range | Short |
| 偵察  Scouting | 43(51) |
| 兵力  Troops Slots | 2 |
Character Quotes
Introduction
Book Description
物吉貞宗と言います!無銘のボクですが、ボクを持っていくさに行くと必ず勝てるというので、徳川家康公には大事にしていただきました!
My name is Monoyoshi Sadamune! I don't have an inscription, but Lord Tokugawa Ieyasu treasured me for bringing certain victory whenever he took me with him!
Obtained
物吉貞宗と言います!今度は、あなたに幸運を運べばいいんですか?
My name is Monoyoshi Sadamune! Shall I bring you good luck this time?
Citadel
Citadel
Al~right, today I'll bring good luck too!
Master, is there anything I can help you with?
Smiles are the best! Master, let's smile!
Citadel (idle)
Eh? Is it alright not to help with anything?
Citadel (Kiwame sendoff)
Let's wish for his good luck!
Formation (member)
Yes! I'll bring good luck!
Formation (captain)
I'll work hard so that everyone will win!
Equipment
I just need to use this, right?
Expedition
I'll bring good fortune from far away!
Expedition Completed (Leader of Expedition Party)
I've brought back good fortune!
Expedition Completed (Leader of Primary Party)
Everyone from the expedition's returned!
Smithing
A new friend has arrived!
Repairs (minor injury)
I'm off to get fixed a bit!
Repairs (medium/severe injury)
戦に出れないと…皆さんのお手伝い、出来ませんからね…
If I don't go out to fight... then I can't help everyone...
Mission Completed
The mission's been completed!
Battle Record
A letter has arrived, you know?
Merchant
Helping out with the shopping, understood!
Front Lines & Battles
Scouting
I'm counting on you for scouting, we'll decide the next move after that.
Sortie Kick-off
Let's go, in order to seize victory!
PvP
Let's have a good practice!
Critical Hit
Good luck will always be on this side!
Medium/Severe Injury
Owowow... what are you doing?
Duel
物吉と呼ばれたのは、僕が勝利を運ぶからなんですよ!
The reason I was named Monoyoshi is because I bring victory!
Boss Node
This is... the destination, right?
Rank-Up Toku
I've grown stronger! I'll bring everyone more and more luck!
Internal Affairs
Please go
here
for special Internal Affairs interactions
Horsekeeping
Horsekeeping, huh? Please leave it to me!
Horsekeeping (done)
Horses are so cute, aren't they?
Fieldwork
Please leave the fieldwork to me, too!
Fieldwork (done)
I hope they grow up nice and big~
Special
New Year's Greeting
新しい年がやってきました!主様に幸運がありますように!
We've reached a new year! For Master's happiness!
Touken Ranbu's First Year Anniversary (2016)
みんなで今日はお祝いしてるんですよ。主様も早く、どうぞ!
Everyone is celebrating today. Master as well, feel free to celebrate!
Touken Ranbu's Second Year Anniversary (2017)
二周年なんですねえ。ボクも他のみんあに負けずにがんばらなくちゃ!
It's the second anniversary, yes? I too must do my best not to lose to everyone else!
Welcome Back Greeting (After Long Absence)
Saniwa First Year Anniversary
就任一周年ですね! おめでとうございまーすっ! これからも、主様に幸運を!
It's your inauguration's first anniversary! Congratulations! From now on too, I'll bring good luck to Master!
Saniwa Second Year Anniversary
今日は、主様の就任二周年のお祝いですよ! これからも、主様に幸運を!
Today's the celebration of Master's inauguration's second anniversary! From now on too, I'll bring good luck to Master!
Character Details
Ad blocker interference detected!
Wikia is a free-to-use site that makes money from advertising. We have a modified experience for viewers using ad blockers

Wikia is not accessible if you've made further modifications. Remove the custom ad blocker rule(s) and the page will load as expected.