Character Info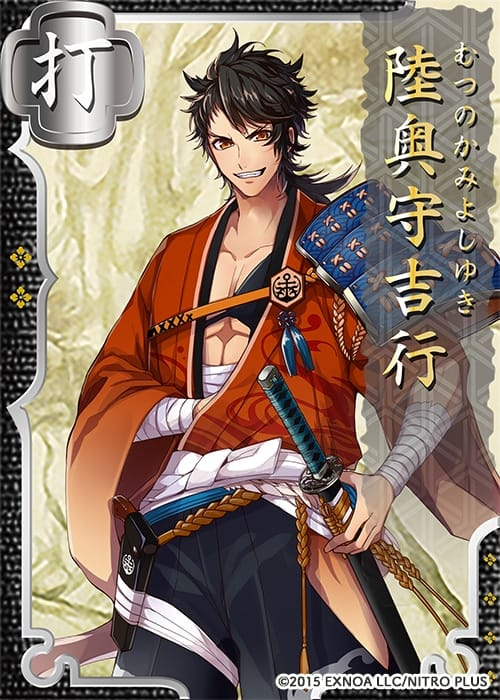 No. 93

 Uchigatana

 Statistics (MAX)
| | |
| --- | --- |
| 生存  Survival | 36(??) |
| 統率  Leadership | 34(42) |
| 衝力  Impulse | 28(48) |
| 必殺  Killing Blow | 34 |
| 隠蔽  Camouflage | 35 |
| | |
| --- | --- |
| 打撃  Impact | 40(56) |
| 機動  Mobility | 33(42) |
| 範囲  Range | Short |
| 偵察  Scouting | 35(??) |
| 兵力  Troops Slots | 2 |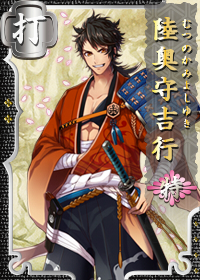 Mutsunokami Yoshiyuki Toku
陸奥守吉行  特
No. 93

 Uchigatana


 Statistics (MAX)
| | |
| --- | --- |
| 生存  Survival | 41(47) |
| 統率  Leadership | 39(47) |
| 衝力  Impulse | 33(53) |
| 必殺  Killing Blow | 34 |
| 隠蔽  Camouflage | 40 |
| | |
| --- | --- |
| 打撃  Impact | 45(61) |
| 機動  Mobility | 38(47) |
| 範囲  Range | Short |
| 偵察  Scouting | 40(44) |
| 兵力  Troops Slots | 2 |
Character Quotes
Introduction
Book Description
わしは陸奥守吉行じゃ。そうそう、坂本龍馬の佩刀として知られちゅうね。 土佐じゃー名刀として評判やったがやけど、龍馬の時代じゃ、もう刀は時代遅れじゃった。 けんど、それが世界というもんぜよ。
I'm Mutsunokami Yoshiyuki. Right, right, I'm known as the sword that Sakamoto Ryōma carried. I gained a reputation in Tosa as a famous sword, but in Ryōma's period, swords had already become old-fashioned. But hey, that's the world for you.
Note:
Sakamoto Ryōma was a prominent figure in overthrowing the Tokugawa Shogunate during the Bakumatsu period. One of his most noted accomplishments was uniting the two powerful rival provinces, Chōshū and Satsuma, against the Bakufu.
Tosa was an old province ruled by the Chōsokabe clan in the Sengoku period. Tosa is known today as the Kōchi Prefecture.
Obtained
わしは陸奥守吉行じゃ。せっかくこがな所に来たがやき、世界を掴むぜよ!
I'm Mutsunokami Yoshiyuki. Since I've went through all the trouble of coming here, I'll seize the world!
Opening
Login (Complete)
Touken Ranbu, it's starting.
Game Start
Come, let's seize the world!
Citadel
Citadel
Guns are of this period. Swords are so old-fashioned.
新撰組の刀とは喧嘩になりそうぜよ。あいつら、時代の流れについていけんかったけのう。
I'll most likely end up quarreling with those Shinsengumi swords. Those guys, I wonder if they can keep up with the times.
Note:
The Shinsengumi (新選組) was a special police force organized by the Bakufu during the Bakumatsu period. Historians have described this force as a "ruthless murder squad".
Citadel (Idle)
なぁーんもすることがないっちゅうのは、勿体ないのぉ…。
Not doing anything at all seems like such a waste...
Citadel (Injured)
Hehhehehe, my clothes are already tattered from the beginning, so there's not much of a difference!
Line removed as of Feb. 18, 2015
Citadel (Kiwame Sendoff)
Gahahaha! What kind of clothes is he gonna come back with!
Formation (Member)
Mahahahaha! Leave it to me!
Formation (Captain)
I'm the leader!? Ya totally get me, don't ya?!
Fatigue Recovery
When you're tired, this sweetness is unbeatable~
Equipment
For me, I think it's enough if I have this gun, right?
Note:
Mutsunokami's master was known to favor guns and worked in the navy. See Trivia.
I wonder if I can equip something like cannons.
New equipment makes me excited!
Expedition
Mahaha! Provisions? Leave it to me!
Expedition Completed (Leader of Expedition Party)
Expedition Completed (Leader of Primary Party)
おうおう、遠征部隊が!遠征部隊がもんてきちゅうね!
Ohh, the expedition troop! The expedition troop have returned!
Smithing
I wonder what kind of newbies we'll have.
Troops
How's that? My own original work!
Repairs (Minor Injury)
Ow ow, I'll be excusing myself.
Repairs (Medium/Severe Injury)
Ouch, this is bad, so let me rest.
Mission Completed
Since ya've gone out of y'ar way to do it, ya' can't just ignore it.
Battle Record
This is y'ar military record, huh?
Merchant
If it's a business talk, leave it to me.
Front Lines & Battles
Front Lines
Battles, huh... If it's really necessary, I guess it can't be helped...
Scouting
It'll be all over if we're surrounded! Be careful!
Sortie Kick-off
Alright, the battle begins!
PvP
A daily tactical research is needed, so it can be tested out here!
Attacking
The gun is mightier than the sword, yeah!
Note:
Possible reference to Hol Horse's quote from Jojo's Bizarre Adventures
Critical Hit
All I need is to win, right?
Minor Injury
Note:
「ほたえる」is the Tosa-ben word equivalent to 「騒ぐ」 (to be noisy, to cause a ruckus). It's said that when Sakamoto Ryouma heard the sounds of his bodyguard, Yamada Toukichi, being assassinated,
he yelled 「ほたえな
」because he thought Yamada was just being noisy. Unfortunately, this revealed Ryouma's location to his assassins.
Awakening
Alright...ya've done it now!
Duel
Come, a fast-beating battle...fu, how's that?!
Boss Node
What's with the air in here...nothing but the smell of blood, and death.
Victory (MVP)
Even when I'm complimented in battle...it still feels a little...
Rank-Up Toku
Gahahaha! I feel like I've gotten a little bit stronger!
Destroyed
なんじゃあ……わしはここで終わりか……新しい時代…見たかったのぉ……
What...will I end here...? ...I wanted...to see a new age...
Internal Affairs
Please go
here
for special Internal Affairs interactions
Horsekeeping
Gahahaha, a sword on horse duty! How original!
Horsekeeping (Done)
Hyaha, I laughed so hard!
Fieldwork
そうそう、刀が農具の代わりをしたらいかんという法はないきに
Right, right, because there's no law that says ya' can't use swords as farming tools.
Note:
During the Meiji Restoration, swords were prohibited from being carried around in public. With the exception of former lords, military and law enforcers, violators would had have their swords confiscated.
Fieldwork (Done)
Phew, that really took a lot of time to complete.
Sparring
There's no helping it even if we're training swords at this time, huh?
Sparring (Done)
Phew, I'm beat. I give up. Gahahaha!
Special
Welcome Back Greeting (After Long Absence)
おお! 帰ってきちょったか! なんぞあったかと思うたぜよ! まあ、いくさばっかりやと気が滅入るのもわかる。気分転換も必要じゃな
Ooh! Ya've returned! I thought somethin' might've happened to ya! Well, battles non-stop can really get ya' down. A change of pace is necessary!
New Year's Greeting
あけましておめでとう!先にどんちゃんはじめちゅうぜよ.
Happy New Year! We've already started celebratin' ahead of ya'!
Setsubun (After Casting Beans)
Touken Ranbu's First Year Anniversary (2016)
なんじゃなんじゃ、わしらが一周年?あっという間じゃのう
Whaddya know, it's our First Year Anniversay? Time just seems to fly by.
Touken Ranbu's Second Year Anniversary (2017)
そうか。わしらは今日で二周年か。じゃが、まだまだここで立ち止まっちゃおれんのう!
I see. It's been two years for us today, huh? But, we won't stop yet, will we!
Touken Ranbu's Third Year Anniversary (2018)
おう!わしらもこれで三周年じゃ!新顔もまっこと増えたけんど、よろしく頼むぜよ!
?
Saniwa First Year Anniversary
がはははは! おまさんもこれで一周年じゃ! いつまでも新人顔はできんのう!
Gahahahaha! With this it's a full year for ya'! Can't keep looking forever like a newbie now, can ya'!
Saniwa Second Year Anniversary
ああ......おまさん、今日で就任二周年か。がんばってきたのう
Ahh.... It's your second anniversary today, huh? You really did well.
Saniwa Third Year Anniversary
Character Details