Character Info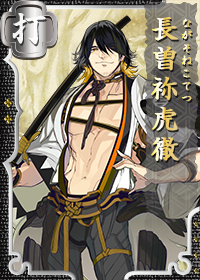 No. 105

 Uchigatana

 Statistics (MAX)
| | |
| --- | --- |
| 生存  Survival | 45(52) |
| 統率  Leadership | 38(48) |
| 衝力  Impulse | 30(51) |
| 必殺  Killing Blow | 30 |
| 隠蔽  Camouflage | 34 |
| | |
| --- | --- |
| 打撃  Impact | 43(63) |
| 機動  Mobility | 31(37) |
| 範囲  Range | Short |
| 偵察  Scouting | 35(37) |
| 兵力  Troops Slots | 2 |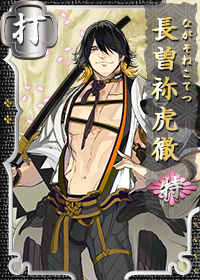 Nagasone Kotetsu Toku
長曽祢虎徹  特
No. 105

 Uchigatana


 Statistics (MAX)
| | |
| --- | --- |
| 生存  Survival | 50(57) |
| 統率  Leadership | 43(53) |
| 衝力  Impulse | 35(56) |
| 必殺  Killing Blow | 30 |
| 隠蔽  Camouflage | 39 |
| | |
| --- | --- |
| 打撃  Impact | 48(68) |
| 機動  Mobility | 36(42) |
| 範囲  Range | Short |
| 偵察  Scouting | 40(42) |
| 兵力  Troops Slots | 2 |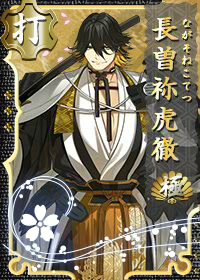 Nagasone Kotetsu Kiwame
長曽祢虎徹  極
No. 106

 Uchigatana


 Statistics (MAX)
| | |
| --- | --- |
| 生存  Survival | 50(74) |
| 統率  Leadership | 70(104) |
| 衝力  Impulse | 48(71) |
| 必殺  Killing Blow | 70 |
| 隠蔽  Camouflage | 82 |
| | |
| --- | --- |
| 打撃  Impact | 76(113) |
| 機動  Mobility | 38(57) |
| 範囲  Range | Short |
| 偵察  Scouting | 58(77) |
| 兵力  Troops Slots | 2 |
Character Quotes
Introduction
Book Description
おれは長曽祢虎徹......の贋作だな。打ったのは虎徹じゃない。源清麿という、
四谷正宗の異名を持つの刀工だ。まともな刀工の作が故に、贋作の中では出来がいいほうだな。
もっとも、おれの元の主は、最後までおれが本物だと信じていたようだが。
……ああ。元の主は近藤勇という
I'm Nagasone Kotetsu...or a counterfeit of it. The one who forged me wasn't Kotetsu. He was a swordsmith named Minamoto Kiyomaro, also known as Yotsuya Masamune. I was forged by a proper swordsmith, so I perform the best among the counterfeits.
Although, my former master seemed to believe that I was the real deal until the very end.
... ah, right, my former master was Kondo Isami.
Note:
Yamaura Kura-no-Suke Tamaki Minamoto-no-Kiyomaro is considered the best smith of the Shinshintô era, the Nihontô equivalent of the Renaissance.
Obtained
長曽祢虎徹という。贋作だが、本物以上に働くつもりだ。よろしく頼む
I'm Nagasone Kotetsu. I'm a fake, but I intend to work harder than the real thing. Please take care of me.
Opening
Login (Loading)
Actions speak louder than words.
Login (Complete)
Touken Ranbu, commencing!
Citadel
Citadel
Who did the forging isn't important. What's important is how you perform.
おれが贋作であることに対して弁解するつもりはない。実際そうだからな
I have no intention of justifying the fact that I'm a fake. That's just how it is.
蜂須賀虎徹はおれのことを毛嫌いしているがな。仕方ないよなぁ。贋作が兄であるように振舞っているのだからな
Hachisuka Kotetsu is prejudiced against me, but it can't be helped. He's trying to cope with the fact that he's got a fake as an older brother.
Citadel (Idle)
... hmm. Looks like we have some free time.
Citadel (Injured)
... this is nothing. I'm a fake, but I'm pretty sturdy.
Citadel (Kiwame Sendoff)
I look forward to his new power!
Citadel (Kiwame Prompt)
Master. I've got a favor to ask of you today.
Formation (Member)
I'll show you what I can do.
Formation (Captain)
I understand my position as the captain.
Fatigue Recovery
Thanks, this is effective against exhaustion.
Expedition
Yeah, want me to show you what I can do?
Expedition Completed (Leader of Expedition Party)
Would you confirm our results?
Expedition Completed (Leader of Primary Party)
The expedition troop, huh? Should we go welcome them?
Smithing
New troop members, huh? Let's welcome 'em!
Troops
Yeah, these seem difficult to handle.
Repairs (Minor Injury)
It's just a scratch. It'll be better in no time.
Repairs (Medium/Severe Injury)
Even if they say, it's because I'm a fake, it can't be helped, huh?
Refinery
Hmph! My power is rising!
Mission Completed
Properly confirm our completed missions.
Battle Record
Your current military record seems to be like this, huh?
Merchant
Is it alright if I carry the bags?
Front Lines & Battles
Scouting
Don't get careless. We don't know where the enemy is hiding.
Sortie Kick-off
Nagasone Kotetsu, onward!
Ikedaya Kick-off
We're here to search the premises!
Note:
Reference to the famous line Shinsengumi Captain Kondo Isami allegedly shouted at the start of the
Ikedaya Raid
. Modern equivalent would be "Police! Open up!"
PvP
There's a difference between raids and battles. Allow me to demonstrate.
Critical Hit
There is no enemy that I can't cut!
Minor Injury
You won't be getting by with just this.
Awakening
I'm a little bloodthirsty tonight...so he said.
Note:
Nagasone is referring to Kondo Isami's signature phrase.
Duel
Ever heard of the phrase "A cornered rat will bite a cat"?
Boss Node
This is the enemy stronghold, huh?
Victory (MVP)
Actions speak louder than words, right?
Rank-Up Toku
Yeah. With this, I can work harder than before.
Destroyed
ッ…これで…終わるのか?贋作は贋作として朽ちていくだけだな…
I-is this...how it ends? A fake will only rot away as a fake, huh...
Internal Affairs
Please go
here
for special Internal Affairs interactions
Fieldwork
Leave the manual labor to me!
Fieldwork (Done)
Phew, can we take a break?
Sparring
Though my swordsmanship isn't anything fancy, I'd still like a challenge.
Sparring (Done)
That was really helpful. You have my thanks.
Special
Welcome Back Greeting (After Long Absence)
おお。帰ったきたな。休暇はどうだった?こちらに変わりはないぞ。いつでも行ける
Oh. You came home. How was your vacation? Nothing has changed here. You can leave anytime.
New Year's Greeting
All plans for the year are laid on the first day, huh. What are your goals?
Setsubun (Boss Node)
This is the Oni's stronghold, huh?
Setsubun (Cast Beans)
Out with the Oni. In with the good fortune.
Setsubun (After Casting Beans)
...Hm? I was told to be the Oni?
Touken Ranbu's First Year Anniversary (2016)
おれたちも今日で一周年、か。贋作なれど、虎徹の名に恥じぬ振る舞いをせねばな
I guess today is our First Year Anniversary. Even though I am a fake, I will try my best to act in a manner that does not bring the Koutetsu name into shame.
Touken Ranbu's Second Year Anniversary (2017)
やれやれ 、二周年を迎えた途端はしゃぎすぎてる奴がいるな 。ちょっと灸を据えてくるか......
Geeze, right as the second anniversary is starting some guys are already going wild. Should I go scold them a bit...?
Touken Ranbu's Third Year Anniversary (2018)
三周年を迎えたわけだな。 これからも続く戦い、贋作は折れるその時まで戦い抜くさ
?
Saniwa First Year Anniversary
I see. Master have been inaugurated for a year now. Puff your chest out, your chest!
Saniwa Second Year Anniversary
A second anniversary is really auspicious. We'll be counting on you from now on, too.
Saniwa Third Year Anniversary
おめでとう、就任三周年だな。うむ、今更羽目をはずしたりはせんか。いい落ち着きだな
?
Letters
First Letter
主へ

あー、改まって手紙を書くとなると書き方に困るな。
まあ、かしこまる必要もないか、定期連絡だと思ってくれ。
おれは強くなるために過去の時代に向かわせられた。
時期は幕末、おれの前の主が生きていた頃だ。
趣旨はわかる。おれを虎徹だと位置づけているのは前の主の逸話だ。
だが、どんな顔をして接して、どうすれば強くなれるのか。
それがわからないでいる。情けない限りだ。
Master,

Ahh, when it comes to writing formal letters, it's a bit hard to write...
Well, I suppose there is no reason to be too formal; just think of this as a regular update.
In order to get stronger, I headed towards the era of the days of past.
It's the Bakumatsu Period, at the time where my previous master is still alive.
I understood my objective. It was said that it was my previous master who named me as a Kotetsu.
However, as pathetic it is to admit this,
I have absolutely no idea how to approach him, or how I can grow stronger.
Second Letter
主へ

意を決して、前の主に接触することに成功した。
……と仰々しく書くほどのことはしていない。
呑み屋で相席して、それとなく言葉を交わしただけだ。
おれの前の主は、刀剣のことを語るのが好きな男でな。
虎徹を持っていることを自慢してきたよ。
まさか話し相手がその虎徹、しかも贋作だとは思うまい。
それとなく、その虎徹は本物なのか、とからかうように問うてみた。
そうしたら、このような業物が贋作であるわけがない、とさ。
Master,

I made up my mind and successfully managed to make contact with my previous master.
.....Although it sounds like a complete victory, it was actually nothing special.
All I did was take the seat beside him in a pub and exchanged a few words with him.
My previous master was a man who likes to talk about swords.
He boasted about how he owns a Kotetsu.
He would have never guessed that his conversational partner is that particular Kotetsu and a fake at that.
Eventually, I asked him in a joking manner whether that Kotetsu was real.
And, then, he replied that there was no way that such a fabulous work of craftsmanship could be a fake.
Third Letter
主へ

また前の主に会った。時期は池田屋の後。偶然を装って、声を掛けた。
そうしたら、向こうもいつぞやの自慢相手を覚えていたようでな。
やはりこの虎徹は本物だった、お陰で窮地を切り抜けた、とさ。
その後、贋作と疑ったお前の目利きはまだまだだ、機会があれば教授 して進ぜよう、
だなどと延々と話に付き合わされそうになって閉口したが、得るものはあった。
贋作であろうとも、主が必要としているだけの質を持ち、満足しているのならば、
それは真作に劣るものではないということだ。
ならば、おれは今の主が必要とするだけの働きをするまで。
答えは得た。あとは帰ってそれを実行するだけだ。
Master,

I crossed paths with my previous Master, again. Right after the Ikedaya incident, that is.
I played it off like it was just a coincidence and called out to him.
It appears that he still remembers the recipient of his bragging sometime back.
"This Kotetsu is definitely real! Thanks to it, I managed to get out of a thick spot," he said.
After that, he lectured me on how horrible my knowledge of swords was, and if he had a chance, he would teach me about them.
His tirade would have gone on for a while had I not kept my mouth shut. Nevertheless, I managed to gain something out of it.
I realized that, even if it is a fake, as long as it has the properties that its master seeks and fulfills the master's desires,
then it will be something that can rival that of the real thing.
Therefore, I should just strive to achieve the type of work that is needed by my current master.
I have obtained my answer. All that is left is for me to return and make it a reality.
Character Details