Character Info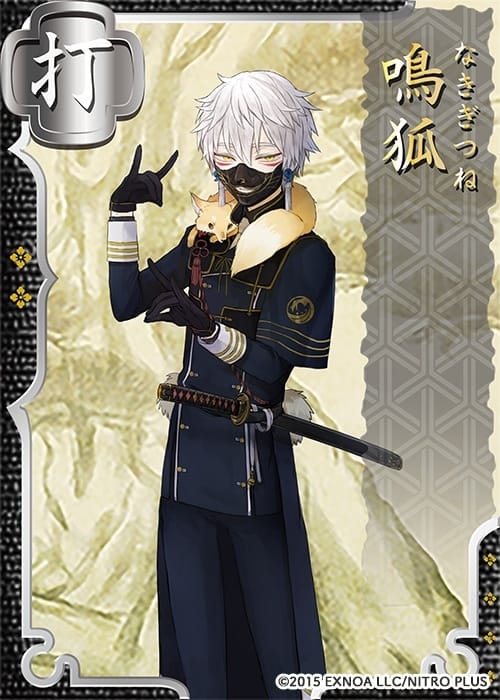 No. 23

 Uchigatana

 Statistics (MAX)
| | |
| --- | --- |
| 生存  Survival | 38(43) |
| 統率  Leadership | 37(45) |
| 衝力  Impulse | 29(48) |
| 必殺  Killing Blow | 35 |
| 隠蔽  Camouflage | 36 |
| | |
| --- | --- |
| 打撃  Impact | 38(53) |
| 機動  Mobility | 38(46) |
| 範囲  Range | Short |
| 偵察  Scouting | 36(41) |
| 兵力  Troops Slots | 2 |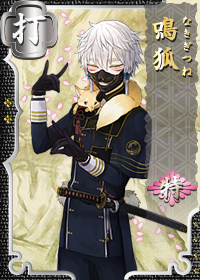 Nakigitsune Toku
鳴狐  特
No. 23

 Uchigatana


 Statistics (MAX)
| | |
| --- | --- |
| 生存  Survival | 43(48) |
| 統率  Leadership | 42(50) |
| 衝力  Impulse | 34(53) |
| 必殺  Killing Blow | 35 |
| 隠蔽  Camouflage | 41 |
| | |
| --- | --- |
| 打撃  Impact | 43(58) |
| 機動  Mobility | 43(51) |
| 範囲  Range | Short |
| 偵察  Scouting | 41(46) |
| 兵力  Troops Slots | 2 |
Character Quotes
Most of the lines are said by Nakigitsune's fox.
Introduction
Book Description
やあやあこれなるは粟田口派、左兵衛尉藤原国吉が打ちたる打刀。号を鳴狐と申します。その特徴は差表に名が刻まれていることなのですよ!
Well, well, this is the Uchigatana crafted by Sahyoenojo Fujiwara Kuniyoshi from Awataguchi School. This particular sword is called Nakigitsune. The peculiarity lies in the fact the name is carved on the different side!
Note:
If you compare Nakigitsune's sword with others, with the signature facing the same way, his blade appears upside-down.
Obtained
狐:やあやあこれなるは、鎌倉時代の打刀、鳴狐と申します。わたくしはお付のキツネでございます!
本体:……よろしく
Fox: Well, well, this is none other than the Kamakura-period uchigatana, he who is named Nakigitsune. I am his companion fox!
Nakigitsune: ......Please take care of me.
Opening
Login (Loading)
C'mon, c'mon, stop by right here and take a look around!
Note:
This line is something a vendor at a bazaar or street stall would shout to attract customers.
Login (Complete)
Touken Ranbu, let us begin without further delay.
Game Start
Nakigitsune: .......Today, too, please take care of me.
Citadel
Citadel
鳴狐は人付き合いが苦手でございますから、代わりにわたくしめが皆様と交流しているのでございます
Nakigitsune is not good with socializing, so I help him communicate with others.
鳴狐は名に狐と入っていれば、縁もゆかりもない相手に共感してしまうのです。困ったものですなぁ
As long as the other person has 'fox' in his name, even though they have no relation or connection, Nagikitsune will become sympathetic towards him. It's quite troublesome.
狐:腹話術ではございませぬ!わたくしめは、鳴狐の代理に過ぎません
本体:そうだよ、驚いたか
Fox: This is not ventriloquism! I'm nothing but a representative for Nakigitsune.
Nakigitsune: That's right. Are you surprised?
Citadel (Idle)
Master, Master. Just where have you run off to?
Citadel (Injured)
いけません主どの!鳴狐のこのいたいけな姿を見て何も思わないのですか!
This will not do, master! Does seeing this helpless form of Nakigitsune not move your heart?
Line removed as of Feb. 18, 2015
Sorry, Master. Nakigitsune is currently sleeping......
Citadel (Kiwame Sendoff)
やあやあこれはこれは、あの方が新たな力を得るための旅立ち! 感動的ですなあ!
Well well well, that one's gone on a journey to obtain new power! How moving!
Formation (Member)
Hoho, master has great taste.
Formation (Captain)
畏まりました!このわたくし、鳴狐を支え、部隊を導きましょうぞ
Certainly! I will support Nakigitsune in leading the corps.
Fatigue Recovery
Ohh~ Master, thank you for the refreshment!
Equipment
Aa~ah, thank you for your generosity.
Hm hm, are you telling us to use this?
With this, Nakigitsune's strength is that of 10 people...... no, 100!
Expedition
お寂しゅうございますが、すぐ戻ります故。わたくしめと鳴狐をお忘れなく……!
It will be lonely, but we will come back as soon as we can. Please don't forget me and Nagikitsune!
Expedition Completed (Leader of Expedition Party)
Now, now, please look at the fruit of our labors!
Expedition Completed (Leader of Primary Party)
Ooh, an expedition corps has come back just now.
Smithing
新たなる仲間を得て、我々はますます強くなるのでありました
A new comrade, we're getting stronger.
Troops
Well, master! Please accept this!
Repairs (Minor Injury)
それではわたくしめの毛並みを整えてくると致しましょう!……え?違う?
Well then, let us begin grooming my fur! ...Huh? That's not why we're here?
Repairs (Medium/Severe Injury)
Yes, yes, leave the job of nursing Nakigitsune to me!
Refinery
おぉ、この高まる霊力……!わたくしめの毛も逆立ちそうですぅ
Ooh, this swelling spiritual power.....! My fur is puffing up too.
Mission Completed
Master~ it seems a mission has been completed.
Battle Record
Ooh~ This is master's record?
Merchant
分かりましたぞ主どの!わたくしめが、舌先三寸で交渉をすれば良いのですな?
Understood, Master! My silver tongue will surely make any potential negotiations go in our favour, huh?
Front Lines & Battles
Front Lines
Come, we're heading for the front!
Resource Discovery
Oh~ This is an unexpected discovery.
Scouting
Everyone, please report what you see.
Sortie Kick-off
やあやあ我こそは、鳴狐とお供のキツネ。いざ参らん!
Well, well, it is I, the companion fox of Nakigitsune. Participating now!
PvP
実戦ではございませんが、我々の力を見せつけようではないですか!
Though this is not a real battle, there's no reason for us not to show off our true strength, is there!
Critical Hit
Now, Nakigitsune, use all your might for this one blow!
Note:
Might also mean: "This is a blow with all of Nakigitsune's might!" This line will suit the fox's personality more -- since he is somewhat salesman-ish, and this alternate translation is something like showing the extent to which the object you are trying to sell can do -- but I am still uncertain.
Medium/Severe Injury
Nakigitsune? Nakigitsune, are you okay!?
Awakening
狐:鳴狐、ここまでされて黙っている道理は無いでしょう!?
本体:そうだね。やり返すよ
Fox: Nakigitsune, since they have done this much to you, there's no reason to keep silent, right?
Nakigitsune: That's right. I'll return the favor now.
Duel
さあさあこれより始まるは、大逆転の大一番。括目して見よ!
Now then, the number one most dramatic turn-around is about to begin. Watch closely!
Boss Node
おぉ~、これは、わたくしめにも殺気が伝わってきております
Oo~h, this bloodthirsty aura, even one as humble as I can feel it.
Victory (MVP)
Please look at this, master. Nakigitsune's accomplishment.
Rank-Up Toku
本体:強くなった
狐:おお!あまりの感動に鳴狐もつい感想を漏らしたようですなあ!これは感動的!
Nakigitsune: I've gotten stronger.
Fox: Oh! At a time like this, it seems even the reticent Nakigitsune cannot help but let his thoughts flow freely! This is so touching!
Destroyed
鳴狐!目を開けなさい、息をしなさい、立ち上がりなさい……!あぁ、駄目なのかぁ……
Nakigitsune! Please open your eyes, please breathe, please stand up......! Ah, is it not working......
Internal Affairs
Please go
here
for special Internal Affairs interactions
Horsekeeping
ううむ……わたくし、他の獣とは相性がよろしくないもので……
(Whimper)...... I don't get along well with other animals......
Horsekeeping (Done)
わたくしめは何もしておりませぬが、鳴狐は頑張りましたぞ!
I did nothing, but Nakigitsune worked hard!
Fieldwork
わたくしも手伝えればよいのですが、しょせんわたくしめは農具持てぬ狐
It'd be nice if I could help, but I'm only a humble fox who can't hold tools, after all.
Fieldwork (Done)
I can hardly wait for the harvesting season!
Sparring
Well, please go easy on us!
Sparring (Done)
いやあ、いい汗をかきました!わたくしではなく鳴狐が
Wow, that was some good sweat shed! Not by me, but by Nakigitsune.
Special
New Year's Greeting
あるじどの!新年あけましておめでとうございます!今年も鳴狐をよろしくお願いいたします!
Master! Happy New Year! This year, please continue to take care of Nakigitsune!
Touken Ranbu's First Year Anniversary (2016)
やや、わたくしたちもこれで一周年でございますか!これからも変わらずよろしくお願いいたします!
Well, well, we have been together for a year already! Please continue to take care of us from now on!
Touken Ranbu's Second Year Anniversary (2017)
わたくしたちもこれで二周年!戦いはまだまだ続きますが、今この時は平和に祝いましょうぞ!
With this we have been together for two years! The battle is still ongoing, but for now let us celebrate in peace!
Welcome Back Greeting (After Long Absence)
狐: おおお帰りなさいませあるじどの!このキツネ、鳴狐ともども一日千秋の思いで待っておりましたぞ!
Fox: W-w-w-welcome back, Master! This humble fox has, together with Nakigitsune, been waiting what feels an eternity for your return!
Saniwa First Year Anniversary
狐:あるじどの!就任一周年おめでとうございます!
本体:……よく、がんばった
Fox: Master! Congratulations for your one year inauguration anniversary!
Nakigitsune: ... You have worked hard.
Saniwa Second Year Anniversary
狐:おお、あるじどの、就任二周年でございますか!さすがでございます!
本体:……これからも頑張るぞ
Fox: Oh, Master! It's your second year inauguration anniversary! As expected of you!
Nakigitsune: ....Please continue to do your best.
Character Details
Ad blocker interference detected!
Wikia is a free-to-use site that makes money from advertising. We have a modified experience for viewers using ad blockers

Wikia is not accessible if you've made further modifications. Remove the custom ad blocker rule(s) and the page will load as expected.