Character Info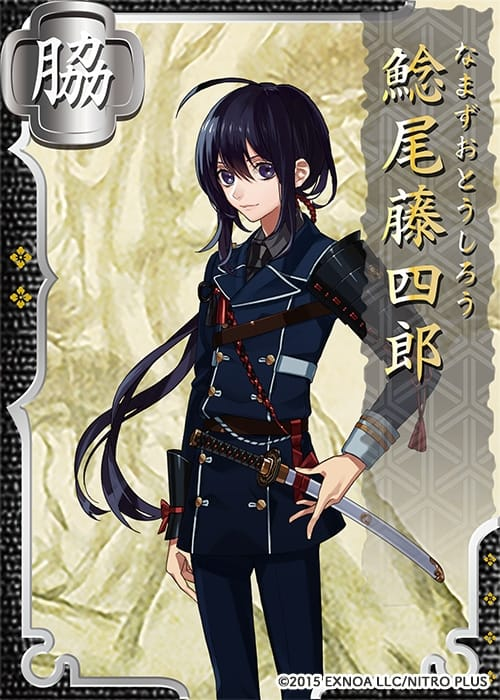 No. 27
 Wakizashi

 Statistics (MAX)
| | |
| --- | --- |
| 生存  Survival | 27(30) |
| 統率  Leadership | 27(40) |
| 衝力  Impulse | 25(35) |
| 必殺  Killing Blow | 47 |
| 隠蔽  Camouflage | 41 |
| | |
| --- | --- |
| 打撃  Impact | 27(40) |
| 機動  Mobility | 33(43) |
| 範囲  Range | Short |
| 偵察  Scouting | 40(47) |
| 兵力  Troops Slots | 2 |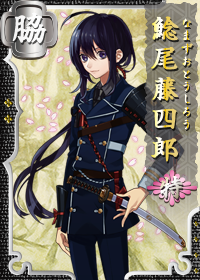 Namazuo Toushirou Toku
鯰尾藤四郎  特
No. 27
 Wakizashi


 Statistics (MAX)
| | |
| --- | --- |
| 生存  Survival | 32(35) |
| 統率  Leadership | 32(45) |
| 衝力  Impulse | 30(40) |
| 必殺  Killing Blow | 47 |
| 隠蔽  Camouflage | 46 |
| | |
| --- | --- |
| 打撃  Impact | 32(45) |
| 機動  Mobility | 38(48) |
| 範囲  Range | Short |
| 偵察  Scouting | 45(52) |
| 兵力  Troops Slots | 2 |
Character Quotes
Introduction
Book Description
鯰尾藤四郎です。藤四郎の脇差で元は薙刀でした。 焼けたせいで少し記憶はないけど、まあ、なんとかなりますって!
My name is Namazuo Toushirou. I am a wakizashi made by Toushirou, originally being a naginata. I was burnt so some of my memories are gone, but, well, I'll manage somehow!
Obtained
俺の名前は鯰尾藤四郎。燃えて記憶が一部ないけど、過去なんか振り返ってやりませんよ!
My name is Namazuo Toushirou. I got burnt and part of my memories are missing, but I won't look back at the past!
Opening
Login (loading)
Y'know, I actually enjoy taking care of people.
Login (complete)
Touken Ranbu is starting!
Game Start
Well, everything will work out somehow!
Citadel
Citadel
It's fine if I touch you back, right?
ねぇ、こうやってお互いくすぐってるとさぁ…馬鹿、みたいじゃない?
Hey, tickling each other like this... don't you think it's kinda silly?
Citadel (idle)
Hmm, did you happen to fall asleep?
Line removed as of Feb. 18, 2015
What do you think about singing in the baths?
Citadel (Kiwame sendoff)
But well, isn't it good to go on a journey?
Formation (captain)
Eeh! Me? It's fine, but...
Expedition Completed (Leader of Expedition Party)
Expedition Completed (Leader of Primary Party)
The expedition team has returned!
Smithing
It looks like a new comrade is here.
Repairs (minor injury)
Repairing is important, huh!
Repairs (medium/severe injury)
あぁ、鯰尾のところのカーブは気を遣ってくださいね。
Ah, please take good care of Namazuo's curves in that place.
Battle Record
The past doesn't really matter, does it?
Merchant
Why do I feel restless in shops...?
Front Lines & Battles
Resource Discovery
Wonder if these are someone's secret savings?
PvP
Right, let's have a showdown!
Minor Injury
...Uh! (sharp breath sound)
Medium/Severe Injury
Are they planning to win this already...!
Victory (MVP)
I have met your expectations!
Rank-Up Toku
Hehe, I guess I've gotten a bit stronger.
Destroyed
I lost, I lost... it's fine for this to be the end, isn't it……
Internal Affairs
Please go
here
for special Internal Affairs interactions
Horsekeeping
I'll throw horse poop at those I hate~.
Horsekeeping (done)
I've collected the horse poop. Eh, you don't need it?
Fieldwork
It would be nice if we put more care into the fields~.
Special
New Year's Greeting
あけましておめでとうございまーす。今年も前向きに頑張りますよっ
Happy new year. This year too, I will keep looking forward and do my best!
Omikuji
Would you like to draw a fortune?
Small luck~ (From a tiny place comes unexpected happiness...)
Great luck, right on the mark~! Clang clang cla~ng!
Touken Ranbu's First Year Anniversary (2016)
俺たちはこれで一周年!過去はなくても、思い出は増えていきますよ!
With this, we've been together for a year! Even though I have no past recollections, new memories are piling up!
Touken Ranbu's Second Year Anniversary (2017)
これで俺たちは二周年!今まで、色々なことあリましたよね!
With this, we're now at the second anniversary! So far a bunch of different things have happened, yes?
Saniwa First Year Anniversary
あ、就任一周年になったんですね。えらいえらい。なんちゃってー
Ah, it's your inauguration's first anniversary. Excellent, excellent. Just kidding~
Saniwa Second Year Anniversary
就任二周年おめでとうございます!....え?なでなくていいんですか?
Congratulations on your second anniversary! ...huh? I don't have to pet you?
Character Details
Ad blocker interference detected!
Wikia is a free-to-use site that makes money from advertising. We have a modified experience for viewers using ad blockers

Wikia is not accessible if you've made further modifications. Remove the custom ad blocker rule(s) and the page will load as expected.