Character Info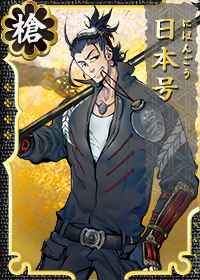 No. 136

 Yari

 Statistics (MAX)
| | |
| --- | --- |
| 生存  Survival | 56(61) |
| 統率  Leadership | 38(45) |
| 衝力  Impulse | 49(59) |
| 必殺  Killing Blow | 34 |
| 隠蔽  Camouflage | 28 |
| | |
| --- | --- |
| 打撃  Impact | 57(67) |
| 機動  Mobility | 36(46) |
| 範囲  Range | Vertical |
| 偵察  Scouting | 11(25) |
| 兵力  Troops Slots | 3 |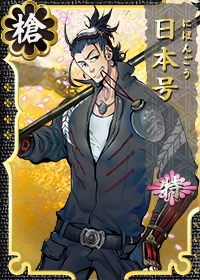 Nihongou Toku
日本号  特
No. 136

 Yari


 Statistics (MAX)
| | |
| --- | --- |
| 生存  Survival | 61(66) |
| 統率  Leadership | 44(50) |
| 衝力  Impulse | 54(64) |
| 必殺  Killing Blow | 34 |
| 隠蔽  Camouflage | 33 |
| | |
| --- | --- |
| 打撃  Impact | 57(72) |
| 機動  Mobility | 41(51) |
| 範囲  Range | Vertical |
| 偵察  Scouting | 16(28) |
| 兵力  Troops Slots | 3 |
Character Quotes
Introduction
Book Description
天下三名槍が一本にして、日の本一の呼び声も高い、日本号だ。 槍でありながら、正三位の位持ちって聞けば、オレの凄さもわかるだろ? ……ただなあ。世間じゃどうにも、酒の席で羽目外したせいでぶんどられた槍ってことで有名なんだよなあ……
I am one of the world's three great spears, also praised as Japan's best, Nihongou.
If I tell you that despite being a spear, I hold the senior position of the third court rank, you'll understand my greatness, right?
... It's just... I'm known in the society as the spear which was taken away from its owner because he got carried away and drank past his limit.
Note:
Nihongou came into Kuroda Clan's possession because of a drinking bet.
Obtained
日の本一の槍こと、日本号。只今推参。あんた、俺が来るまで何杯飲んだんだ?
I'm the best spear in Japan, Nihongou. I'm barging in. So, how many cups did you drink before I arrived?
Opening
Login (Loading)
Drink, drink this sake, if you drink... Ugh...
Note:
Nihongou is singing the first verse of the folk song Kurodabushi (黒田節), which mentions how the Kuroda clan obtained Nihongou by drinking.
Game Start
Whoops, maybe this isn't the best time to drink?
Citadel
Citadel
Ohh, have you also come to drink?
酒は好きに飲めばいいんだよ。他人に言われて飲むもんじゃねぇ
You should drink because you want to, not because others tell you to.
うわばみと一緒に飲む時は、相手の空気に飲まれないようにしな。つられたら潰れるだけだ
If you are hitting the bottle with a heavy drinker, make sure you don't get carried away by the mood. If you take it too far, you'll only get crushed.
Note:
See book description.
Citadel (Idle)
Nothing to do... I guess I'll drink.
Citadel (Injured)
ああ…消毒だよ消毒。飲むことで傷を癒してるんだよ…なんてな
Ah... It's disinfectant! Just disinfectant. Drinking's supposed to cure what ails you... Just kiddin'.
Citadel (Kiwame Sendoff)
When he comes back perhaps I should give him some tasty sake.
Formation (Member)
Well now, I'll show you the strength of being one of the Three Great Spears.
Formation (Captain)
Well, I am someone with a high position... It's only right for me to be in command, huh?
Fatigue Recovery
Ooh, you've got dango? I'll have some.
Equipment
Haha, it's good isn't it?
As long as I've got this, I shouldn't get scared even if I meet a tiger, right?
Well now... Let's see how this works together.
Expedition (Complete - Leader of Expedition Party)
Expedition (Complete - Leader of Primary Party)
Should we prepare alcohol for the expedition team?
Smithing
A newbie? It'd be good if it's someone I can drink with!
Troops Create
Well, it's something like this, right?
Repairs (Minor Injury)
I'm only a little bit dizzy from drinking.
Repairs (Medium/Severe Injury)
Refinery
Not bad, my strength's rising.
Mission (Complete)
Oh, while I was drinking the mission finished, huh?
Battle Record
Look, your battle records.
Merchant
Are you going to the liquor store? ...What, you're not?
Front Lines & Battles
Front Lines
Alright, time to head out!
Scouting
Give me a report on the situation. I'll search for an opening.
Sortie Kick-off
The ones who aren't afraid of one of the three great spears, come forth.
PvP
おお、俺に挑戦したいのか?いいぜ、付き合ってやるよ
Oh, you want to challenge me? Fine, let's do this!
Attacking
Your footwork is wide open!
Critical Hit
The more you drink, the stronger you get, that's what I'm sayin'!
Minor Injury
Barely there, barely there.
Medium/Severe Injury
Ack... At the crucial time, my legs got tangled.
Awakening
This is the reward for violence, don't regret it!
Duel
Haha! This is getting exciting!
Boss Node
Beyond here is the enemy's stronghold, huh? You guys prepared?
Victory (MVP)
Haha, let's raise a toast!
Rank-Up Toku
これで酒の強さが一段と……おや。それは聞いてないって?
With this, my alcohol tolerance will be much better... Eh, it's unheard of?
Destroyed
うぅ……飲みすぎたせいで負けたんじゃ前の主を悪く言えねぇよなぁ
Ugh ... I lost because I drank too much, don't blame it on my previous master.
Internal Affairs
Please go
here
for special Internal Affairs interactions
Horsekeeping
Oi oi, are you really making someone with a senior court ranking do horse duty?
Note:
Nihongou is sometimes referred to as "the spear with a senior court ranking" because he was once an Imperial Treasure.
Horsekeeping (Complete)
Sigh... I don't think I can keep doing this without drinking.
Fieldwork
歴史上、正三位に畑仕事させたのはこれが初めてじゃねえか?
Isn't it the first time in the history that a senior court ranking is made to do the fieldwork duty?
Fieldwork (Complete)
Because it's so different than the battlefield, it seems like I got weird muscle stiffness.
Sparring
All right. Come at me with zeal.
Sparring (Complete)
Not bad. Want to review some more over a couple of drinks?
Ranbu Level
Citadel (Poke multiple times)
Citadel (Injured - Poke multiple times)
Specific event banner introduction
Omamori Equipped
っはっはっはっは、正三位を大事にしたいってのは当然だなぁ
Special
Welcome Back Greeting (After Long Absence)
Hm? I'm not just seeing things 'cause I drank too much... right?
New Year's Greeting
Alright, time to drink...
Setsubun (After Casting Beans)
ひい、ふう、み、っとぉ。この豆をつまみに、飲むかねぇ
?
Touken Ranbu's First Year Anniversary (2016)
ここも一周年か。やはり宴の席は酒の味がいつもとちがうよなぁ
It's the First Year Anniversary here too huh. As expected, the liquor tastes different from usual when it's taken from a feast.
Touken Ranbu's Second Year Anniversary (2017)
二周年に乾杯 、ってな 。まあ 、宴だからって特段呑む量は増えねえよ。潰れない程度に楽しむのがコツだ
Cheers to the second anniversary, is it. Well, it's a party so I'm not upping my drinking. To have fun without getting wasted is a skill.
Touken Ranbu's Third Year Anniversary (2018)
三周年を祝して正三位が御挨拶……ってわけじゃあねえが、これからも頼むぜ?
?
Saniwa First Year Anniversary
へえ、就任一周年か。まあ、そうでもないと天下三名槍の持ち主としてはな
Heh, it's the first anniversary of your inauguration. Well, as is expected of the owner of the world's three great spears.
Saniwa Second Year Anniversary
就任二周年か。よし、あんたも呑むかい?無理にとはいわんが
It's the second anniversary of your inauguration? Are you having a drink too? I'm not forcing you though.
Saniwa Third Year Anniversary
ほう。就任三周年ね。わかったわかった。よくやったな
?
Character Details