Character Info
No. 19
 Wakizashi

 Statistics (MAX)
| | |
| --- | --- |
| 生存  Survival | 30(33) |
| 統率  Leadership | 28(40) |
| 衝力  Impulse | 25(35) |
| 必殺  Killing Blow | 40 |
| 隠蔽  Camouflage | 39 |
| | |
| --- | --- |
| 打撃  Impact | 26(38) |
| 機動  Mobility | 37(46) |
| 範囲  Range | Short |
| 偵察  Scouting | 41(49) |
| 兵力  Troops Slots | 2 |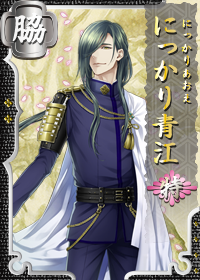 Nikkari Aoe Toku
にっかり青江  特
No. 19
 Wakizashi


 Statistics (MAX)
| | |
| --- | --- |
| 生存  Survival | 36(39) |
| 統率  Leadership | 34(46) |
| 衝力  Impulse | 31(41) |
| 必殺  Killing Blow | 40 |
| 隠蔽  Camouflage | 45 |
| | |
| --- | --- |
| 打撃  Impact | 32(44) |
| 機動  Mobility | 47(52) |
| 範囲  Range | Short |
| 偵察  Scouting | 47(55) |
| 兵力  Troops Slots | 2 |
Character Quotes
Introduction
Book Description
僕はにっかり青江。元は大太刀の大脇差さ。 うんうん、君も変な名前だと思うだろう? ・・・・・・でもさ、にっかりと笑った女の幽霊を斬ったのが由来、と聞いてまだ君は笑っていられるかな?
I am Nikkari Aoe. I'm an Oowakizashi that was once an Ootachi. Yes, yes, you think my name is strange as well, don't you? But well, I wonder if you can still laugh about it when you find out that it originates from killing the ghost of a laughing woman.
Note:
にっかり (nikkari) is similar to にっこり (nikkori) which means to laugh or grin hence why he says it's a weird name.
Obtained
僕はにっかり青江。うんうん、君も変な名前だと思うだろう?
I am Nikkari Aoe. Yes, yes, you think my name is strange as well, don't you?
Opening
Login (complete)
Touken Ranbu, shall we start?
Game Start
Ehehe, I've been waiting.
Citadel
Citadel
Ohh, so you're interested in me?
堅物が多いよねえ、ここ。誘っても食い付いてこないし、つれないなあ。
There sure are a lot of straight-laced folk here. Not coming along even if I invite them, how cold.
いくら幽霊とはいえ近寄ってきた幼子を斬り捨てるなんて、どんな気持ちなのかな。
I wonder how it feels to have killed a young child who came near you, even if it was a ghost.
Note:
The young child in the last line refers to the story of his name. It was said that the ghost of the woman Nikkari killed was holding a child.
Citadel (idle)
たしかに、僕を置いておけば怨霊が出ないとは言うけれどね。
Certainly, it's said that if you leave me here, vengeful spirits won't appear.
Note:
This is a reference to
Marugame Castle
which was rumored to be haunted until the Kyogoku Clan with Nikkari in possession moved in.
Citadel (injured)
What are you planning to do, making me undress?
Line removed as of Feb. 18, 2015
Attacking me while I'm in bed... don't blame me if you get cut.
Citadel (Kiwame sendoff)
I guess it's shortening? He's going to become stronger to match you.
Note:
Shortening refers to the sword crafting technique that shortens and smooths a blade to make it easier to use.
Formation (captain)
Well, I guess I am accustomed to battles.
Equipment
How to best make use of this...
Are you telling me to be dyed in your color?
Expedition
I'm going to have as much fun as I can.
Expedition Completed (Leader of Expedition Party)
I'm back, here are some souvenirs.
Expedition Completed (Leader of Primary Party)
Everyone in the expedition party must have worked hard. Good job.
Smithing
It'd be nice if it's someone cute.
Troops
It'd be nice if it's something useful.
Repairs (minor injury)
My my, aren't you a worrywart?
Repairs (medium/severe injury)
That's right, a blunt sword is nothing but unsightly.
Mission Completed
Now that we've killed, might as well accept the reward for killing.
Battle Record
Come on, show me, there's no need to be embarrassed.
Merchant
Heh, did you bring me here with you on purpose?
Front Lines & Battles
Front Lines
That's right, swords are made to battle.
Resource Discovery
Since we've come all this way, let's just pick this up.
Scouting
ああ、この手のは覚えがあるね。合ってるか確認してほしいな。
Ah, I remember these tactics. I'd like to check if I've got it right.
Sortie Kick-off
Now, let us kill or be killed.
PvP
If you let your guard down, I might just kill you.
Attacking
I've seen those moves somewhere before.
Critical Hit
Note:
This is a pun since "nikkari" is both his name and a sound effect for a smile/laugh.
Minor Injury
Uh-oh, that was dangerous.
Are you that eager to touch me?
Medium/Severe Injury
We're fighting after all, so this much is normal.
Awakening
I'll cut you down like a stone lantern, shall I...!
Note:
This is reference to the story of his name. It was said that after Nikkari killed the ghost, a stone lantern was found to be cut in half the next morning.
Duel
Come now, you want me, don't you?
Boss Node
あぁ……、嗅ぎ慣れたにおい、血のにおい。戦のにおいだ……
Ah... what a familiar scent, the smell of blood. It's the smell of war...
Victory (MVP)
Nothing beats a smile at the end of the day.
Rank-Up Toku
With this, have I become more accustomed to you?
Destroyed
I've killed my fair share... so this kind of thing can happen too...
Internal Affairs
Please go
here
for special Internal Affairs interactions
Horsekeeping
Horses sure are huge... I meant their bodies, you know?
Horsekeeping (done)
Sorry to say but I don't have a hobby of scaring horses.
Fieldwork
こういうことは、置物連中にやらせた方がいいんじゃないかい?
This kind of work... Wouldn't it better to leave it to the decorative objects?
Fieldwork (done)
Oh dear, I've got blisters on my hands.
Sparring
Come now... entrust your body to me.
Special
New Year's Greeting
あけましておめでとう。君は正月をどう過ごす派閥かな?
Happy new year. Which "how to spend the New Year" faction are you part of, I wonder?
Omikuji
Heh...Are you drawing a fortune?
Great luck. Smile widely, and good fortune may come to your home, so the saying goes.
Note:
This is a pun since it can also mean "With me (Nikkari), good fortune may come to your home."
Touken Ranbu's First Year Anniversary (2016)
これで僕らも一周年というわけさ。我ながらよくやったとは思うが、ここで終わりじゃあないからねぇ
With this we've been together for a year. Although I think we have done it quite well, it doesn't end here, right...
Touken Ranbu's Second Year Anniversary (2017)
二周年を迎えたわけカ。まだまだ新顔は増え続けるだろうね。君も楽しみだろう?
We celebrate the second anniversary. More and more new faces will come. Are you looking forward to it too?
Saniwa First Year Anniversary
就任一周年おめでとう。新人の頃からすれば、君も強くなったかな?
Congratulations for your first inauguration anniversary. Compared to when you were a newbie, you have gotten stronger perhaps?
Saniwa Second Year Anniversary
就任二周年おめでとう。君はどんどん強くなるねぇ?恐ろしいくらいに
Congratulation for your second anniversary. You're steadily becoming stronger, huh? Frighteningly so...
Character Details
Ad blocker interference detected!
Wikia is a free-to-use site that makes money from advertising. We have a modified experience for viewers using ad blockers

Wikia is not accessible if you've made further modifications. Remove the custom ad blocker rule(s) and the page will load as expected.