Character Info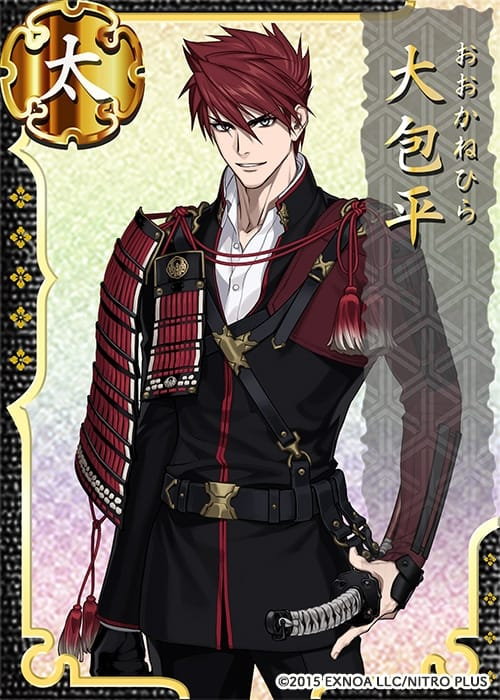 No. 53

 Tachi

 Statistics (MAX)
| | |
| --- | --- |
| 生存  Survival | 51(57) |
| 統率  Leadership | 52(64) |
| 衝力  Impulse | 45(52) |
| 必殺  Killing Blow | 43 |
| 隠蔽  Camouflage | 21 |
| | |
| --- | --- |
| 打撃  Impact | 57(69) |
| 機動  Mobility | 23(32) |
| 範囲  Range | Short |
| 偵察  Scouting | 20(26) |
| 兵力  Troops Slots | 3 |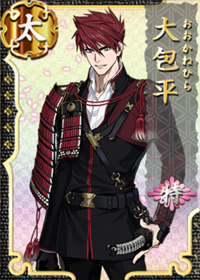 Ookanehira Toku
大包平  特
No. 53

 Tachi


 Statistics (MAX)
| | |
| --- | --- |
| 生存  Survival | 57(63) |
| 統率  Leadership | 58(70) |
| 衝力  Impulse | 51(58) |
| 必殺  Killing Blow | 43 |
| 隠蔽  Camouflage | 27 |
| | |
| --- | --- |
| 打撃  Impact | 63(75) |
| 機動  Mobility | 29(38) |
| 範囲  Range | Short |
| 偵察  Scouting | 26(32) |
| 兵力  Troops Slots | 3 |
Character Quotes
Introduction
Book Description
俺の名前は大包平。童子切安綱と並ぶ、名刀の中の名刀。 刀剣の横綱とも呼ばれている。天下五剣の中には入っていない……が、見出されたのが遅かっただけなんだ
My name's Ookanehira. A famous sword among famous swords equal to Doujigiri Yasutsuna. I'm also called a grand champion of swords. I'm not among the Five Heavenly Swords... but that's only because I was discovered late.
Obtained
大包平。池田輝政が見出した、刀剣の美の結晶。もっとも美しい剣の一つ。ただ……
I'm Ookanehira. Discovered by Ikeda Terumasa, a blade of elegant craftsmanship. Among the most beautiful swords that exist, and yet...
Opening
Login (Loading)
バカと言う方がバカだ!!…それに気づくのが遅すぎた
The one who calls others fools is the real fool! ...When I realized this, it was already too late.
Game Start
There are those who say it's Ookanehira who's the most beautiful.
Citadel
Citadel
Everyone in the world's mistaken!
「天下五剣」がなんだ!俺は池田輝政に見出されたんだぞ!
Who cares about the 'Five Heavenly Swords'?! I was the one Ikeda Terumasa discovered!
Citadel (Injured)
For me... to become like this...
Citadel (Kiwame Sendoff)
旅に出るなんていうのは軟弱な剣(つるぎ)がやるものだ
Doing things like going on travels is something weak swords do.
Formation (Member)
How humiliating...for me not to be captain...
Fatigue Recovery
Huh, you want me to eat it?
Equipment
I will serve to the best of my ability.
Expedition Completed (Leader of Expedition Party)
Expedition Completed (Leader of Primary Party)
The expedition party is back.
Smithing
A new sword's been assigned.
Repairs (Medium/Severe Injury)
... I'll really go... for repairs...
Refinery
Becoming perfect, as they say, eh.
Mission Completed
Seems like a mission's been finished.
Battle Record
These are your achievements.
Merchant
店というのもたまには良い。毎日だと破産しそうだが。
Shopping once in a while's nice. But if it's everyday you might end up bankrupt.
Front Lines & Battles
Front Lines
We're off to battle! Follow me!
Scouting
Scouts, forward! Now is the time to show the fruits of our practice!
Sortie Kick-off
Just like how we practiced! Charge!
PvP
Good thing it's practice...
Attacking
If you don't want to die, fall back!
Critical Hit
You're being killed by me, think of it as an honor!
Medium/Severe Injury
Kuh... So, you missed... Now, it's my turn!
Awakening
Hahaha! This is! My! Special move!
Boss Node
The time has come for me to show my true worth!
Rank-Up Toku
I seem to feel it. My...true power.
Destroyed
I hope that I...can die beautifully...
Internal Affairs
Please go
here
for special Internal Affairs interactions
Horsekeeping
Can horses understand my heart too?
Horsekeeping (Done)
As they say, horses must be treasured.
Fieldwork
Leave it to me. Simple jobs are my specialty.
Fieldwork (Done)
By looking a the fields you can see the fruit of your labour.
Sparring
Hmph. You're my opponent, eh. What an unlucky guy.
Sparring (Done)
Aaah, I feel so refreshed.
Special
Welcome Back Greeting (After Long Absence)
帰ってきたか。 俺を放っておくなんて、どうかしているのではないか
You're back. What were you thinking, leaving me alone like that?
New Year's Greeting
謹賀新年! ……うん? お年玉? そんな露骨な人気取りはしないぞ!
Happy New Year! ...Uh? New Year's money? I'm not going to pull such a blatant publicity stunt!
Setsubun (Boss Node)
Demon extermination, obviously it's not restricted to people of a certain name!
Setsubun (Cast Beans)
Out with the Oni! In with the fortune!
Setsubun (After Casting Beans)
Touken Ranbu's Second Year Anniversary (2017)
これは……二周年の宴か!よし、では俺も参加しよう。皆もそれを望んでいるだろう?
This is the 2 year anniversary party, right? Alright, I'll join in as well. I bet everyone wants me to come anyway.
Touken Ranbu's Third Year Anniversary (2018)
うむ、俺たちも今日で三周年。天下五剣になど任せてはおけん。俺が今後も皆を引っ張ってゆこう!
?
Saniwa First Year Anniversary
ほう、就任一周年。ならば、俺の価値も見てわかるだろ?
Oh, it's been a year since you took up here. So you've come to see my worth now?
Saniwa Second Year Anniversary
ほう、これでお前は就任二周年か。それなら、真の名刀は天下五剣ではなく俺であるとわかった頃だろう?
Oh, so this is your second anniversary? Then you understood by now that the truly excellent sword is not a Tenka Goken, but me, right?
Saniwa Third Year Anniversary
なるほど、就任三周年。やはり歴戦の審神者には、真の名刀たる俺が相応しいな
?
Character Details