Character Info
No. 116

 Uchigatana

 Statistics (MAX)
| | |
| --- | --- |
| 生存  Survival | 48(59) |
| 統率  Leadership | 52(65) |
| 衝力  Impulse | 43(52) |
| 必殺  Killing Blow | 28 |
| 隠蔽  Camouflage | 27 |
| | |
| --- | --- |
| 打撃  Impact | 48(65) |
| 機動  Mobility | 29(29) |
| 範囲  Range | Short |
| 偵察  Scouting | 27(34) |
| 兵力  Troops Slots | 2 |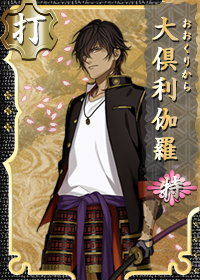 Ookurikara Toku
大倶利伽羅  特
No. 116

 Uchigatana


 Statistics (MAX)
| | |
| --- | --- |
| 生存  Survival | 52(59) |
| 統率  Leadership | 56(69) |
| 衝力  Impulse | 47(56) |
| 必殺  Killing Blow | 28 |
| 隠蔽  Camouflage | 31 |
| | |
| --- | --- |
| 打撃  Impact | 52(69) |
| 機動  Mobility | 33(33) |
| 範囲  Range | Short |
| 偵察  Scouting | 31(34) |
| 兵力  Troops Slots | 2 |
Character Quotes
Introduction
Book Description
……大倶利伽羅だ。相州伝の広光作で。前の主は伊達政宗。名前の由来は彫られた倶利伽羅竜。 ……それ以上は特に語ることはないな。何せ、無銘刀なものでね
...I'm Ookurikara. I'm the work of Hiromitsu of the Soushu school. My previous owner was Date Masamune. My name comes from the Kurikara dragon carving on my blade. ...Other than that, there's nothing else for me to talk about. At any rate, I'm just a mumeitou.
Note:
The Soushu school is the school of sword smithing that began in the late Kamakura period. Hiromitsu was a prominent swordsmith of the Soushu school.
The Kurikara dragon is one of the manifestations of Fudou Myouou, a legendary Japanese deity. It is often depicted as a dragon coiled around a flaming sword, eating its tip.
A mumeitou (無銘刀) is a sword that lacks its sword smith's signature. The signature is a symbol of the maker's pride in his work.
Obtained
……大倶利伽羅だ。別に語ることはない。慣れ合う気はないからな
...I'm Ookurikara. I don't have anything else to say. I don't plan on getting friendly with you.
Opening
Login (Loading)
I will fight alone, and I will die alone.
Game Start
I don't plan to get along with you.
Note:
May also be "I don't plan to conspire with you."
Citadel
Citadel
If you don't need anything from me, then leave me alone.
悪いが、何処で死ぬかは俺が決める。命令には及ばない
Sorry, but I choose where I'll die. I don't need your orders.
慣れ合いは光忠や貞宗とやってくれ。俺は連中とは違う
If you want to be friendly, go find Mitsutada or Sadamune. I'm different from those guys.
Citadel (Injured)
We're fighting... it's natural that it's come to this.
Line removed as of Feb. 18, 2015
...Ok. That's one, onto the next wound.
Citadel (Kiwame Sendoff)
Whatever happens to him has nothing to do with me.
Formation (Member)
I don't plan on getting along with you.
Formation (Captain)
I'm not going to group up with you guys.
Fatigue Recovery
I'm not some brat, even if you offer me sweets.
Equipment
I'll use this as I please.
As long as it can be used, it's good enough.
Expedition
Sigh... aren't we going to fight?
Expedition Completed (Leader of Expedition Party)
Expedition Completed (Leader of Primary Party)
The expedition team sure is noisy...
Smithing
A newcomer? I'm not interested.
Repairs (Minor Injury)
It's nothing worth resting over.
Repairs (Medium/Severe Injury)
Refinery
With this power, I can...
Mission Completed
Oi, looks like something's done.
Battle Record
I have no interest in your battle records.
Front Lines & Battles
Front Lines
I'm going. You guys can go wherever you want.
Scouting
I'll fight by myself. You guys can do what you want.
PvP
Practice...? Isn't this like working together?
Attacking
I can see right through you.
Critical Hit
Me, by myself, is more than enough.
Medium/Severe Injury
Tch...I misread the situation.
Awakening
I'll be the one to decide where I die! Not the likes of you!
Duel
I am always fighting by myself. This is no different than usual.
Rank-Up Toku
I'm more than enough like this, right?
Destroyed
I will fight alone... I will die alone... That's just fine with me.
Internal Affairs
Please go
here
for special Internal Affairs interactions
Horsekeeping
I'll take care of my own horse. It's only natural.
Horsekeeping (Done)
...Why am I caring for other people's horses too...
Fieldwork
...Damnit. Why do I have to...
Sparring
I'm not planning on getting along with you.
Sparring (Done)
I don't plan to get along with you, but I won't go easy on you either.
Special
New Year's Greeting
この空気、鬱陶しいな。正月だからって慣れ合う気はない
This atmosphere... is annoying. Just because it's New Year's doesn't mean I plan to get along with you.
Touken Ranbu's First Year Anniversary (2016)
一周年記念?知らんな。慣れ合いの輪に加われ気はない
First Year Anniversary? I don't care. I have no intention of joining in the circle of friends.
Touken Ranbu's Second Year Anniversary (2017)
二周年?もうそんあに経ったのか。だからどうということはないが
Two years? Has it been that long? Not that it's a big deal.
Welcome Back Greeting (After Long Absence)
戻ってきたのか。あんたなしで戦う算段をつけようかと思っていたが
Did you come back? I was wondering whether to go for a fight without you.
Saniwa First Year Anniversary
Your first inauguration anniversary, huh. Not too bad.
Saniwa Second Year Anniversary
就任二周年か......。だからといって俺に言うことを聞かせられると思うなよ
Second inauguration anniversary, huh.... Don't think this means I'm going to start listening to what you tell me.
Character Details
Ad blocker interference detected!
Wikia is a free-to-use site that makes money from advertising. We have a modified experience for viewers using ad blockers

Wikia is not accessible if you've made further modifications. Remove the custom ad blocker rule(s) and the page will load as expected.