For information on how to input serial codes, see FAQ/Serial Code Input Form.
For server status updates, see Servers.
Maintenance Notice
Latest maintenance:
Sept 19 2017 [13:00 - 18:00] [GMT+9]

Next maintenance:
No maintenance is announced for now.
Recent Updates
[2017/09/19]
New event: Delicious Dango Chasing Rabbit Village event has been implemented.

In this event, collect 50 One Bite Dango to complete the event mission and gain new Background - Autumn Garden: Full Moon
One Bite Dango is a random drop in the event map

New item One Bite Dango is now available in Shop.

New lines by the swords have been implemented when using the new item One Bite Dango on swords.

New update for Touken Ranbu Pocket app version 1.2.22.
System maintenance.
[2017/09/12]
Mission fraction display bug has been fixed.
Formation page error bug has been fixed.
The [Return] button on PVP page bug has been fixed.
The bug on Touken Danshi's display during Kebiishi appearance has been fixed.
New update for Touken Ranbu Pocket app version 1.2.21.
[2017/09/05]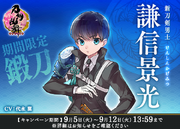 [2017/08/29]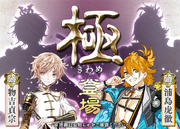 Upcoming Content
late September to October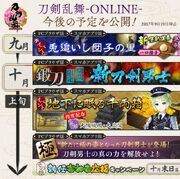 Older Updates
Ad blocker interference detected!
Wikia is a free-to-use site that makes money from advertising. We have a modified experience for viewers using ad blockers

Wikia is not accessible if you've made further modifications. Remove the custom ad blocker rule(s) and the page will load as expected.