For information on how to input serial codes, see FAQ/Serial Code Input Form.
For server status updates, see Servers.
Maintenance Notice
Latest maintenance:
14 Dec 2018 [16:00 - 19:00] [GMT+9]
Next maintenance:
18 Dec 2018 [14:00 - 18:00] [GMT+9]

MAINTENANCE STARTS IN
MAINTENANCE ENDS IN
Recent Updates
[2018/12/14]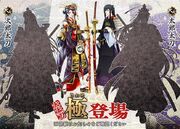 [2018/11/30]
There is a new update for TKRB Pocket for the following identified bugs:-

Getting error 100000 when refining
Sorting for refining is based on Ranbu level and not time of obtaining
Getting error 100000 when training
Getting error 100000 when repairing
Getting error 200002 when choosing a sword that does not require repairs in repairs (which should not have shown up anyway)
Different Ranbu levels from the actual levels

Update the app to fix the above bugs.
Due to all the bugs, Village of Treasures - Instrument Gathering Stage 10 event and the event-only sales will be extended until December 14th at 15:59 JST.
All saniwa will obtain the following items as compensation which are retrievable from the inbox until the end of the event:-

1000 for all resources
2 Special Investigation Tools (VOT)
[2018/11/27]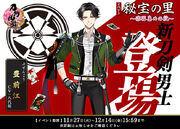 Collect beads for these rewards...
The UI has been updated for these pages: team formation, dismantling, repairs, refining, fusion, internal affairs, and the sword library. There will be new sword-sorting options added to the drop list, including the ability to view only Kiwame swords!
Upcoming Content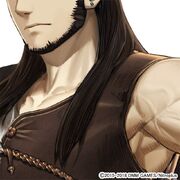 -> December 2018 schedule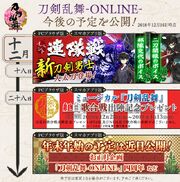 Dec 18th
Regiment Battle 4 event

New Ootachi Sword debut!
New Double Attack & Party Changing voice lines
Dec 28th
Musical Touken Ranbu Kouhaku Uta Gassen Performance Commemoration Present

Duration: 2018/12/28 - 2019/01/13
More to come:
New Year Plan
Touken Ranbu 4th Anniversary
Older Updates