For information on how to input serial codes, see FAQ/Serial Code Input Form.
For server status updates, see Servers.
Maintenance Notice
 

Latest maintenance:
20 Feb 2018 [13:00 - 18:00] [GMT+9]

Next maintenance:
No maintenance is announced for now.
Recent Updates
[2018/02/20]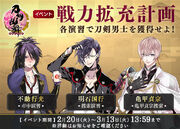 War Training Expansion 10 event has started.
Exchange Corner has been implemented.

At the Exchange Corner, you can exchange the "Exchange Seals" for items of your choice.
To commemorate the implementation of the Exchange Corner, three (3) Exchange Seals will be gifted to all players who login during the implementation period.
The implementation period of the Exchange Corner is until the maintenance on 20/03/2018.
You can choose out of all swords except for Hyuuga Masamune (69 in total)
[2018/02/19]
For TKRB Pocket users using IOS versions 7 and below:

There will be an app update on 20/02/2018. After the update TKRB Pocket will no longer be usable on IOS versions 7 and below.
Check your IOS version at Settings > General > About
TKRB Pocket will still be playable on IOS versions 8.0.x and above.
Kindly update your IOS version in order to use TKRB Pocket.
[2018/02/13]
Hidden Demon extermination in the Capital event has ended
TKRB 3rd Anniversary Commemoration Campaign has ended
TKRB 3rd Anniversary Commemoration special display has ended
2nd Edition TKRB 3rd Anniversary Commemoration Pack is on sale
System maintenance
[2018/02/02]
Secretary swords have 2 different lines each from casting beans in the new background. Casting the beans once will allow you to hear either one of the lines at random.
Bug report on refinery in TKRB Pocket wherein you are not able to choose the swords for refining. The bug will be fixed after the next scheduled maintenance.
Upcoming Content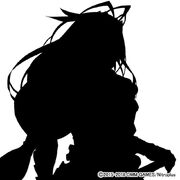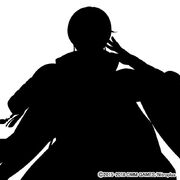 Starting of January 2018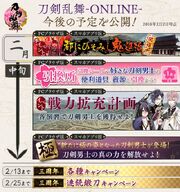 The following events will occur during mid February 2018:-
3rd Year Anniversary Campaigns will continue until 2018/2/13, whereas the Smithing Campaigns will end at 2018/2/25.
Older Updates