For information on how to input serial codes, see FAQ/Serial Code Input Form.
For server status updates, see Servers.
Maintenance Notice
Latest maintenance:
17 July 2018 [14:00 - 19:00] [GMT+9]
Next maintenance:
26 July 2018 [14:00 - 17:00] [GMT+9]

MAINTENANCE STARTS IN
MAINTENANCE ENDS IN
Recent Updates
[2018/07/23]
Due to all the Touken Ranbu Pocket app updates problems, the maintenance scheduled tomorrow has been postponed until 2018/07/23 14:00-17:00 JST
Similarly, the Regiment Battle - Early Summer Camp 2 event has been extended until 13:59 JST 2018/07/26.
The implementation of the Seal Exchange Corner and revamp of the Daily Missions have been put on hold for now and the new implementation date will be informed at a further date
[2018/07/18]
Ranbu levels will be implemented end of August.
Following updates will be implemented on 2018/07/24 maintenance:
Regarding Seal Exchange Corner:

After the 2018/07/24 maintenance, the Seal Exchange Corner will be implemented for a limited time.
1 "Exchange Seal" will be given from completing 5 Daily Missions every day from 2018/07/24 to 2018/08/14.
Exchange the "Exchange Seals" for sword or items of your choice in the Seal Exchange Corner.
The implementation period of Seal Exchange Corner is until the maintenance on 2018/09/04.
More details will be announced at the time of implementation.
[2018/07/17]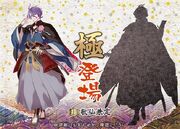 [2018/07/12]
Emergency maintenance completed from 14:05 to 16:30 JST.
"100000" and "300000" error codes have been resolved.
As an apology, the following items have been sent to all players' inboxes:

500 Charcoal, 500 Coolant, 500 Whetstone, 500 Steel
Koban Box (S) x1, Koban Box (L) x1
Triple Cage x1

Items must be received by August 14, 2018 at 23:59 JST.
Limited to once per account.
[2018/07/10]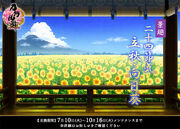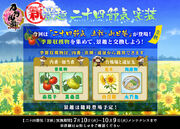 Bug Fix: Amendment of smithing time for Nagasone Kotetsu and Kenshin Kagemitsu
Implementation of the "Solar Term" background series.
Exchange the "Solar Term: Autumn's Beginning - Sunflower" background by collecting harvest items from fall.
Seasonal harvest items can be obtained as follows:-
The seasonal harvest items may also be exchanged for White Konpeito (根兵糖) until the maintenance on 2018/10/16
White Konpeito is a new item that grants 500 exp points to the sword it is used on. It is can be obtained rarely during sparring in Internal Affairs, or exchanged using season-based harvest items.

It cannot be used on Lvl 99 swords.

Implementation of new elements to Internal Affairs. Upon completion of Internal Affairs, it is possible to obtain the following items:-

Fieldwork - Vegetables
Horsekeeping - Compost
Sparring - White Konpeito (rarely)

It is possible to obtain 1-2 vegetables after Fieldwork. Using Compost obtained from Horsekeeping may increase the amount of vegetables obtained.
Special Fertilizer can be bought from the Shop once a day. Using it will guarantee harvest of 3 or more vegetables from Fieldwork. It will be usable until the maintenance on 2018/10/09.
For more details on the new features, check the Solar Term: Autumn's Beginning page.
[2018/07/03]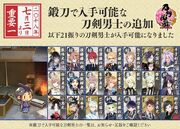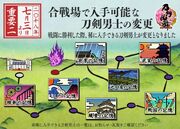 In anticipation of the new Ranbu (乱舞) levels, several changes have been implemented.
Swords obtainable through forging have been increased:-

21 swords that are previously unobtainable have been added to the forging pool which are:-

Change of sword drops in Front Lines for all maps.

Event maps will not be effected.

Increase sword space.

Initial sword space for everyone will now be 80 instead of 50. Sword space that is already bought will not be effected.

Gift of 3000 for each resources.

Collectable from inbox until the implementation of Ranbu levels.
[2018/06/28]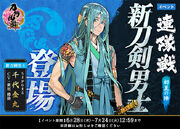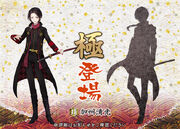 [2018/06/12]
Upcoming Content
July to August 2018 schedule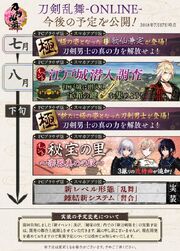 end of July

New Kiwame sword (Kasen Kanesada)
August

New event introduced (Postponed)
Edo Castle Infiltration Investigation 4 (featuring Nansen Ichimonji as reward)
New Kiwame sword
Village of Treasures ~Instrument Gathering Stage 9~ (New Sword!) (New BGM - Honebami, Monoyoshi, Namazuo)
New levels - Ranbu (乱舞)
New Refinery system - Shuugou (習合)
The previously announced new event, as well as the implementation of a new Touken Danshi in Village of Treasures have been postponed because of unforeseeable circumstances. We deeply apologize about this matter. At present, the development is still underway and we will announce the actual implementation date in the future.
End of August 2018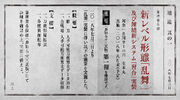 Implementation of new Ranbu (乱舞) levels

Ranbu levels are a separate system that is different from the normal sword levels which is increased through Shuugou (習合) (Training).
Increasing Ranbu levels will unlock new lines and etc that will uncover a new side of the swords.
Shuugou will be implemented along with the Ranbu levels. Training works by combining multiple same swords and is accessed at the Refinery panel.
More details will be released at a later date.
From April through August 2018: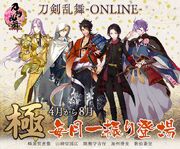 A new starter Uchigatana Kiwame will be teased every month!
Older Updates