For information on how to input serial codes, see FAQ/Serial Code Input Form.
For server status updates, see Servers.
Maintenance Notice [Edit]
Latest maintenance:
May 23 2017 [14:00 - 18:30] [GMT+9]

Next maintenance:
No maintenance is announced for now.
Recent Updates
[2017/05/23]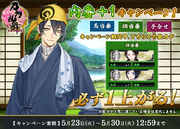 [2017/05/09]
[2017/05/01]
Upcoming Content
June 2017
Older Updates
Ad blocker interference detected!
Wikia is a free-to-use site that makes money from advertising. We have a modified experience for viewers using ad blockers

Wikia is not accessible if you've made further modifications. Remove the custom ad blocker rule(s) and the page will load as expected.