For information on how to input serial codes, see FAQ/Serial Code Input Form.
For server status updates, see Servers.
Maintenance Notice [Edit]
Latest maintenance:
July 18 2017 [14:00 - 16:00] [GMT+9]
Next maintenance:
July 25 2017 [14:00 - 18:00] [GMT+9]

MAINTENANCE STARTS IN
MAINTENANCE ENDS IN
Recent Updates
[2017/07/18]
[2017/07/04]
[2017/06/27]
[2017/06/23]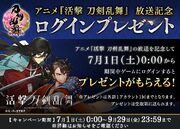 To commemorate Katsugeki Touken Ranbu anime release, there will be a Login Present for players who log into the game from July 1st, 12:00 AM JST onwards.

The Katsugeki Touken Ranbu Commemoration Campaign period will be from July 1st 12:00AM to September 29th 13:59PM JST.
Upcoming Content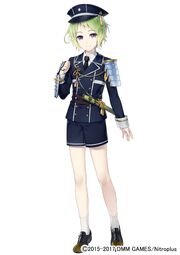 New sword has been revealed to be an Awataguchi Tantou named Mouri Toushirou (毛利藤四郎)
A tantou made by Awataguchi Yoshimitsu. One of the Toushirou brothers. His name comes from being owned by the Mouri Clan. He is good at using his small build in his flexible fighting style. He likes listening to others and small kids (disregarding his own height).
VA: Takagi Motoki
"Please let me hear Master's stories."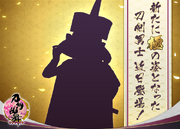 Mid-July to Mid-August 2017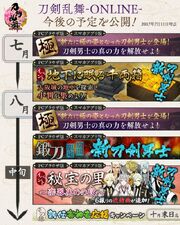 New Kiwame Sword
Underground Treasure Chest 8 event with a new sword
New Kiwame Sword
Limited Time New Sword Smithing Campaign
VOT ~Instrument Gathering Stage 5~ with a new sword and new BGMs
Older Updates
Ad blocker interference detected!
Wikia is a free-to-use site that makes money from advertising. We have a modified experience for viewers using ad blockers

Wikia is not accessible if you've made further modifications. Remove the custom ad blocker rule(s) and the page will load as expected.