May
May 30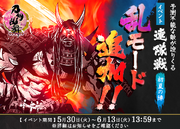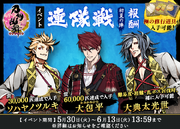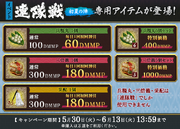 Implementation of the Regiment Battle - Early Summer Camp Event.
Three items designed to help in this event: Army Provision, Triple Cage, and Baton are sold in the Shop.
Attendant BGM musics now also play in several places other than the citadel screen.
Swords with light injury have their HP bars in yellow instead of green.
The degree of completion for missions are now shown in fractions rather than percentages.
The layout in Fudou Yukimitsu's kiwame letters have been adjusted.
+1 Internal Affairs Campaign has ended.
May 23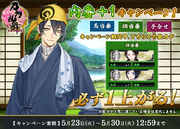 Implementation of the +1 Internal Affairs Campaign.
Implementation of Half Resources Repair Campaign.
The War Training Expansion 7 Event has ended.
May 9
Implementation of the War Training Expansion 7 event.
Sale of the "War Training Expansion Pack" and "20 Help Tokens Pack" in the Shop.
Implementation of the War Training Expansion 7 2x EXP Campaign.
Implementation of Kiwame for Fudou Yukimitsu.
The Underground Treasure Chest 7 has ended.
The sale of the "Osaka Castle Frontline Pack" and "20 Help Tokens Pack" has ended.
Halved Repair Time Campaign has ended.
May 1
After previous reports that Shinano Toushirou's Kiwame armor design did not have any relevance to his history, the developer Nitroplus has decided to alter his design. More information will be released soon.
April
April 25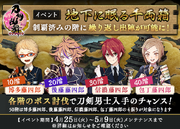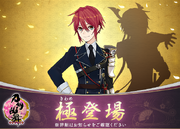 April 14
An emergency maintenance was conducted from 15:00 - 16:00 JST to fix bugs.
April 11
March
March 24
An emergency maintenance was conducted from 11:00 - 12:00 JST.
Compensation have been distributed.

The items will expire after 18 days (April 11 2017 13:59) if unclaimed in the inbox.
March 23
The following bug has occured during the "Edo Castle Infiltration Investigation" event in the PC version:

The bug an enemy unit that does not appear originally has appeared between 13:40 - 15:00 on Thursday, March 23rd.

This bug was fixed at 15:00 JST on Thursday March 23rd.
As an apology for the inconvenience, the following compensation will be given to all players on March 24th:

Investigation Tool Set x1
Koban x1000
[Notice of Emergency Maintenance]
An emergency maintenance will be carried out for the distribution of compensation from 11:00 until 12:00 JST on Friday March 24th.
March 21
March 14
Implementation of Gotou Toushirou's Kiwame.
'War Training Expansion' set sale has been reset and can only be bought once per account.
Sale of the App 1st Anniversary Commemoration Pack has ended.
System maintenance.
March 7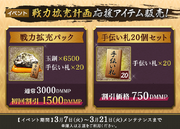 March 1
February
February 21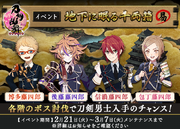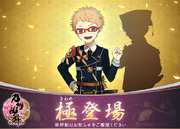 February 2
The limited time smithing campaign has ended.
The special sales for 'Fuji Ofuda x3', 'Fuji Ofuda x15', and 'Resources x1000' have ended.
Push notifications for iOs have been restored.
The New Years background for Touken Ranbu Pocket has been fixed.
January
January 31
Implementation of the Village of Treasures - Instrument Gathering Stage 2 event. Please check the event page here for more details.
Implementation of the TKRB Pocket 2 Million Downloads Commemoration Smithing Campaign in which the new sword Sengo Muramasa is smithable for a limited time. Check the campaign page here for details.
Sale of the Special Pass and Special Pass (10) set is available in Shop. For more info on the Special Pass, check the event page here.
Commencing sale of Fuji Ofuda (3) set, Fuji Ofuda (15) set and All Resources (10000) set in Shop.
The game OP video has been updated.
End of the Expedition campaign.
Adjustments made to the graphics of Imanotsurugi Kiwame and Sayo Samonji Kiwame in the Sword Library.
A bug in which one encounters errors when attempting to access the Backgrounds page has been identified in the PC version of Touken Ranbu. Clearing the browser cache and refreshing the game should be able to overcome the bug.
January 24
The Expedition campaign has begun.
The TKRB 2nd Anniversary Commemoration Campaign has ended.
On Memory of Ikedaya: Sanjo Bridge (6-2), a bug has been corrected. The dice roll used to incorrectly display 『子』when moving from Node Q to Node S (boss), but now it correctly displays『酉』.
Touken Ranbu Pocket Android notifications have been re-enabled. Notifications will display when expeditions, smithing, repairs, and internal affairs are completed.

iOS notifications will be re-enabled at a later date.
January 17
Implementation of the TKRB 2nd Anniversary Commemoration Campaign.
The Regiment Battle 2 has ended.
Sale of the Regiment Battle Event items in the Shop has ended. The event items that have yet to be used will be deleted from your inventory.
Sale of the Ebisu Treasure Bags has ended.
The maximum limit for swords has been increased to 400

Purchase of the Swords Room Extension Worker from the Shop will increase your sword storage capacity by 10.

The maximum limit for troops has been increased to 600

Purchase of the Armory Extension Worker from the Shop will increase your armory capacity by 20.

New Internal Affairs interactions has been added.
January 14
[4:00 JST]- As informed in the Touken Ranbu ONLINE Second Anniversary Producer Talk Show, the details of the implementation of the new sword Sengo Muramasa will be released momentarily.
Touken Ranbu Second Anniversary Commemoration has begun on 2017/01/14 and will last until 2017/02/02 23:59 JST (GMT+9)

Touken Ranbu Second Anniversary background has been sent out to your inbox and will be available until February 2nd. Please remember to claim it from the inbox.

Celebration of Saniwa Inauguration Second Year Anniversary Campaign begins and ends differently according to your registration date. Please check the Campaigns page for more details.
Ad blocker interference detected!
Wikia is a free-to-use site that makes money from advertising. We have a modified experience for viewers using ad blockers

Wikia is not accessible if you've made further modifications. Remove the custom ad blocker rule(s) and the page will load as expected.