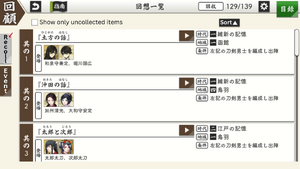 Occasionally, when you bring certain swords together in a party to a certain area in Front Lines, a recollection (回想) event will occur. You can view these events again in your directory as many times as you'd like.
Recollections cannot be triggered in Event maps, even if their required area is "Anywhere."
Recollections InteractionsEdit
Ad blocker interference detected!
Wikia is a free-to-use site that makes money from advertising. We have a modified experience for viewers using ad blockers

Wikia is not accessible if you've made further modifications. Remove the custom ad blocker rule(s) and the page will load as expected.