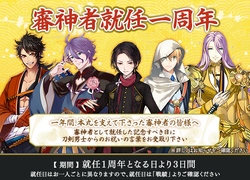 Presents have been prepared to celebrate the saniwa's anniversary. Also, the swords will give congratulations to the saniwa. So please visit the citadel on that day!
Campaign Duration
Edit
Within 3 days of the date the player started.

Everyone's inauguration date is different, so please confirm it in the Battle Records.

10 days before that day, a countdown calendar will appear at the citadel.

On the 2nd and 3rd days congratulations from the swords may be heard.
Present Contents
Edit
Presents may be claimed from the date of inauguration onwards.
Anniversary
Contents
First Year

Congratulatory horse Iwaiichigou (祝一号)
10 Request Tokens
1000 of each resource

Second Year

Pack 1


Congratulatory horse Iwainigou (祝二号)
10 Request Tokens
1000 of each resource

Pack 2


Third Year

Pack 1


Congratulatory horse Iwaisangou (祝三号)
10 Request Tokens
1000 of each resource

Pack 2