Character Info
No. 63

 Uchigatana

 Statistics (MAX)
| | |
| --- | --- |
| 生存  Survival | 48(53) |
| 統率  Leadership | 49(62) |
| 衝力  Impulse | 48(55) |
| 必殺  Killing Blow | 40 |
| 隠蔽  Camouflage | 21 |
| | |
| --- | --- |
| 打撃  Impact | 59(69) |
| 機動  Mobility | 20(27) |
| 範囲  Range | Short |
| 偵察  Scouting | 31(36) |
| 兵力  Troops Slots | 2 |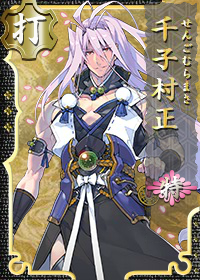 Sengo Muramasa Toku
千子村正  特
No. 63

 Uchigatana


 Statistics (MAX)
| | |
| --- | --- |
| 生存  Survival | 52(57) |
| 統率  Leadership | 53(66) |
| 衝力  Impulse | 52(59) |
| 必殺  Killing Blow | 40 |
| 隠蔽  Camouflage | 25 |
| | |
| --- | --- |
| 打撃  Impact | 63(73) |
| 機動  Mobility | 24(31) |
| 範囲  Range | Short |
| 偵察  Scouting | 35(40) |
| 兵力  Troops Slots | 2 |
Character Quotes
Introduction
Book Description
huhuhuhu。ワタシは千子村正。名前くらいは聞いたことがあるんじゃないデスか? そう、妖刀とか言われているあの村正デス。でもね? 村正がなぜ妖刀なのか、詳しいことはまるでわかってないのデス。 定かでない伝説に誰も彼もが踊らされて、滑稽デスよねぇ。huhuhuhu……
huhuhuhu. I am Sengo Muramasa. You've at least heard my name, haven't you? Yes, that so called demon blade Muramasa. But, no one really knows why the Muramasas are called demon blades. It's rather comical how everyone is swayed by an unclear legend, isn't it? huhuhuhu...
Note:
Shogun Tokugawa Ieyasu banned Muramasa blades after a few of his family members were injured or killed by them. Eventually, legends began to circulate about the blades being cursed.
Obtained
huhuhuhu。ワタシは千子村正。そう、妖刀とか言われているあの村正デスよ。huhuhuhu……
huhuhuhu. I am Sengo Muramasa. Yes, that so called demon blade Muramasa. huhuhuhu....
Opening
Login (Complete)
Touken Ranbu, now starting.
Citadel
Citadel
huhuhuhu。誰も彼もが、ワタシの妖しい魅力に夢中なのデス
huhuhuhu. Everyone is entranced by my charms.
What is the matter? Shall I undress?
蜻蛉切は心配しょうなのデス。まっ、あれも村正のファミリデスから、気持ちは分りますわね。
Tonbokiri is such a worrywart. Well, he is also part of the Muramasa family, so I understand his feelings.
Citadel (Idle)
What are you thinking about? huhuhuhu....
Citadel (Injured)
huhuhuhu。刀は脱いでこそ、実力が見えます。
huhuhuhu. By baring the blade, you can see its true power.
Citadel (Kiwame Sendoff)
huhuhuhu。彼の旅立ちを見届けまショウ。その決意をね。
huhuhuhu. Let's go see for ourselves his departure, his determination.
Formation (Member)
huhuhuhu. Please leave it to me.
Formation (Captain)
No need to worry. I won't do anything like striking back at my master.
Note:
Muramasa blades are rumored to drive their wielders insane.
Fatigue Recovery
huhuhuhu. It tastes sweet.
Equipment
Equipment is meant to be used.
Expedition
huhuhuhu. I'll be off then.
Expedition Completed (Leader of Expedition Party)
I've returned, please take a look.
Expedition Completed (Leader of Primary Party)
huhuhu, the expedition party has returned.
Troops
huhuhu. Please accept this.
Repairs (Minor Injury)
Before undressing, I ended up being dressed...
Repairs (Medium/Severe Injury)
残念です…が、脱ぎきる前に、着ざるを得ません…か…
How unfortunate...I had to get dressed before I was fully undressed.
Mission Completed
Seems like a mission has been completed.
Battle Record
Please show me your accomplishments.
Merchant
huhuhuhu。店先で脱いだら、どうなるんでショウねぇ…
huhuhuhu. I wonder what would happen if I undressed at the shop...
Front Lines & Battles
Front Lines
Time for battle. Shall we go create more legends?
Resource Discovery
huhuhuhu, extra income, hm?
Scouting
Bring me information. Battles cannot be won by fighting blindly.
Sortie Kick-off
Behold, the demon blade's legend.
PvP
huhuhuhu。あなたたちの実力、見せてくだサイ
huhuhuhu. Please show me your abilities.
Critical Hit
Saddharma Puṇḍarīka Sūtra!
Note:
The Sanskrit name for the Lotus Sutra, the most popular and influential of the Mahayana sutras upon which many sects of Buddhism, including Nichiren, were founded. This may be a reference to Myouhou Muramasa, Sengo Muramasa's most famous work which was associated with Nichiren Buddhism.
Medium/Severe Injury
huhuhu.. You've undressed me.
Awakening
Now that you've undressed me, you will be ended right here.
Duel
It's when being cornered that one's true value is called into question、isn't it?
Boss Node
huhuhuhu。この先が本番デス。ワクワクしますね。
huhuhuhu. The real deal lies ahead. Exciting, isn't it?
Victory (MVP)
huhuhuhu! Well of course.
Rank-Up Toku
huhuhuhu。見てください、この力を! どうして目を背けるのデス?
huhuhuhu. Please look...at this power! Why are you averting your eyes?
Destroyed
妖刀などと……言われていても……こんなもの、デス。そこらの刀と、大差ない終わり……デスね……
I'm said to be a demon blade... and yet I ended up like this. This ending... isn't so different from other swords... isn't it?
Internal Affairs
Please go
here
for special Internal Affairs interactions
Horsekeeping
huhuhuhu. Horses can't be swayed by reputations.
Horsekeeping (Done)
We've passed the time quietly.
Fieldwork
Shall we undress so our clothes don't get dirty?
Fieldwork (Done)
My clothes got covered in dirt. I'll undress then!
Sparring
huhuhuhu. I won't bite, you know.
Sparring (Done)
I've worked a good sweat.
Special
Welcome Back Greeting (After Long Absence)
huhuhuhu。帰ってきましたか。思索の時間は終わりデスね
huhuhuhu. So you've returned? Meditation time is over, then.
New Year's Greeting
あけましておめでとうでざいマス。新年初脱ぎとしまショウ
Happy New Year. Let us strip for first time for the New Year!
Setsubun (After Casting Beans)
Touken Ranbu's Second Year Anniversary (2017)
huhuhuhu。二周年を迎えてしまいましたか、出遅れたのが残念デス
huhuhuhu. It's been two years already? It's a shame I arrived late.
Touken Ranbu's Third Year Anniversary (2018)
huhuhuhu。三周年デス。まずは挨拶をさせていただきマス。然る後に脱ぎマス!
?
Saniwa First Year Anniversary
就任一周年デスか。さすがにアナタは妖刀伝説に惑わされませんね
It's your first anniversary? As expected, you aren't misled by the legend of the demon blade.
Saniwa Second Year Anniversary
就任二周年おめでとうございマス。アナタの伝説が作られ始める頃合いデスね。
Congratulations on your second year anniversary. This is the perfect time to create your own legend.
Saniwa Third Year Anniversary
Character Details