What are Koushuu Gold?
Edit

Koushuu Gold are used to purchase in-game content for Touken Ranbu in Touken Ranbu Pocket only. Items bought using Koushuu gold can be used in PC version and vice-versa. However, Koushuu gold may not be transferred between mobile devices, nor can they be used on the PC version of the game.
Yen to Koushuu Gold Conversion
Koushuu Gold
Price
Koushuu Gold
Price
2 Gold
120円
8 Gold
480円
(24+1) 25 Gold
1,400円
(50+5) 55 Gold
3,000円
(84+11) 95 Gold
5,000円
(164+51) 215 Gold
10,000円
Purchasing Koshuu Gold
Edit
General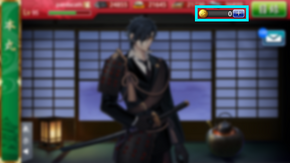 Tap on the blue [+] button in the citadel to buy Koushuu Gold.
A popup will show that Koshuu Gold can only be used in Pocket version. Tap on the red [はい] button to proceed.
Another popup will show to ask for your age. This will determine how much Koshuu Gold you may purchase per month.
There is a limit to how much Koushuu Gold may be purchased per month.
Ages 16 or below: 5,000 yen per month
Ages 16 - 19: 20,000 yen per month
Ages 20 and up: No monthly limit

Koshuu Gold can be purchased via iTunes Store for iOS version or Google Play Store for Android version.
iTunes Store for iOS
To be able to purchase Koshuu Gold on iOS, one must either have (1) a credit card registered to an address in Japan, or (2) a Japanese iTunes gift card.
Google Play Store for Android
To be able to purchase Koshuu Gold on Android, one must either have (1) a card linked to Google Play Store, or (2) a Google Play gift card. Only a few selected currencies are supported.
Payment procedure for both stores is the same with how one buys items from their local iTunes/Google Play Store.
Ad blocker interference detected!
Wikia is a free-to-use site that makes money from advertising. We have a modified experience for viewers using ad blockers

Wikia is not accessible if you've made further modifications. Remove the custom ad blocker rule(s) and the page will load as expected.