For cast photo gallery, see Stage Play/Gallery.
Mori Ranmaru: Marume Kiyohito (丸目聖人)
Akechi Mitsuhide: Kubodera Akira (窪寺昭)
Director: Suemitsu Kenichi (末満健一)
Screenplay: Suemitsu Kenichi (末満健一)
Music: manzo, Teruji Yoshizawa (テルジヨシザワ)
Stage Director: 井上卓

Stage fight: 奥住英明
Art: 秋山光洋
Lighting: 大波多秀起
Audio: ヨシモトシンヤ
Video: 横山翼
Costume: 惠藤高清
Armor prop: 渡邊礼子
Swords prop: 羽鳥健一
Hair and makeup: 古橋香奈子
Vocal guidance: 水野里香
Conditioning Trainer: 伊藤洋
Performance Assistant: 溝端理恵子
Production: 杉田智彦
PR design: 羽尾万里子
PR photo: 渡部俊介
Executive Producer: 中山晴喜, 小坂崇氣
Producer: 古川由隆, ОK間, 藤田雅規, 山本弘毅
Associate Producer: 小林亜沙美
Casting: 古川由隆, 小林亜沙美
PR: 杉山正明
DVD Production: 畑井和佐
Sales Production: 川合真鈴
Production Staff: 大渕有紀, 辻洋, 髙橋 陵, 金田真佐志, 田村純平, 佐々木彩乃, 小野萌恵, 生坂まこ, 並木愛実, 西山実哉, 我妻直枝, 宮本早織 / 小鞠, 星野未来, 大暮理奈, 北岡 功, 伊藤隼之介, 是枝宏幸, 玉虫宏章, 土屋 恵 / 森田 淳, 妹尾紗姫
Overall Production: Matsumoto Yoshiaki (松本慶明), digitarou (でじたろう), Furusawa Yoshihiro (古澤佳寛), 東條 寛
PR support: Nitroplus, DMM.com
Supervision Support: Shibamura Yuuri (芝村裕吏), Nitroplus
Original Draft: Touken Ranbu -ONLINE- from DMM GAMES & Nitroplus
Production Committee: Marvelous, Nitroplus, TOHO, DMM.com
Performance in The Galaxy Theatre (Shinagawa, Tokyo)

Dec 15 (Thursday) - Dec 30, 2016 (Friday)
Performance in HARMONIE CINQ Soleil Hall (Fukuoka)

Jan 7 (Saturday) - Jan 8, 2017 (Sunday)
Performance in Mielparque Hall (Osaka)

Jan 12 (Thursday) - Jan 17, 2017 (Tuesday)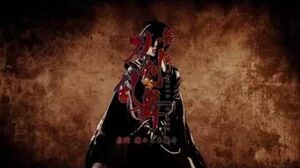 Ad blocker interference detected!
Wikia is a free-to-use site that makes money from advertising. We have a modified experience for viewers using ad blockers

Wikia is not accessible if you've made further modifications. Remove the custom ad blocker rule(s) and the page will load as expected.