本丸では、小夜左文字がなにやら気落ちした様子であった。
近侍である山姥切国広は、悩みを聞きだそうとするが、小夜は山姥切を避けるような態度を見せる。
また、延享四年へと調査任務に赴いた大倶利伽羅と歌仙兼定は、任務先で仲違いをしてしまう。
大倶利伽羅と同じく元伊達家の刀である燭台切光忠、鶴丸国永、そして本丸の新たな仲間として顕現した太鼓鐘貞宗は、ふたりの仲違いを解決しようと思案する。
鶴丸がなにか良い案はないか主に相談すると、主から意外な任務が下された。
三日月宗近は、そんな本丸を見守っている。

一方、戦国の世では、豊臣秀吉による天下統一が果たされようとしていた。
その時代の移り目に、終わりゆこうとする戦国を憂うひとりの男がいた。
その男、伊達藤次郎政宗。
天下人への夢を燻らせ続ける政宗に、彼と信義の絆で結ばれた盟友・細川与一郎忠興は、やがて来る泰平の世を生きていくことを諭す。

政宗が天下人となることは《見果てぬ夢》なのか…

ある日、刀剣男士たちに出陣の命が下りる。
出陣先は、慶長5年(1600年)、徳川家康率いる東軍と、毛利輝元・石田三成らが率いる西軍とが大激突を繰り広げた天下分け目の大戦 関ヶ原の戦い。

そこで刀剣男士たちがみたものは――?
At the citadel, Sayo Samonji is in a despondent mood.
Attendant Yamanbagiri Kunihiro tries to lend an ear to his worries, but Sayo avoids coming into contact with him.
Elsewhere, on an investigation mission to investigate the Enkyou era, the relationship between Ookurikara and Kasen Kanesada begins to sour.
The other Date swords Shokudaikiri Mitsutada, Tsurumaru Kuninaga, and the newly manifested Taikogane Sadamune attempt to find a resolution to their quarrel.
While consulting with the master for advice, Tsurumaru receives an unexpected mission from them.
Mikazuki Munechika is watching over such a citadel.

Meanwhile, in the Sengoku era, Toyotomi Hideyoshi has achieved Japan's unification.
In this transitional period, one man laments over the imminent end of the Sengoku Era.
That man is Date Tojirou Masamune.
His sworn friend bonded by loyalty, Hosokawa Yoichirou Tadaoki, chides Masamune and tells him to accept the coming era of peace instead of chasing after his dreams of becoming a "great unifier."

[Is becoming a "great unifier" really "an impossible dream" for Masamune...?]

That day, the Touken Danshi received this order to depart for the front lines.

The battleground is the 5th year of the Keichou era (AD 1600): the Battle of Sekigahara, in which the eastern army of Tokugawa Ieyasu and the western army of Mori Terumoto and Ishida Mitsunari clash.

There, the Touken Danshi saw――?
Date Masamune:(富田翔)
Hosokawa Tadaoki:(早乙女じょうじ)
Katakura Kagetsuna:(高松潤)
Ensemble
(池田謙信)
(石原聖士)
(北野淳)
(杉島光盛)
(高橋広吏)
(永井正浩)
(野上聡一)
(福島悠介)
(星賢太)
(守時悟)
Yamashita Jun (山下潤)
(渡辺洋平)
Director: Suemitsu Kenichi (末満健一)
June 1-25, 2017, The Galaxy Theatre (Tokyo)
June 29 - July 2, 2017, Kyoto Gekijo
July 13-14, 2017, Fukuoka Sunpalace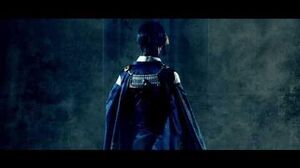 Ad blocker interference detected!
Wikia is a free-to-use site that makes money from advertising. We have a modified experience for viewers using ad blockers

Wikia is not accessible if you've made further modifications. Remove the custom ad blocker rule(s) and the page will load as expected.