Character Info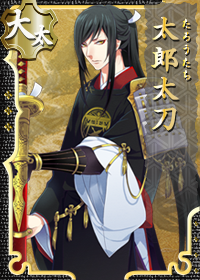 No. 132

 Ootachi

 Statistics (MAX)
| | |
| --- | --- |
| 生存  Survival | 62(71) |
| 統率  Leadership | 57(72) |
| 衝力  Impulse | 45(56) |
| 必殺  Killing Blow | 26 |
| 隠蔽  Camouflage | 26 |
| | |
| --- | --- |
| 打撃  Impact | 57(77) |
| 機動  Mobility | 12(12) |
| 範囲  Range | Wide |
| 偵察  Scouting | 13(22) |
| 兵力  Troops Slots | 2 |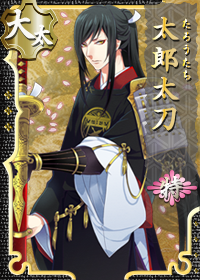 Taroutachi Toku
太郎太刀  特
No. 132

 Ootachi


 Statistics (MAX)
| | |
| --- | --- |
| 生存  Survival | 67(76) |
| 統率  Leadership | 62(77) |
| 衝力  Impulse | 50(61) |
| 必殺  Killing Blow | 26 |
| 隠蔽  Camouflage | 31 |
| | |
| --- | --- |
| 打撃  Impact | 62(82) |
| 機動  Mobility | 17(17) |
| 範囲  Range | Wide |
| 偵察  Scouting | 18(20) |
| 兵力  Troops Slots | 2 |
Character Quotes
Introduction
Book Description
私は太郎太刀。見た目の通り、とても人間には使えるはずのない大きさで、それ故に奉納された刀です。 ……でも、私を実戦で使った人間がかつていたんですよね。
彼はいったい、何者だったのでしょうか……?
I am Taroutachi. As you can see from my appearance, my large size makes it so that humans should not have been able to use me. Thus, I was a sword dedicated to the gods.
... however, there was once a human who used me in actual combat.
What on earth was he...?
Note:
The person Taroutachi is talking about is 真柄直隆 (Magara Naotaka), an Asakura clan general from the Sengoku period. It was said that he could swing Taroutachi (221cm and 4.5kg) over his head many times effortlessly, and could even use it on horseback!
Obtained
…おや。現世に呼ばれるとは。私は太郎太刀。人に使えるはずのない実戦刀です。
... My, my. To be called into this world... I am Taroutachi. I am a sword made for combat that humans should never be able to use.
Opening
Login (Loading)
Oh my, is there something happening on the ground?
Note:
The wording here implies Taroutachi is speaking as someone in Heaven.
Login (Complete)
Touken Ranbu is starting.
Citadel
Citadel
次郎太刀はあれでまだ現世寄りですからね。一方、私は…。
You could say that Jiroutachi is rather close to this present world. Meanwhile, I...
使える者がいない刀は、この世に存在していないも同じ。違いますか?
I am a sword that cannot be used by anyone -- in other words, a sword that cannot be said to exist in this world. Am I wrong?
地上がどうなろうが、思うところはあまりないのですよね。
I rarely consider the goings-on of the earth below.
Citadel (Idle)
Like this, it is as it always has been...
Citadel (Injured)
この身を構成しているのは、一応現世のものですからね…こういうこともあります。
The body I have now is, in a sense, a part of this world as well, so... this kind of thing does happen.
Line removed as of Feb. 18, 2015
I'm sorry. I'm currently in the middle of purification.
Citadel (Kiwame Sendoff)
There's not need to worry. You'll meet again soon.
Formation (Member)
Note:
The "ha" here is not a laugh, but an affirmation used by people in the army (the equivalent of "yes, sir!")
Formation (Captain)
Master, can you truly handle me?
Fatigue Recovery
Oh my, is this an offering?
Equipment
Armor of the present world, hm? Now then...
It would be nice if I could handle this well, but.
My physique is like this, you see.
Expedition
大丈夫ですよ、遠征のついでにいなくなったりはしませんから。
It's alright, I won't disappear during the expedition.
Expedition (Complete - Leader of Expedition Party)
Expedition (Complete - Leader of Primary Party)
The troops of the expedition have returned.
Smithing
A new sword has joined us.
Repairs (Minor Injury)
I will go for some light repairs.
Repairs (Medium/Severe Injury)
I've collected a few too many impurities, hm?
Refinery
My divine powers have been elevated.
Mission (Complete)
Would it not be better to check on the mission details?
Battle Record
Hmmm... This is the state of the world now, is it?
Merchant
If you take me with you, will it not be cramped in the store?
Front Lines & Battles
Front Lines
It seems the day I once again concern myself with earthly battles has come. How surprising.
Scouting
状況を教えてください。それから対処を考えましょう。
Please gather details on the situation. From there we will consider how to best approach it.
Sortie Kick-off
Now, let's interfere with the present world, shall we?
PvP
I'll have you show me the war tactics of this world.
Critical Hit
My strikes are as storms!
Medium/Severe Injury
The warriors of the present world... aren't half bad, either...!
Awakening
Take this: my peerless gale!
Duel
The only thing remaining is to pray to the gods, hm...? It can't be helped.
Boss Node
After this point lies a realm of impurity, are you prepared?
Rank-Up Toku
霊格が上がり、ますます現世と離れてしまったような……?
As my spiritual level grows, it's as if I pull further and further away from the present...
Destroyed
Well then... am I returning to the heavens above...? Such a short, earthly existence...
Internal Affairs
Please go
here
for special Internal Affairs interactions
Horsekeeping
……まいりました。動物は大きなものを恐れるんですよね……
... how frustrating. Animals are afraid of large things, aren't they...
Horsekeeping (Complete)
For the time being, I have done all that I could have done. However...
Fieldwork
I have no agricultural powers...
Fieldwork (Complete)
単純に力仕事だけをするというのも、たまには良いですね
From time to time, it's good to engage in simple physical labour.
Sparring
Now, come. I am right here!
Sparring (Complete)
Was this experience of use to you?
Ranbu Level
Citadel (Poke multiple times)
Citadel (Injured - Poke multiple times)
Specific event banner introduction
Special
Welcome Back Greeting (After Long Absence)
帰ってきたのですね。再び、私を誰も使えぬようになったかと思っていましたよ
So you have returned. I thought I had, once again, become a sword that could not be used by anyone.
New Year's Greeting
Now then, the beginning of a new year is upon us.
Setsubun (After Casting Beans)
Touken Ranbu's First Year Anniversary (2016)
我々もこれで一周年。付喪神集うこの本丸は、ある種の神域となってきましたね
It's now been a year. With this citadel gathering tsukumogami, it's become a sacred place of sorts, hasn't it?
Touken Ranbu's Second Year Anniversary (2017)
我々もこれで二周年。記念日を大事にすることで、神威はよリいっそう高まるのです
It's now been two years. In treasuring this anniversary, my divine powers have grown even more.
Touken Ranbu's Third Year Anniversary (2018)
我々もこれで三周年。また新たな刀剣が顕現を始めています。現世に我々の力はまだまだ必要ということなのでしょうね
?
Saniwa First Year Anniversary
就任一周年おめでとうございます。これからも頑張ってくださいね
Congratulations on the first anniversary of your inauguration. Please continue to perservere.
Saniwa Second Year Anniversary
就任二周年おめでとうございます。付喪神を多数従える貴方は、ある種、もうこちら側の領域なのでしょうか……
Congratulations on the second anniversary of your inauguration. You who command a great number of tsukumogami are perhaps, somehow, on the edge of this side.
Note:
The "side" referred here is Heaven. See Taroutachi's Login (loading) note.
Saniwa Third Year Anniversary
就任三周年おめでとうございます。貴方の力の高まりを、年々感じずにはいられません
?
Character Details