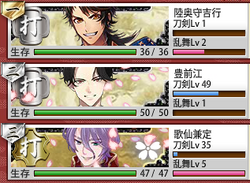 In Touken Ranbu, newly obtained swords are always Level 1 and have preset stats that are unique to each sword. In order to increase their stats, the player can refine their swords or send them to Internal Affairs to raise stats to a maximum cap. To increase stats beyond this maximum cap, however, swords can be further upgraded by leveling them up, or by achieving certain requirements.
Toku (特)
Toku (特) is an upgraded state that is reached once a sword reaches either Level 20 or 25, depending on the sword. It happens automatically after the sword levels up and fully restores its HP, while also permanently boosting its stats.
Kiwame (極)
Kiwame (極) is the further upgraded state that may be achieved through further training of a sword which has satisfied the requirements set.
Ad blocker interference detected!
Wikia is a free-to-use site that makes money from advertising. We have a modified experience for viewers using ad blockers

Wikia is not accessible if you've made further modifications. Remove the custom ad blocker rule(s) and the page will load as expected.