Character Info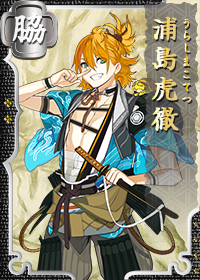 No. 103
 Wakizashi

 Statistics (MAX)
| | |
| --- | --- |
| 生存  Survival | 34(40) |
| 統率  Leadership | 30(45) |
| 衝力  Impulse | 30(42) |
| 必殺  Killing Blow | 40 |
| 隠蔽  Camouflage | 34 |
| | |
| --- | --- |
| 打撃  Impact | 25(39) |
| 機動  Mobility | 30(37) |
| 範囲  Range | Short |
| 偵察  Scouting | 45(48) |
| 兵力  Troops Slots | 2 |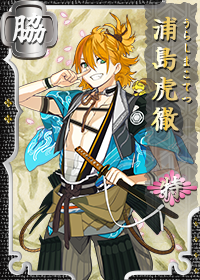 Urashima Kotetsu Toku
浦島虎徹  特
No. 103
 Wakizashi


 Statistics (MAX)
| | |
| --- | --- |
| 生存  Survival | 39(45) |
| 統率  Leadership | 35(50) |
| 衝力  Impulse | 35(47) |
| 必殺  Killing Blow | 40 |
| 隠蔽  Camouflage | 39 |
| | |
| --- | --- |
| 打撃  Impact | 30(44) |
| 機動  Mobility | 35(42) |
| 範囲  Range | Short |
| 偵察  Scouting | 50(53) |
| 兵力  Troops Slots | 2 |
Character Quotes
Introduction
Book Description
俺は浦島虎徹。鳥取藩主の池田家に伝わってた脇差で、浦島太郎が彫られてるんだ。……あ、俺は本物の虎徹だよ?
I'm Urashima Kotetsu. A wakizashi passed down from generation to generation of Ikeda clan that ruled Tottori domain, carved with Urashima Tarou's image ...Uh, I'm a legitimate Kotetsu, alright?
Note:
Urashima Tarou
is a Japanese legend about a fisherman who rescues a turtle and is rewarded for this with a visit to Ryuuguujou, the palace of Ryuujin, the Dragon King, under the sea. He stays there for three days and, upon his return to his village, finds himself 300 years in the future.
Obtained
俺は浦島虎徹!ヘイ!俺と竜宮城へ行ってみない?行き方わかんないけど!
I'm Urashima Kotetsu! Hey! Wanna go to Dragon King Palace with me? I don't know which way it is, though!
Opening
Login (loading)
Kamekichi~ Where'd you go?
Login (complete)
Touken Ranbu! It's starting, it's starting~!
Game Start
I wonder where should I begin my story~!
Citadel
Citadel
喋る亀とかどっかにいないかな。あ、でもいじめられてたらかわいそうだなぁ
I wonder if there are any talking turtles out there. Ah, but I'll feel bad if they're getting picked on though.
血が繋がってなくても、兄弟がいっぱいいるっていいことだと思うけどなぁ
I think it's nice to have a lot of brothers, even if you aren't related by blood.
蜂須賀兄ちゃんは長曾祢兄ちゃんのこと嫌ってるけど、正直贋作がどうとかどうでもいいよね!
Hachisuka-niichan hates Nagasone-niichan, but honestly why should it matter if he's a fake or not, right!
Citadel (idle)
I'm bored~ Ah, can I go outside and play?
Citadel (Kiwame sendoff)
It's not like he's going to the Dragon King Palace, he'll come back soon!
Equipment
I wonder if I can use this well~?
Oh? This isn't something like a fishing rod, right?
Expedition
ちょっと竜宮城に玉手箱取りに行ってくるよ!なんちゃって!
I'll go out for a bit to get the treasure chest at the Dragon King Palace! Just kidding!
Expedition Completed (Leader of Expedition Party)
Well... there weren't any treasure chests!
Expedition Completed (Leader of Primary Party)
おっ!竜宮城からかえってきたのかな?・・・なんってね!
Oh! Did you return from the Dragon palace? ...Just kidding!
Repairs (medium/severe injury)
I'm going to take a look at the sea for a while. Though it's a lie.
Mission Completed
Ehehehe, I wonder if there'll be a reward for me
Battle Record
Master! Let me see, too~!
Merchant
Master, master! What're we buying?
Front Lines & Battles
Front Lines
Alright! I'm going to do my best!
Resource Discovery
Ehehehehe, it can be a nice souvenir!
Scouting
Hmm... I wonder if there are any shortcuts around here?
Sortie Kick-off
Urashima Kotetsu, going to attack!
PvP
Ehehehe... Please take care of me!
Attacking
I'm going to slice you up
Critical Hit
Don't forget I'm a Kotetsu too!
Medium/Severe Injury
U-Ugh... this is, looking dangerous.
Awakening
I'm no turtle to continue leaving myself beaten!
Duel
I...I'll show 'em how good I am, if it's the last thing I do!
Boss Node
Wow, just getting closer to them sends chills up my spine.
Victory (MVP)
Hehehe. What did you think of my moves?
Rank-Up Toku
Hehehe, look at me. I've become stronger, don't you think?
Internal Affairs
Please go
here
for special Internal Affairs interactions
Horsekeeping
Ah, alright, alright. Will you calm down?
Horsekeeping (done)
馬だって、ちゃんと俺達の言いたいことはわかってくれるんだよ
Horses really understand everything we want to tell them!
Fieldwork
Hei-ho, hei-ho. I will work hard~!
Sparring
Please don't hurt me too much.
Sparring (done)
Didn't I say not to hurt me too much...?!
Special
New Year's Greeting
あけましておめでとう!主さん!俺に渡すものとかないかな?
Happy New Year! Master! Don't you have anything to give me?
Note:
He's asking for Otoshidama (New Year's money)...
Omikuji
Kamekichii~! -not. Sorry, sorry, it's great luck.
Touken Ranbu's First Year Anniversary (2016)
おー、一周年?これを機に、兄ちゃんたちも仲良くしてくれないかなー
Ohh, one full year? In this occasion, maybe my brothers will agree to get along-
Touken Ranbu's Second Year Anniversary (2017)
よし 、俺たちもこれで二周年!……時に相談なんだけど、兄ちゃんたちが仲良くなるようとりなしてくれない?
Awesome, we've been around for two years now!...I've talked about this sometimes, but could you intervene so that my brothers can get along?
Welcome Back Greeting (After Long Absence)
あ、おかえりー。良かった。竜宮城に行ったんじゃ、何年も待たされちゃうからなー
Oh, welcome back. I'm glad. If you had gone to the Dragon King Palace, you would have left us waiting for years.
Saniwa First Year Anniversary
主さん、就任一周年おめでとう!いやー、よくやったよな!
Master, congratulations for your first inauguration anniversary! Waah, you did well!
Saniwa Second Year Anniversary
就任二周年おめでとう!俺も鼻が高い!特に俺はなにもしてないけど!
Congrats on the second anniversary! I'm really proud! I haven't done anything though!
Character Details
Ad blocker interference detected!
Wikia is a free-to-use site that makes money from advertising. We have a modified experience for viewers using ad blockers

Wikia is not accessible if you've made further modifications. Remove the custom ad blocker rule(s) and the page will load as expected.