Character Info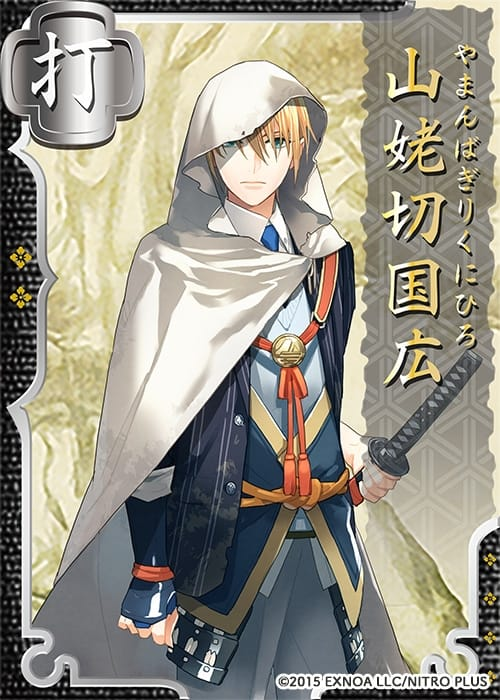 No. 95

 Uchigatana

 Statistics (MAX)
| | |
| --- | --- |
| 生存  Survival | 34 |
| 統率  Leadership | 36(44) |
| 衝力  Impulse | 28(50) |
| 必殺  Killing Blow | 35 |
| 隠蔽  Camouflage | 36 |
| | |
| --- | --- |
| 打撃  Impact | 36(53) |
| 機動  Mobility | 39(47) |
| 範囲  Range | Short |
| 偵察  Scouting | 35(45) |
| 兵力  Troops Slots | 2 |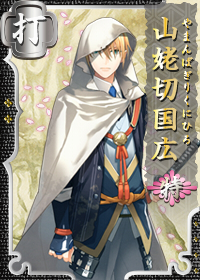 Yamanbagiri Kunihiro Toku
山姥切国広  特
No. 95

 Uchigatana


 Statistics (MAX)
| | |
| --- | --- |
| 生存  Survival | 39(44) |
| 統率  Leadership | 41(49) |
| 衝力  Impulse | 33(55) |
| 必殺  Killing Blow | 35 |
| 隠蔽  Camouflage | 41 |
| | |
| --- | --- |
| 打撃  Impact | 41(58) |
| 機動  Mobility | 44(52) |
| 範囲  Range | Short |
| 偵察  Scouting | 40(45) |
| 兵力  Troops Slots | 2 |
Character Quotes
Introduction
Book Description
俺は山姥切国広。足利城主長尾顕長の依頼で打たれた刀だ……山姥切の写しとしてな。
だが、俺は偽物なんかじゃない。国広の第一の傑作なんだ……!
I'm Yamanbagiri Kunihiro. I was forged at the request of the lord of Ashikaga castle, Nagao Akinaga... as a copy of Yamanbagiri.
However, I'm no fake! I'm Kunihiro's first masterpiece...!
Obtained
山姥切国広だ……何だその目は。写しだというのが気になると?
I'm Yamanbagiri Kunihiro. ...... What's with the look? Does the fact that I'm a duplicate bother you?
Opening
Login (Loading)
Everyone's always like this...
Login (Complete)
Touken Ranbu is starting.
Game Start
So, what will you do now?
Citadel
Citadel
化け物切りの刀そのものならともかく、写しに霊力を期待してどうするんだ?
If I were a monster-cutting sword, that would be one thing, but why would you expect spiritual powers from a copy?
Citadel (Idle)
どうせ写しには、すぐ興味が無くなるんだろう。わかっている。
Well, duplicates are something people quickly lose interest in. I know that much.
Citadel (Injured)
これでいいさ。ぼろぼろになっていれば俺を比較する奴なんていなくなる。
This is fine. If I'm all in tatters, no one will compare me anymore.
Line removed as of Feb. 18, 2015
動けなくなるのは困りものだが、傷痕くらいは残ってていいんだがな。
Not being able to move is a problem, yes, but I'd like to at least keep the scars.
Citadel (Kiwame Sendoff)
ああ、そいつの今後に期待すれば良い。俺なんかじゃなくな。
Yeah, you should just have good expectations from him from now on. Not from someone like me.
Formation (Member)
Are you... sure I'm the one you want?
Formation (Captain)
I wonder what exactly is expected of me.
Equipment
So what you're saying is, you want me to use this?
I'm doing this because you're the one who ordered it.
Expedition
I'm off. To someplace far away.
Expedition Completed (Leader of Expedition Party)
We're back. This is enough, right?
Expedition Completed (Leader of Primary Party)
You should go look after the returning expedition instead of bothering with me.
Smithing
This sword isn't a duplicate, is it?
Troops
This is enough, isn't it?
Repairs (Minor Injury)
You didn't need to repair me.
Repairs (Medium/Severe Injury)
このまま、朽ち果ててしまっても、構わなかったんだがな。
It didn't really matter whether I rusted away or not, you know.
Mission Completed
Right, it looks like we've completed a mission.
Battle Record
Here, a message has arrived.
Merchant
What do you think you're doing, showing off a duplicate like this?
Front Lines & Battles
Front Lines
It's not my job to do things like getting rid of the Yamanba.
Note:
Yamanba (山姥) is "mountain witch", the monster which the original Yamanbagiri was used to kill. This feat is what gave the original his name, and it was passed on to the duplicate.
Resource Discovery
I wonder what I should do with this.
Scouting
What a foul aura. Go and make sure we haven't been surrounded.
PvP
Every one of my opponents is a blade of fame and renown... and yet I am only...
Attacking
I don't like the look you're giving me.
Minor Injury
Thought you could kill me with that?
Medium/Severe Injury
Being bloodied like this is perfect for me.
Awakening
俺を写しと侮ったことを後悔させてやる。死をもってな!
I'll make you regret slighting me because I'm a duplicate. Repent with your death!
Duel
Now, come. I'm right here, bring it on.
Boss Node
I don't care who the opponent is. It doesn't matter as long as I can cut them apart, does it?
Rank-Up Toku
……ふん。どんなに強くなっても、所詮は写しとか思っているんだろう?
...(scoff). No matter how much stronger I get, you still think of me as a nothing but a duplicate, don't you?
Destroyed
ああ…嫌だな……消えた後も、俺は比較され続けるのか……
Ahh... I don't want this... Will the comparisons continue even after I disappear...?
Internal Affairs
Please go
here
for special Internal Affairs interactions
Horsekeeping
……ははは。雑用結構。これで山姥切と比較する奴もいなくなるだろ
... hahaha. Chores are just perfect. No one will compare me to Yamanbagiri now, will they?
Fieldwork
泥にまみれていれば、山姥切と比べるなんてできないだろ……
It'll be impossible to compare me to Yamanbagiri when I'm all covered in mud.
Fieldwork (Done)
Haha, no one will call me beautiful now.
Sparring
Sorry you have to have someone like me as your opponent.
Sparring (Done)
Well, I'm glad if I was of any help to you.
Special
Welcome Back Greeting (After Long Absence)
……ああ。戻ってきたのか。もう写しには興味を失ったのか思ったぞ
... ah, you're back. I thought you had lost interest in a copy like me.
New Year's Greeting
……新年か。正月早々俺の相手とは、あんたも変わってるな
... it's the New Year, huh. Hanging out with me at the very start of the year, you're a strange one.
Setsubun (Cast Beans)
Out with the Oni! In with the good fortune.
Setsubun (After Casting Beans)
Touken Ranbu's First Year Anniversary (2016)
……騒がしいと思えば、きょうで一周年か。いい加減、写しは何かということは広まっただろうか……
... it's the First Year Anniversary today, I was wondering what all the fuss was about. By now, it should be widespread on just what a duplicate is...
Touken Ranbu's Second Year Anniversary (2017)
二周年記念だろうが、服装を改める気はないぞ。 そうでなくては比較する奴がいるだろうからな...
Even if it is our second anniversary, I have no intention of changing my clothes. Because if I'm not like this, there will be people to compare me...
Touken Ranbu's Third Year Anniversary (2018)
……三周年か。俺は浮かれて騒ぐ気はないぞ。戦いはまだ続く。そちらの方は任せておけ
……Third year anniversary, is it? I have no intention to be festive and noisy. The fight still continues. Leave that part to me.
Saniwa First Year Anniversary
……あんた、今日で就任一周年なんだってな。
……まあ、頑張ってるじゃないか
... So today is your inauguration's first year anniversary.
... Well, you're doing your best, huh.
Saniwa Second Year Anniversary
就任二周年か。あんたも、写しの傑作を評価できるようにはなったか?
Your second year inauguration anniversary, is it? Have you become able to value a masterpiece duplicate?
Saniwa Third Year Anniversary
……就任三周年なんだってな。写しの俺でも気兼ねなく使うのは、経験ということか?
……They said it's your third year inauguration anniversary. To use a duplicate like me without hesitation, is that what called as experience?
Character Details